All the President's Stitches
The over-hyping of President Obama's lip getting cut while playing basketball is a bit much.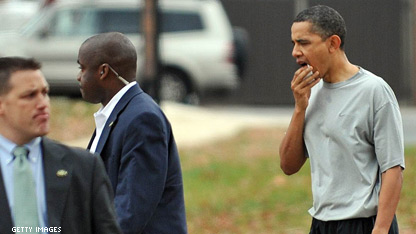 The news and blogs are abuzz with President Obama's getting elbowed during a friendly basketball game yesterday morning, busting his lip, and requiring stitches.  CNN sent out an email Breaking News alert just in case I missed it.
Now, I get that pretty much anything a president does is newsworthy.  Because he fills the ceremonial role of Head of State in addition to his quasi-official role of Head of Government, there's an aura around the office.   So, I'm not suggesting that this didn't deserve mention on the news.  If nothing else, people would be wondering what's wrong with the man's lip.
But, seriously, this isn't Breaking News.  It's a cute human interest story that reveals some charming insights into the private life of a public man.   But it's not a Stop the Presses! moment.
Then again, I see two possible lines of inquiry from the AP account:
President Barack Obama needed 12 stitches in his upper lip after taking an errant elbow during a pickup basketball game Friday morning with family and friends visiting for the Thanksgiving holiday, the White House said.

First word of the injury came in a statement from press secretary Robert Gibbs nearly three hours after the incident.

The White House did not initially name the person who caused the injury, but identified him later Friday as Rey Decerega, director of programs for the Congressional Hispanic Caucus Institute.

Obama received the stitches under local anesthesia in the doctor's office on the ground floor of the White House after returning home. Doctors used a smaller filament than typically used, which increases the number of stitches but makes a tighter stitch and leaves a smaller scar.
First:  They waited three hours to announce this?  What, they had to get their story straight?  Was Dick Cheney secretly playing in this game?
Second:  Why don't the Little People get the same kind of stitches?  It's okay if they walk around hideously scarred the rest of their lives?
I'm sure there are other stories I'm missing.