AltaVista To Die Next Monday, Internet Surprised It Was Still Alive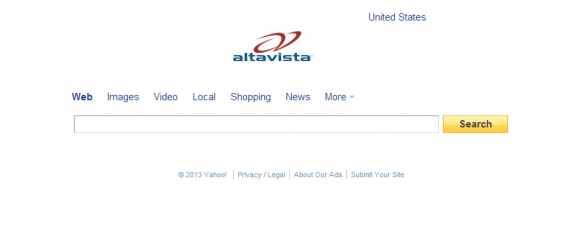 A search engine that was once at the top of the search engine heap, but which fell away fairly quickly in the  wake of the rise of Google, will close forever on Monday:
There's an alternate universe where someone would ask you a question you don't know the answer to and you would respond, "I don't know, why don't you AltaVista it?" Instead, in the real world, you reply, "Why don't you Google it?"

AltaVista, once the most advanced and comprehensive search engine on the Web, is just days away from its last breath.

Yes, like you, I thought AltaVista had been extinguished years ago, but apparently not.

Last week, Jay Rossiter, executive vice president of platforms at Yahoo, which owns AltaVista, said that the search engine would be closed on July 8. Anyone who still uses AltaVista — I'm not sure who that is — should instead go to Yahoo Search, Mr. Rossiter said.

Readers who are 18 years old and younger will probably ask, "What's an AltaVista?" In short, it was one of the first and most successful search engines. It was founded in 1995 by Digital Equipment Corporation.

Since then, AltaVista has been through a number of confusing acquisitions. Digital Equipment Corporation was acquired by Compaq in 1998, which merged with Hewlett-Packard in May 2002. AltaVista itself was purchased in 2003 by Overture Services, then the leading seller of online search advertising. Overture, in turn, was purchased by Yahoo, once also a leader in search, in 2003.

Both Yahoo and AltaVista were decimated by Google, which was founded in 1998 and quickly became the biggest and most popular search engine in the world.

AltaVista didn't go down without a fight. In 2002, the company tried to reinvent itself, and as Wired wrote at the time, "AltaVista is out to prove that troubled Internet companies can have second acts." Wired said the company planned to battle Google by rolling "out a dramatic overhaul of its site and indexing methodology."

It didn't work. So 18 years after its birth, AltaVista is about to be laid to rest.
Much like the author, I've got to say that I had no idea that AltaVista was even still around, and cannot recall for the life of me when I may have used it last. There was a time, though, before Google, when AltaVista was considered to be the best search engine on the web, and certainly better for serious searches than Yahoo or any of the other early search sites. Nothing could withstand the Google onslaught seems, though, and certainly not a website that was getting passed from company to company over the course of the first five years or Google's existence.
I'm sure AltaVista won't be missed.