Alzheimer's Claims In New Book Lead To Reagan Family Feud
A new book by President Reagan's youngest son raises allegations that the former President was showing signs of Alzheimer's Disease while still in office, and that's led to a family feud between the two Reagan brothers.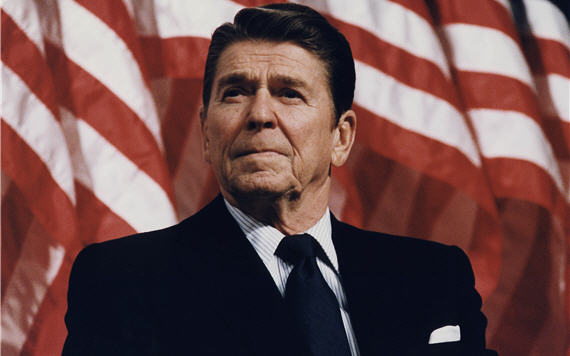 A new book by President Reagan's youngest son has led to a war of words between Ron Reagan and his older brother Michael over allegations that their father started displaying signs of Alzheimer's Disease while still in the White House. The story starts with Ron Reagan's new book, conveniently timed for the 100th anniversary of President Reagan's birth early next month:
In an exclusive interview with ABC News, President Ronald Reagan's son Ron Reagan said he saw early signs of Alzheimer's disease while his father was still in office.

(…)

"There was just something that was off. I couldn't quite put my finger on it," Ron Reagan told "20/20's" Elizabeth Vargas.

Ron Reagan said it bothered him when he saw his father making phone calls and reading note cards like "he had prompts."

"These seemed like conversations that wouldn't really require that," he said.

Ron Reagan said he was troubled by one of the president's 1984 debate performances and was concerned enough to spend a day shadowing his dad at work.

"It wasn't like oh my God he doesn't remember he's president…You know, it was just — I had an inkling something was going on," he said.

Ron also writes in his book: "I've seen no evidence that my father (or anyone else) was aware of his medical condition while he was in office. Had the diagnosis been made in, say, 1987, would he have stepped down? I believe he would have."
Video:
In addition to the Reagan Administration officials mentioned in the report above who dispute the younger Reagan's assertions, they have also been met with an unusually harsh response from Reagan's oldest son Michael:
Michael Reagan blasted as "falsehoods and lies and conspiracy theories to sell books," the suggestion by half-brother Ron Reagan that their father may have had Alzheimer's disease while still in the White House.

"In order for that that happen, you would have to have doctors, the Secret Service and other family members all part of the same conspiracy," he told Politics Daily. Reagan's diagnosis of Alzheimer's was not announced publicly until 1994, five years after he left office.

Michael ripped the excerpt from Ron's book, "My Father at 100," that appears in Sunday's Parade magazine. Ron Jr. cites a 1989 post-presidential visit to the Mayo Clinic in Minnesota after a riding accident. "Surgeons opening his skull to relieve pressure on the brain emerged from the operating room with the news that they had detected probable signs of Alzheimer's disease. Further tests conducted the following year confirmed those suspicions."

Ron dates his suspicions about the disease to the 1984 re-election campaign. "I felt the first shivers of concern that something beyond mellowing was affecting my father" during the first debate against Democratic nominee Walter Mondale. "My heart sank as he floundered his way through his responses. He looked tired and bewildered." Ron Jr. also notes that by 1986 his father couldn't remember the names of familiar canyons when flying over California, adding that doctors now know the disease can go unrecognized for some time. "The question, then, of whether my father suffered from the beginning stages of Alzheimer's while in office more or less answers itself," he writes.

"Nobody was happy with the debate," Michael told me by phone from Miami. But Ron's suggestion of early onset of the disease "is the last thing I would have expected from him, to take this kind of shot at his Dad with no evidence except he watched a debate between Dad and Mondale."
That first 1984 debate (YouTube link to full video here)  is legendary, of course, because, through the whole thing, Reagan seemed detached and out of touch and just not the same person that Americans had come to know over the previous four years. Reagan's advisers said in the immediate aftermath that the President had been tired and "over-prepared" for the debate. It led, inevitably, to questions about President Reagan's age and his mental fitness to hold the Presidency for another four years. The pressure on the Reagan campaign to answer those doubts was intense by the time the second debate was held two weeks later, which led to one of the most memorable lines ever from a Presidential debate:
Reagan was still leading in the polls while the October 1984 "age debate" was going on, so it's unclear that this was ever really a threat to the Reagan/Bush campaign, but with that one line Reagan ended the debate on his age and fitness, and some say ended the campaign given that later in the debate he delivered a devastating response to Mondale's recent commercials about defense spending.
Was Reagan displaying early signs of Alzheimer's during that debate, or at any of the other times that Ron Reagan mentions in his book. I don't know, Ron Reagan doesn't know, and, given what we knew about the disease in the early 1980s, Reagan's own doctors probably couldn't have known. I will say, based on personal experience, that someone who later develops Alzheimer's can show signs of short term memory loss long before the dementia that is the primary symptom of the disease makes an appearance. Maybe that's what Ron Reagan saw in his father, maybe it wasn't. Quite honestly, he's just guessing and I think it's more than a little pathetic that he would decide to release this book now, right before the country will be marking the centennial of his father's birth and while his mother is still alive. At the very least, it's a little low class.
Update: As a side note, it's important to note the difference between the kind of memory loss that Ron Reagan claims he noticed in his father and Alzheimer's Disease. The classic symptoms of Alzheimer's include:
Memory loss
Problems with abstract thinking
Difficulty finding the right word
Disorientation
Loss of judgment
Difficulty performing familiar task
Personality changes
People with Alzheimer's may exhibit:
* Mood swings
* Distrust in others
* Increased stubbornness
* Social withdrawal
* Depression
* Anxiety
* Aggressiveness
Ron Reagan may have noticed memory loss by his father, but he has no way of saying that it was, by this point, even the onset of Alzheimer's Disease