Amanda Knox and Double Jeopardy
The American justice system is unique.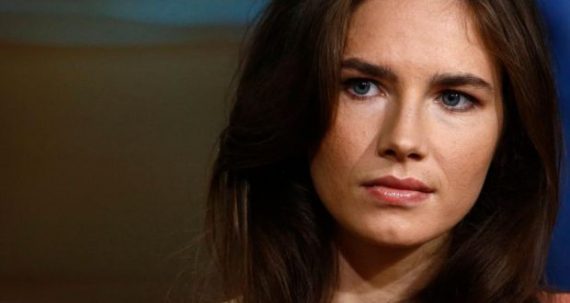 Amanda Knox has been found guilty in absentia by an Italian appeals court of a murder for which she was previously acquitted.
CNN ("Amanda Knox found guilty of murder again by Italian court"):
An Italian appeals court convicted former exchange student Amanda Knox and her ex-boyfriend Raffaele Sollecito on murder charges Thursday night.

Prosecutors said the couple had killed Meredith Kercher in November 2007. They were convicted two years later of murder, but those charges were overturned on appeal in 2011.

A judge said Thursday that Knox, also convicted of slander, was sentenced in absentia to 28 1/2 years in prison. Sollecito's sentence was 25 years.

Knox, who was at home in Seattle, Washington, said her conviction would bring no consolation to the Kercher family.

"I am frightened and saddened by this unjust verdict," she said in written remarks. "Having been found innocent before, I expected better from the Italian justice system. The evidence and accusatory theory do not justify a verdict of guilt beyond a reasonable doubt. …There has always been a marked lack of evidence."

She called the legal proceedings a travesty.

"This has gotten out of hand. Most troubling is that it was entirely preventable," she said. "I beseech those with the knowledge and authority to address and remediate the problems that worked to pervert the course of justice and waste the valuable resources of the system."
I have no opinion as to the facts of the case, including whether Knox and her boyfriend committed the murder in question. I simply haven't followed the case with any interest.
What's interesting to me here is the matter of Knox being subject to what would be considered double jeopardy in the US system. While my instinct is that, even though we have an extradition treaty with Italy and consider them a close ally, we would refuse to extradite Knox on those grounds, there is some debate on that score. AP:
Experts have said it's unlikely that Italy's justice ministry would request Knox's extradition before the verdict is finalized by the country's high court.

If the conviction is upheld, a lengthy extradition process would likely ensue, with the U.S. State Department ultimately deciding whether to turn Knox back over to Italian authorities to finish serving her sentence.

[…]

Under the terms of the extradition treaty between the U.S. and Italy, the offense must be a crime in each country and punishable by more than one year in prison.

Any request to extradite Knox would go to the U.S. State Department, which would evaluate whether Italy has a sufficient case for seeking Knox's return. If so, the State Department would transfer the case to the Justice Department, which would represent the interests of the Italian government in seeking her arrest and transfer in U.S. District Court.

American courts have limited ability to review extradition requests from other countries, but rather ensure the extradition request meets basic legal requirements, said Mary Fan, a former U.S. federal prosecutor who teaches law at the University of Washington in Seattle.

"The U.S. courts don't sit in judgment of another nation's legal system," Fan said.

Fan suggested that any decision by the State Department on whether to return Knox to Italy is "a matter of both law and politics." From an American standpoint, the case at first seems to raise questions about double jeopardy — being tried twice for the same offense, as barred by the U.S. Constitution. Knox was first convicted, then acquitted, then, on Thursday, the initial conviction was reinstated.

Some observers have dismissed the double-jeopardy issue because Knox's acquittal was not finalized by Italy's highest court.

That said, creative defense lawyers might make an effort to fight extradition over concerns about the legal process or the validity of the conviction, Fan said, and those arguments could carry political weight too. "Many Americans are quite astonished by the ups and downs in this case, and it's the U.S. that will ultimately be making the call about whether to extradite," Fan said.

[…]

Christopher Jenks, a former Army attorney who served as a State Department legal adviser and now teaches at Southern Methodist University's law school, said Italy has a low bar to clear in compiling a legally sufficient extradition request.

"There would be a political or policy decision to be made by the State Department, but it's got to be founded in law or in reason," he said.

Jenks noted that the extradition treaty works both ways.

"If the U.S. ever wants to have any chance of extraditing an Italian murder suspect who has allegedly killed people in the U.S.," he said, "you have to give to get."
Well, yes. But no country, much less a superpower, is going to turn over one of its citizens to another government to serve punishment that goes against its own principles of justice. Many very strong American allies, for example, routinely refuse to extradite their citizens for capital crimes because they consider the death penalty abhorrent.
It's worth noting, though, that the United States is virtually alone in its strict interpretation of the double jeopardy doctrine (with some caveats that I'll address later). Even though the principle was enshrined in the British Common Law centuries before the colonization of North America, the UK has long recognized exceptions, especially in murder cases. Similarly, while most European Union and Commonwealth countries have basic double jeopardy protections, there has been movement in recent years to grant exceptions in cases where the interests of justice demand it, such as proof that the accused perjured himself in trial or finding of major new evidence that makes guilt clear.
In the United States, while there is an iron-clad rule against a defendant being retried by the same sovereign if he's found not guilty at any stage, there are loopholes. Most egregiously, a person acquitted by a state court for an offense may be tried a second time in federal court if the offense is also a violation of federal law; the courts have ruled, outrageously in my view, that this does not constitute double jeopardy. Further, and much more reasonably, in the event of a mistrial or other dismissal of a case without finding of fact—or, reversal of conviction on appeal on procedural grounds—subsequent trials are considered de novo. And, of course, as the O.J. Simpson case demonstrated, acquittal (or for that matter, conviction) in a criminal court does not preclude being sued for civil damages over the same set of facts.
Based on my very limited understanding of the Italian judicial system and the facts of this case, I must say that I don't find the "double jeopardy" here particularly egregious. Knox was in fact convicted by the trial court. In the US system, at least, that's the level where matters of fact are settled. That conviction was reversed on appeal because, according to press accounts, the six judge panel decided that the DNA evidence used at trial was less than compelling and there were questions about the conduct of police. In the American system, this would almost certainly not have led to an outright acquittal but rather a vacating of the original verdict with prosecutors left to decide whether to retry the case without the evidence thrown out by the higher court.
Given that Knox was in fact acquitted on appeal and is now residing in her home country, it would be inappropriate, in my view, for the United States to extradite her. But the new verdict doesn't strike me as a damning indictment of the Italian court system. They do things differently there but it's not obvious that their way is worse than ours.
UPDATE:  Doug Mataconis points me to more legal opinions saying we would likely extradite in this case:
"As popular as she is here and as pretty as she is here — because that's what this is all about, if she was not an attractive woman we wouldn't have the group love-in — she will be extradited if it's upheld," said Harvard law professor Alan Dershowitz.

While Knox has won a great deal of support in the United States where she is seen as the innocent victim of a miscarriage of justice, Dershowitz said there are no legal grounds for preventing extradition.

Nor would it play well diplomatically, given that the United States demands more extraditions than any other nation, he said.

"The Italian legal system, though I don't love it, is a legitimate legal system and we have a treaty with Italy so I don't see how we would resist," he told AFP.

"We're trying to get Snowden back — how does it look if we want Snowden back and we won't return someone for murder?" he asked, referring to fugitive intelligence contractor Edward Snowden.

Knox's supporters argue she should be protected from extradition because the Italian system — which allows prosecutors to appeal a verdict — violates the US legal prohibition on double jeopardy: trying someone twice for the same crime.

Legal experts attach little weight to this argument.

"They always forget she was convicted first," said Julian Ku, who teaches transnational law at Hofstra University.

Knox and her former Italian boyfriend Raffaele Sollecito served four years in prison for the murder before being released after an appeal led to their 2011 acquittal.

The Italian Supreme Court overturned that ruling in 2013, sending the case back for re-trial.

Italy must first file an extradition request with the US State Department, which will then determine if it should ask the Justice Department to detain Knox.

Knox then has the right to challenge her extradition in a US court.

"The chances of her winning that are not high because there has to be some very strong claim she'd have to make to block her extradition," Ku said in a telephone interview.
Aside from the misreporting—there was no re-trial, merely elevation to the next appellate level—that's an interesting perspective. Again, I certainly don't think the Italian system has demonstrated itself any less legitimate than our own in the conduct of this case. But it would strike me as a travesty to send an American citizen overseas in violation of our own fundamental Constitutional precepts.