Americans (And Their Politicians) Don't Know Much About the Constitution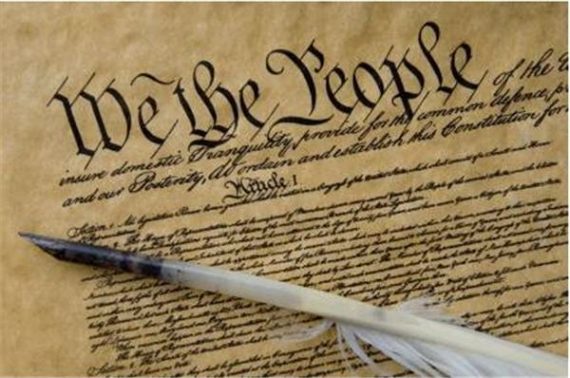 Well this may be one reason we have so many problems right now:
For five years now, the Intercollegiate Studies Institute has been conducting a national survey to gauge the quality of civic education in the country. We've surveyed more than 30,000 Americans, most of them college students, but also a random sample of adults from all educational and demographic backgrounds.

Included in the adult sample was a small subset of Americans (165 in all) who, when asked, identified themselves as having been "successfully elected to government office at least once in their life" — which can include federal, state or local offices.

The survey asks 33 basic civics questions, many taken from other nationally recognized instruments like the U.S. Citizenship Exam. It also asks 10 questions related to the U.S. Constitution.
The results aren't pretty at all:
Those elected officials who took the test scored an average 5 percentage points lower than the national average (49 percent vs. 54 percent), with ordinary citizens outscoring these elected officials on each constitutional question. Examples:

Only 49 percent of elected officials could name all three branches of government, compared with 50 percent of the general public.
Only 46 percent knew that Congress, not the president, has the power to declare war — 54 percent of the general public knows that.
Just 15 percent answered correctly that the phrase "wall of separation" appears in Thomas Jefferson's letters — not in the U.S. Constitution — compared with 19 percent of the general public.
And only 57 percent of those who've held elective office know what the Electoral College does, while 66 percent of the public got that answer right. (Of elected officials, 20 percent thought the Electoral College was a school for "training those aspiring for higher political office.")

Overall, our sample of elected officials averaged a failing 44 percent on the entire 33-question test, 5 percentage points lower than the national average of 49 percent.
Now, as Ed Morrissey points out in his post about this at Hot Air, it's important to note that the sample size of "elected officials" is very small compared to the overall sample size of the survey – 165 out of 33,000 participants, or 0.5% of the total survey group. Therefore, I'm not sure that you can really draw any conclusions about what elected officials know about the Constitution compared to the public at large.
Nonetheless, the fact that only half of the public has a basic understanding of the Constitution is yet another distressing sign of the failures of our education system,