Americans Blame Government, Not Banks, For The State Of The Economy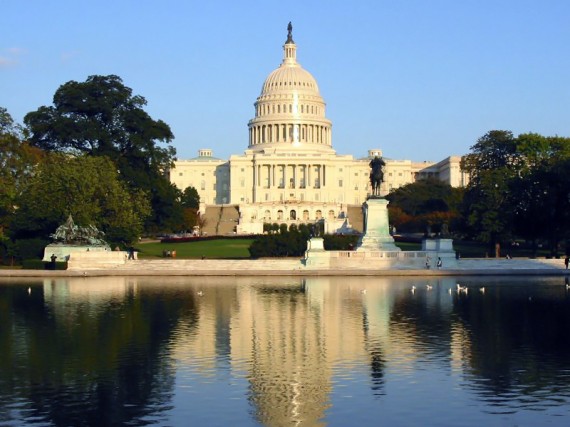 Gallup would seem to indicate that the real protests should be on Capitol Hill, not Wall Street:
Americans are more than twice as likely to blame the federal government in Washington (64%) for the economic problems facing the United States as they are the financial institutions on Wall Street (30%).

Both of these large entities have been the target of protest groups this year. The Occupy Wall Street movement has focused on large financial institutions on Wall Street, while the Tea Party movement continues to focus mainly on the federal government.

There appears to be no shortage of blame for either of these entities. The Oct. 15-16 USA Today/Gallup poll asked Americans how much they blame the federal government for the economy and, separately, how much they blame financial institutions on Wall Street. More than three-quarters of Americans, in both cases, say these entities deserve a great deal or a fair amount of blame for the economic problems facing the U.S. Still, reflecting the results of the forced-choice question, the percentage saying the federal government deserves a great deal of blame is 11 points higher than the percentage for financial institutions on Wall Street.
The ideological breakdown is, as always, interesting: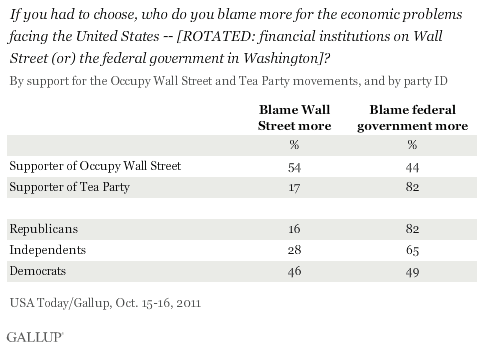 In realty, there's blame in both directions, but it's a government that has strayed far beyond it's proper limits to the point where it regularly engages in manipulation of markets to the benefit of some and the detriment of others that is, I would submit, largely responsible for our current predicament. If you want to change "the system" you have to actually go to the source, and asking for more government isn't going to accomplish anything.