Americans Disapprove Of Obama's Handling Of Iraq, And Of The Idea of Intervening In Iraq
Americans disapprove of how the President is handling Iraq, but they don't like what his critics are proposing either.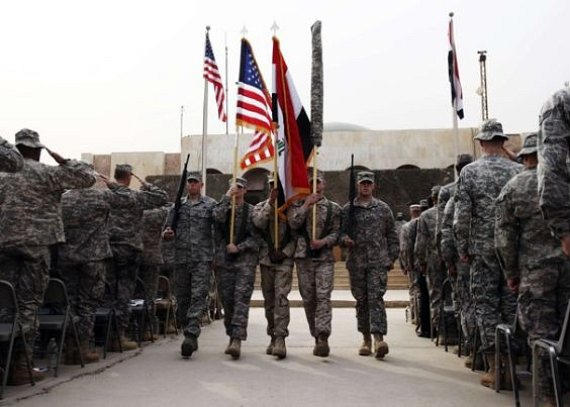 A new Quinnipiac poll shows that a majority of Americans disapprove of the way the President is handling the situation in Iraq:
A majority of American voters disapprove of President Barack Obama's handling of the situation in Iraq, a new poll says.

According to a Quinnipiac University poll released Thursday, 55 percent of U.S. voters disapprove of the Obama administration's policies in Iraq, compared to 37 percent who approve.

U.S. voters still blame former President George W. Bush more than Obama for the deteriorating situation in Iraq, where militants from the Islamic State of Syria and the Levant have swept across much of the northern and central part of the country. Fifty-one percent of voters blame Bush for the current crisis in Iraq, while 27 percent blame Obama.
The fact that voters aren't thrilled with how President Obama is handling things in Iraq doesn't mean that they are getting ready to jump on the interventionism bandwagon with the likes of former Vice President Cheney, though:
Most voters also think that the administration's move to withdraw troops from Iraq in 2011 was the right decision. Fifty-eight percent of voters said withdrawing all troops was a good decision, compared to 37 percent who said it was the wrong decision

The survey shows an American public that remains wary of U.S. intervention in Iraq. Sixty-three percent of respondents — including a majority in both parties — oppose committing combat troops in Iraq. Fifty-six percent of voters also say that getting involved in Iraq is not in the U.S. national interest.
On some level, I suppose, one might think that there's a contradiction here and that public disapproval of the President's polices would lead, at least to some extent, to support for those of his critics. However, what I think it going on is that the public recognizes that things are going badly in Iraq. The President has responded to these events by taking actions such as sending more troops to beef up embassy security, instituting surveillance flights, and refusing to rule out the possibility of air strikes in the future. In other words, to some degree, he is undertaking a course of action that seems to designed to guarantee increased American involvement in Iraq three years after we extricated ourselves from there to the overwhelming support of the American public, ending a war that had long before become exceedingly unpopular. Arguably, then, the public's disapproval of the President's action in Iraq isn't related to the fact that they think he's doing too little, but the fact that they think he's doing too much.  The evidence in support of that argument can be seen in the fact that support for the removal of American troops from Iraq remains overwhelmingly high, and that the majority of the public seems to strongly disfavor renewed American involvement in the affairs of that nation.
On some level, I suppose, one can argue that a President must act in what he believes to be the national interest even when public opinion is against him. For better or worse, this is most assuredly what President Obama did in Libya in 2011, for example. At the same time, though, a sustained foreign policy initiative, especially one that has a military component, is not going be successful if it lacks domestic support, and right now it seems obvious that the idea of further U.S. involvement in Iraq lacks domestic support. The American people aren't always right about these things, of course, but this is the price we pay for the bitter experience of the Iraq War itself. Indeed, as many foreign policy observers have noted in recent years, perhaps the most important legacy of the Iraq War will be the extent to which it will make it harder for American Presidents to sell the American public on the idea of American involvement in a foreign crisis even when that involvement might be necessary. While some will lament the fact that this will make it harder for Presidents to engage in the kind of military adventurism that Iraq epitomized, the toll that we paid and continued to pay for that decision argues strongly in favor of the idea that we shouldn't lament the prospect of public opinion holding back an otherwise interventionist President all that much.