Americans Don't Care About What's Happening In Egypt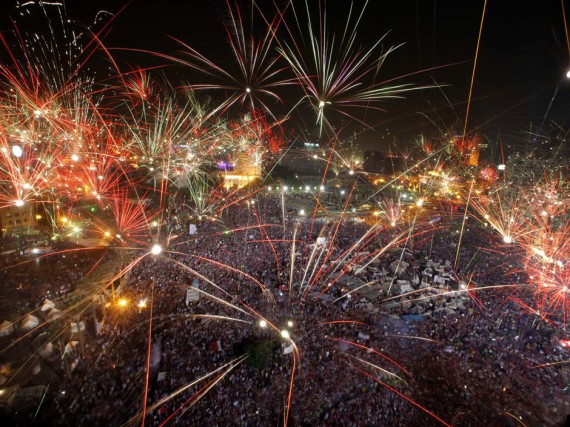 National Journal's Brian Resnick takes note that the Americans haven't really been paying much attention to what's been happening in Egypt:
Americans are not paying much attention to the momentous occurrences in Egypt of the last few weeks. In a report released Wednesday, Pew finds that just 36 percent of people indicated they believe what happens in Egypt is "very important" to U.S. interests. When the Arab Spring began in 2011, that number was 46 percent. (Find information on Pew's survey and methodology here.)
Moreover, as this chart shows, Americans haven't really been paying attention to the story: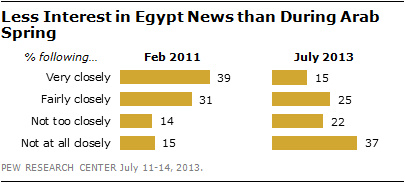 Resnick continues:
Here, it would be easy to get all high-and-mighty and say that Americans should care more about the stability of Egypt. But, truthfully, it is a hard news story to follow—involving political groups and pressures that have no United States proxy. Most of the people (55 percent) that Pew surveyed said they "lack the background to understand," and 46 percent said "they can't keep up with the changing news." A similar number, 48 percent, said it's "hard to know which group best to lead."

But it's not true to say that Americans never tune in to international affairs. 2011 was actually a big year for international-news interest in the United States. The top story for the whole year, in terms of interest, was the Japan tsuamni disaster (55 percent followed it closely); No. 3 was the bin Laden raid (50 percent followed closely). The Arab Spring protests in 2011 and the Libya conflict also garnered a lot of attention (39 percent and 37 percent respectively).
To be fair to the American public, the most recent developments in Egypt happened rapidly and, thanks largely to the fact that the American media wasn't paying much attention to the ongoing discontent among the Egyptian people, seemed to come out of the blue so they were somewhat hard to even those of us who did follow the events closely to place in the proper context. The fact that it went from protests on June 30th to a coup by July 3rd came as a surprise even to experienced observers of the country it seems. Add to that the fact that it happened during a week when many people were likely on vacation or looking forward to a long 4th of July weekend, and its kind of understandable that many Americans weren't paying attention to the story.