Americans Fear Big Government More Than Big Business
A new Gallup poll indicates that it is Big Government, not Big Business, that most concerns the American public.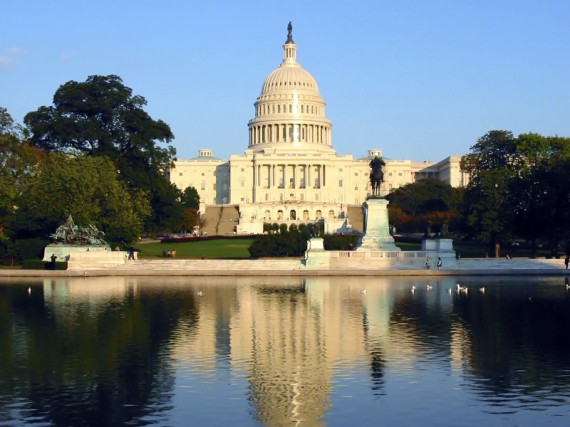 Notwithstanding the Occupy movement and the attacks on business that have accompanied it, and also notwithstanding the rights ongoing attacks on labor, a new Gallup poll seems to show that the entity that concerns Americans the most by far is "Big Government":
WASHINGTON, D.C. — Americans' concerns about the threat of big government continue to dwarf those about big business and big labor, and by an even larger margin now than in March 2009. The 64% of Americans who say big government will be the biggest threat to the country is just one percentage point shy of the record high, while the 26% who say big business is down from the 32% recorded during the recession. Relatively few name big labor as the greatest threat.

Historically, Americans have always been more concerned about big government than big business or big labor in response to this trend question dating back to 1965. Concerns about big business surged to a high of 38% in 2002, after the large-scale accounting scandals at Enron and WorldCom. An all-time-high 65% of Americans named big government as the greatest threat in 1999 and 2000. Worries about big labor have declined significantly over the years, from a high of 29% in 1965 to the 8% to 11% range over the past decade and a half.
Gallup's chart, which Ezra Klein calls "so far as liberalism goes, this is a pretty devastating graph," tells the story: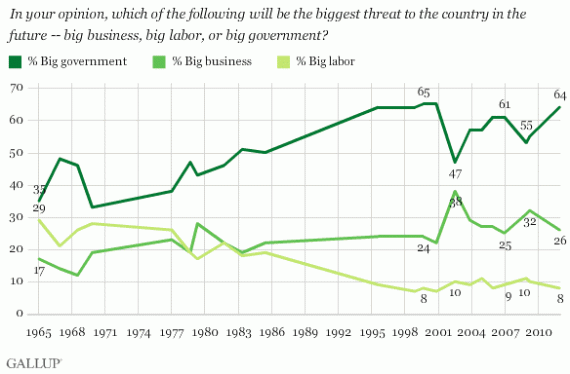 Klein's concern is likely amplified by the fact that Democrats seem to have become more concerned about the increasing power of government in recent years, while public concern about big business has actually decreased despite the ongoing economic impact of the financial crisis:
Almost half of Democrats now say big government is the biggest threat to the nation, more than say so about big business, and far more than were concerned about big government in March 2009. The 32% of Democrats concerned about big government at that time — shortly after President Obama took office — was down significantly from a reading in 2006, when George W. Bush was president.

By contrast, 82% of Republicans and 64% of independents today view big government as the biggest threat, slightly higher percentages than Gallup found in 2009.

Lower percentages of Democrats, Republicans, and independents are now concerned about big business than was the case in 2009.
As Gallup notes in their summary, it would appear that notwithstanding several months of Occupy protests bringing media and public attention on its messages of "corporate greed" and general opposition to "big business," the American public isn't quite as receptive to such as message as one might respect. The fact that concern about business power seems to have actually declined over the past several years, to levels equal to where it was during the boom years of the 1990s is actually quite surprising. In an era of economic uncertainty and upheaval, one would have expected the public to become more concerned about the rising power of business. Instead, the opposite seems to have occurred. It's also worth noting that the only time in recent memory when public distrust of government power dipped below 50% was in the immediate aftermath of the September 11th attacks, and that didn't last very long.  All in all, it's easy to see why Klein and his friends might be concerned.
I do hope, though, that Klein isn't surprised by these numbers. Distrust of Big Government is as American as apple pie. It's something that is engrained in our political institutions, and reaches back to the Founding Era itself. It's true that we've seen government expand through entitlement programs, government largesse, and a Federal Budget that seemed to know no limit. Additionally, there are clearly limits to the public distrust of the state, as we can see in the numerous and repetative polls that show strong public resistence to any reforms that change the fundamental nature of Social Security and Medicare. Nonetheless, it does appear there are limits to the public's tolerance for government power. Nearly three years later, public opposition to the Affordable Care Act is as high as it ever was, majorities supporting repeal of the law, and recent polling has showed clear majorities supporting the Supreme Court voiding the law when it rules on its Constitutionality next year.  In the end, that suspicion of Washington remains a powerful force in American politics, which is one of the main reasons that Republicans have been so successful with that message over the past 30 years or so. Perhaps Democrats should listen to the voice of the people on this one.