Americans Still Blame Bush More Than Obama For State Of The Economy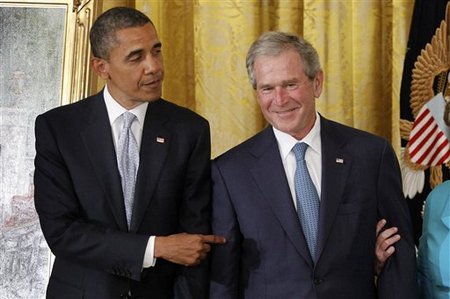 It's no surprise that Democrats continue to attempt to tie Mitt Romney and other Republicans to the George W. Bush Administration when you see poll numbers like this:
PRINCETON, NJ — Americans continue to place more blame for the nation's economic problems on George W. Bush than on Barack Obama, even though Bush left office more than three years ago. The relative economic blame given to Bush versus Obama today is virtually the same as it was last September.

Gallup first asked this "blame assessment" question in July 2009, six months after Obama became president. At that point, 80% of Americans gave Bush a great deal or a moderate amount of blame, compared with 32% who ascribed the same level of blame for the bad economy to Obama. The percentage blaming Bush dropped to about 70% in August 2010, and has stayed roughly in that range since. Meanwhile, about half of Americans have blamed Obama since March 2010, with little substantive change from then to the present.

Americans continue to name the economy as the most important problem facing the country, and in an election that likely will be defined by a struggling economy, the question of who is responsible for it will weigh heavily in voters' minds. Both Obama and presumed Republican nominee Mitt Romney as a result have focused heavily on the economy in their campaigns, the most recent example of which is the major economic speech Obama will deliver Thursday in the key swing state of Ohio. Romney has attempted to place blame for the country's continuing economic struggles squarely on Obama's shoulders. At the same time, the Obama campaign is trying to deflect blame away from the president, in part by assigning blame to his predecessor.

The relative amount of blame Americans give to Obama and to Bush has largely stabilized over the last two years. It remains to be seen whether Americans are open to further discussion of those issues in the months remaining before the Nov. 6 election, or whether their minds are made up.
The chart tells the story: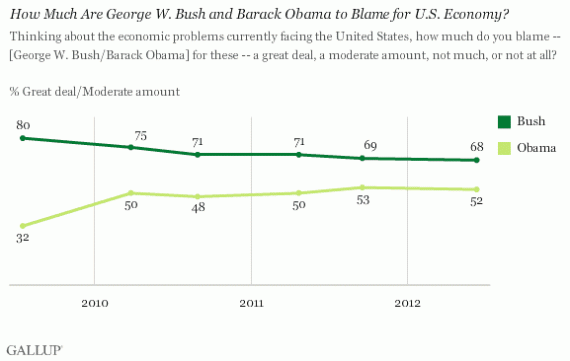 More interestingly, half of Republicans and two-thirds of Independents place more blame for the state of the economy on President Obama's predecessor than on the President himself: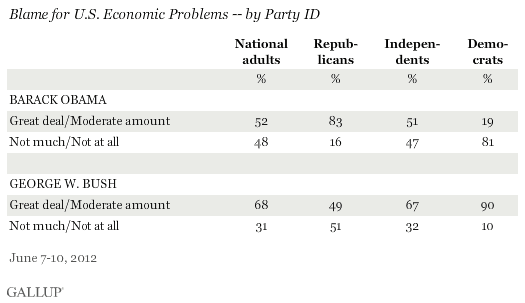 This, no doubt, would also be why President Bush has the lowest favorability rating of any living ex-President. I'd also suggest it explains why you won't hear the name "George Bush" coming out of the mouth of Mitt Romney or any other prominent national Republican unless they're referring to George H.W. Bush, who seems to be enjoying another renaissance in popularity around his 88th birthday.