Americans Support Air Strikes Against ISIS, Oppose Ground Troops
The American public's support for the President's war against ISIS has its limits.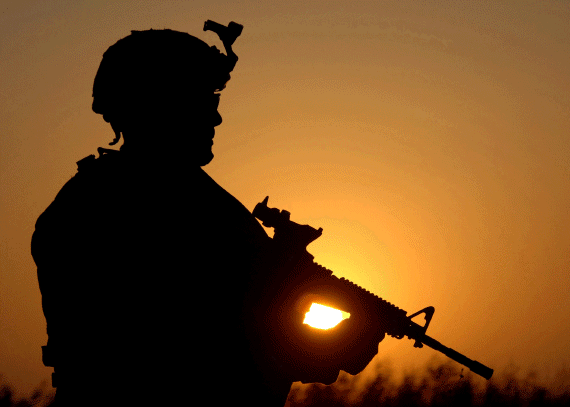 A new CNN/ORC International poll shows Americans backing airstrikes against ISIS in Iraq and Syria, but largely opposed to the use of American ground forces even though they seem to think that such a development is inevitable:
(CNN) — Americans are steadfastly opposed to sending U.S. ground troops to fight ISIS in Iraq and Syria, but an overwhelming number of people continue to support the U.S.-led airstrikes against the terrorist group, a new CNN/ORC International poll shows.

While less than four in 10 Americans favor sending U.S. ground troops into a combat situation against ISIS, there is a widespread belief that such an action is inevitable, according to the poll.

Only 24% of Americans do not think the United States will send combat troops to battle ISIS, while 36% say it is likely and another 39% say it is somewhat likely.

(…)

The formation of the international coalition of countries working with the United States to destroy ISIS is what appears to be giving Obama a boost of support from the American public for military action against ISIS. Seventy three percent of Americans back the joint U.S. and ally airstrikes, but support drops to 50% if the mission had been undertaken solely by the United States.

Americans have a weary eye about one piece of the plan to defeat ISIS: arming the moderate Syrian rebels. While Congress approved legislation before it left for the campaign trail to allow for the arming and training of the rebels, only 42% of Americans favor this action, and 54% oppose it.

Still, there is an undeniable belief among Americans that ISIS poses some level of threat to the United States, with 45% describing it as "very serious," 23% saying it is "fairly serious" and 23% noting that it is "somewhat serious."
The poll also shows that recent events have led to a slight uptick in the President's job approval numbers, at least as measured by the CNN poll. Both public opinion of how the President is handling the issue of terrorism in general and the fight against ISIS specifically have increased since the polls that were taken before the President's speech earlier this month. There was also a slight up-tick in the President's job approval, although the polling average there hasn't moved very much in the past month. To a large degree, this is likely all a result of the fact that the public continues to view ISIS as a threat — with 45% of respondents called it "very serious," 23% say that it is "fairly serious" and 23% calling it  "somewhat serious" — and they generally inevitable 'rally" effect that Presidents tend to see when these situations arise. The fact that the war, such as it is, is essentially limited to air strikes at this point is also influencing public opinion since it means that American casualties, and more importantly, the image of American casualties on our televisions, is largely non-existent at this point. As long as we're in this stage of the conflict, it's likely that public support for the President's policies will remain high.
These numbers do explain one though, though, and that's the reason why the President and other Administration officials continue to say that American ground troops will not be necessary in this conflict with ISIS. As I've noted before, both the Chairman of the Joint Chiefs and the Army Chief of Staff have reviewed to rule the possibility out, and several members of Congress, mostly on the right, have begun saying that we will eventually need to consider ground troops. Just yesterday, for example, House Speaker John Boehner said that the U.S. may have no choice on the matter. Notwithstanding these comments, though, poll numbers such as those reflected here, which are roughly similar to an NBC News poll conducted three weeks ago, show that there is potentially tremendous political downside for the Administration in acknowledging that ground troops may, perhaps, will be needed if the President's plan, such as it is, is going to work.  Obviously, the President's advisers have concluded that the best way to "sell" the war to the American public is to downplay the possibility of American combat troops getting involved. That may be smart politics, especially as we head into the midterms, but it strikes me that the Administration is taking a huge risk. If we do get the point that ground troops are needed, then the President is obviously going to take a lot of heat because of his previous comments, and support for the war will likely take a hit in the polls. As I noted before, the smarter strategy would be for the President to be honest with the American people about what may be required to complete the goals that he has set. This kind of prevarication on an important aspect of a war that both Administration and Pentagon officials are saying could last years is not a good way to start.