Americans Think Neither Biden Nor Trump Mentally Sound to be President
Shockingly, the current President's numbers are worse than his predecessor's.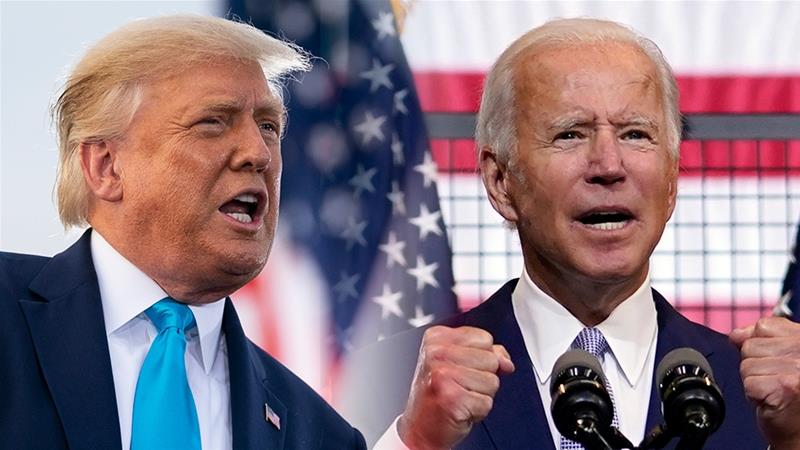 Memeorandum points me to a Raw Story report with the headline "Fox News poll finds 56% doubt Trump's 'mental soundness' to be president."
A Fox News poll found that 56% of Americans do not believe former President Donald Trump has the "mental soundness" to be president.

A survey conducted by the conservative outlet gave Trump a 33-point lead over Gov. Ron DeSantis (R-FL).

The survey also compared President Joe Biden's character to Trump.

Biden had a 9-point advantage over Trump regarding honesty and an 8-point lead for empathy. 11% fewer people also believe that Biden is corrupt.

When it came to mental soundness, 56% said that Trump should not be president. As for Biden, 60% of those Fox News polled agreed he did not have the mental soundness to do the job.

Fox News noted that the difference between the two candidates was within the survey's margin of error.

My initial reaction was amusement that a majority of those polled thought Trump mentally unfit to serve yet they preferred him to DeSantis by 33 points. But, of course, the first statistic is from all those surveyed and the latter from those who identified as Republican.

Regardless, I went to look at the poll itself and was even more amused at the Fox headline "Fox News Poll: More than half of voters think Trump is a strong leader, Biden isn't." The poll (conducted by Democratic-leaning Beacon Research and Republican-leaning Shaw & Company Research) sample seems to be fairly evenly split:

Forty-one percent of registered voters say they are more likely to participate in the Republican primary or caucus in their state next year and 40% the Democratic primary.
And, despite the Trumpy headline, the reporting is rather withering:
The survey also asks about traits for Biden and Trump, and the findings are stark. Majorities not only believe that both men lack honesty and empathy, but also the appropriate judgment and mental soundness to serve as the country's leader.

The top characteristics ascribed to Trump are corrupt (55%) and strong leader (51%). For Biden, it's caring (45%) and corrupt (44%) — even as a majority says he isn't (53%).
Ouch.
"It's hard to believe the choice Americans see for themselves — a corrupt strongman former president or a mentally shaky current president who is a little more empathic," says Democratic pollster Chris Anderson, who conducts Fox News surveys with Republican Daron Shaw.
That's just mean. And, frankly, unfair to Biden.
While perceptions of Biden have held steady in recent months, he's lost significant ground compared to before the 2020 election. Overall, only 33% think he is a strong leader. That marks a new low and is down 16 points from a high of 49% the month before he was elected.

It's a similar story on other attributes. Since 2020, Biden's down 14 points on having the judgment to serve effectively as president, down 12 points on both being honest and trustworthy and having the mental soundness to serve, and down 11 points on empathy.

Majorities believe Trump lacks honesty (67%) and empathy (61%), but he's not slipping in those areas. About the same number thought he lacked those traits when he won in 2016.

A majority of 51% calling Trump a strong leader is notable for two reasons. First, it's the only positive attribute that a majority agrees on. Second, he trounces Biden by 18 points.
Okay. But this is, after all, a poll commissioned by Fox News and, frankly, I'm not at all familiar with either of the firms in question despite being reasonably steeped in that milieu. So, I looked for other recent polls to see if this was a wild outlier.
I found a May 23 PBS report ("Where voters stand on Biden and Trump's mental fitness as the 2024 race takes off") based on a PBS NewsHour/NPR/Marist poll. (NPR also ran a story that day under the headline "More than 6 in 10 say Biden's mental fitness to be president is a concern, poll finds.")
A month into Joe Biden's reelection campaign, 62 percent of Americans say that the question of his mental fitness is a real concern about his ability to be president. That's 11 points higher than for the leading Republican candidate, former President Donald Trump, whose mental fitness is a concern for 51 percent.

[…]

A Washington Post-ABC News poll earlier this month asked a similar question and found 63 percent of Americans believe Biden lacks the mental sharpness to serve as president – nearly identical to the latest number. But this poll found more concern for Trump's mental fitness than the 43 percent in the earlier poll.

[…]

How voters view each candidate is also heavily influenced by party affiliation. Eighty-four percent of Republicans question Biden's fitness; 78 percent of Democrats question Trump. And nearly two out of three Democrats say concerns about Biden are simply campaign rhetoric.

But a significant gap emerges among independent voters. By a more than two-to-one margin, independents are more likely to say Biden's mental fitness is a real concern than a political strategy. Their view of Trump is more evenly split, 48 percent to 42 percent.
The top-line numbers are actually slightly worse than the Fox poll but, overall, pretty comparable.
While a wee bit older, the May 8 WaPo report "Biden's mental sharpness polling decline" is still fresh enough to be relevant.
The 2020 presidential election featured our oldest matchup ever. And in the end, the age issue was basically a wash. Pre-election polls showed Americans were evenly divided on whether Joe Biden and Donald Trump had the physical and mental health to serve, and election exit polls showed the same.

An even older potential 2024 rematch is shaping up quite differently. This is now an issue that cuts significantly against President Biden, and it has been trending in that direction for a while.

A new Washington Post-ABC poll this weekend spotlighted this better than anything to date. While 54 percent said Trump had the mental sharpness it takes to effectively serve as president, just 32 percent said the same of Biden. The split was even bigger on physical health, with 63 percent saying Trump passed their test and just 33 percent saying Biden did.

Independents were significantly more likely to see Trump as being both mentally and physically fit, with only around 3 in 10 independents saying Biden was either of those things.

And while fewer than half said Trump, 76, was too old to be president, about 7 in 10 said the same of Biden, 80.

This is one poll, and it's a poll that's less friendly overall to Biden than others have been recently. But it's hardly the only one to show this emerging split.

The same poll previously showed a significant decline on the mental sharpness question for Biden. While 51 percent said Biden had the mental sharpness to be president in May 2020, that dropped to 40 percent in February 2022 before dropping to 32 percent today.
A Pew Research Center poll last month also showed 68 percent said the phase "mentally sharp" didn't describe Biden very well — up from 46 percent in March 2021. For comparison's sake, fewer than half also said the same of Trump on the eve of the 2020 election.
A Fox News poll in October showed 40 percent said Biden had the mental soundness to serve effectively as president — lower than at any point in Trump's presidency.
And an NBC News survey in January showed about twice as many Americans gave Biden poor marks as positive ones on having the necessary mental and physical health to be president. Just 28 percent gave him either a 4 or a 5 rating out of 5; but 54 percent gave him a 1 or a 2. That 26-point negative split was up from 17 points a year before. Only 13 percent gave Biden the highest rating.

That poll also reinforced something from the other polling: that this is likely to be one of Biden's biggest liabilities.

In that poll, these were Biden's highest negative numbers among seven issues tested, including trustworthiness, likability and knowledge to serve as president. Similarly, the Pew poll tested six issues; this one was Biden's second-worst, behind his ability to inspire.
I've worried about Biden's age since he kicked off his 2016 campaign. His verbal skills have clearly deteriorated from when he was Vice President and, arguably, since his inauguration. While he's incredibly fit and active for an 80-year-old man, he simply can't put in the long hours that many of his predecessors did.
Still, by all accounts, he's still incredibly sharp and engaged. And his off-the-cuff jousting with Republican hecklers during this year's State of the Union certainly seems to demonstrate mental vigor.
That the public perceives him as less mentally and physically fit than Trump is, frankly, just bizarre. But it's a fact that he's going to have to deal with.