America's Energy Sacrifices
America's energy habit is getting people killed! What should we do about it?
David Axe passes along this rather chilling cartoon from Matt Bors titled "AMERICA'S ENERGY SACRIFICES."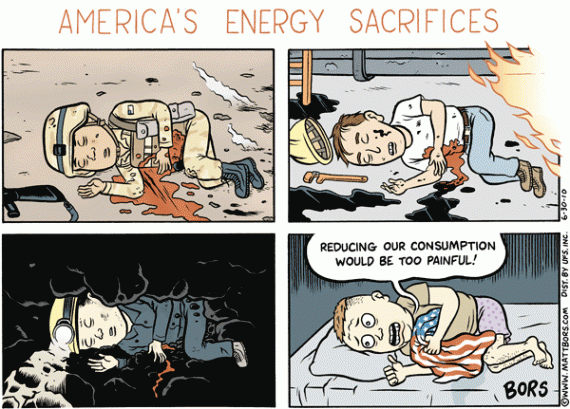 Josh Foust pronounces it "Heavy," which it doubtless is.  But is its implied message correct?
It's true that we have an outsized interest in the greater Middle East because of its oil resources — the reason for the Carter Doctrine — but it's not clear how many American soldiers have died in the name of oil.  Was Desert Storm about oil?  Very indirectly, at best.  Operation Iraqi Freedom?   Even less directly.
And, yes, people regularly die extracting oil and coal.
But all these people risk their lives knowingly and most are paid pretty well.   And, even within the effected industries, the number whose lives are improved by virtue of their occupation certainly dwarfs those killed, injured, or sickened.
Beyond that, the upside of energy consumption is incalculably huge.  We'd quite literally be a pre-industrial society without the vast benefits of oil, coal, natural gas, and other energy resources.  Not only do we live much, much better than we would without these boons to our existence but we live much longer, too.
Of course, the cartoon is only suggesting that we "reduce" our consumption, not eliminate it.  But how much would we have to reduce it to make a significant dent in the tragic losses caused by extraction, delivery, and protection?    More than, say, telecommuting every now and again or putting on a sweater.