America's Jobs Crisis
Everyone's talking about jobs again. And it's not a pretty picture.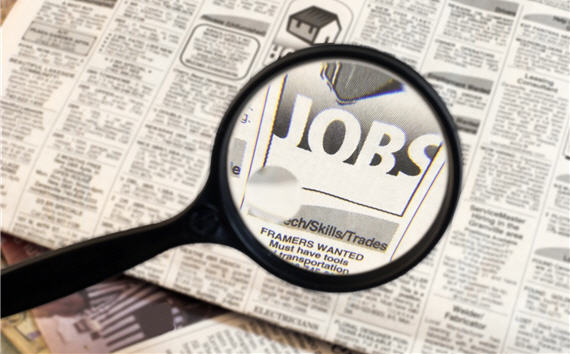 Whether it's Occupy Wall Street, the heating up of the 2012 presidential campaign, or the continuing bad economic numbers, suddenly everyone's talking about jobs again. And it's not a pretty picture.
Barry C. Lynn and Phillip Longman ask, "Who Broke America's Jobs Machine?" Alas, the question is based on a rather dubious premise:
If any single number captures the state of the American economy over the last decade, it is zero. That was the net gain in jobs between 1999 and 2009—nada, nil, zip. By painful contrast, from the 1940s through the 1990s, recessions came and went, but no decade ended without at least a 20 percent increase in the number of jobs.
The rather obvious flaw in this is that they begin with a peak year–the point right before the tech bubble burst–and end with the worst year in decades–right as the real estate bubble burst and the global financial crisis was in full bloom. Still, they point out something interesting:
[R]ecent Labor Department statistics show that the loss of jobs here at home, be it the result of sudden economic crashes or technological progress or trade liberalization, does not appear to be our main problem at all. Though few people realize it, the rate of job destruction in the private sector is now 20 percent lower than it was in the late '90s, when managers at America's corporations embraced outsourcing and downsizing with an often manic intensity. Rather, the lack of net job growth over the last decade is due mainly to the creation of fewer new jobs. As recent Labor Department statistics show, even during the peak years of the housing boom, job creation by existing businesses was 14 percent lower than it was in the late '90s.
Their explanation for this, while not supported by any evidence, is at least plausible:
[W]hile the mystery of what killed the great American jobs machine has yielded no shortage of debatable answers, one of the more compelling potential explanations has been conspicuously absent from the national conversation: monopolization. The word itself feels anachronistic, a relic from the age of the Rockefellers and Carnegies. But the fact that the term has faded from our daily discourse doesn't mean the thing itself has vanished—in fact, the opposite is true. In nearly every sector of our economy, far fewer firms control far greater shares of their markets than they did a generation ago.

Indeed, in the years after officials in the Reagan administration radically altered how our government enforces our antimonopoly laws, the American economy underwent a truly revolutionary restructuring. Four great waves of mergers and acquisitions—in the mid-1980s, early '90s, late '90s, and between 2003 and 2007—transformed America's industrial landscape at least as much as globalization. Over the same two decades, meanwhile, the spread of mega-retailers like Wal-Mart and Home Depot and agricultural behemoths like Smithfield and Tyson's resulted in a more piecemeal approach to consolidation, through the destruction or displacement of countless independent family-owned businesses.

It is now widely accepted among scholars that small businesses are responsible for most of the net job creation in the United States. It is also widely agreed that small businesses tend to be more inventive, producing more patents per employee, for example, than do larger firms. Less well established is what role concentration plays in suppressing new business formation and the expansion of existing businesses, along with the jobs and innovation that go with such growth. Evidence is growing, however, that the radical, wide-ranging consolidation of recent years has reduced job creation at both big and small firms simultaneously. At one extreme, ever more dominant Goliaths increasingly lack any real incentive to create new jobs; after all, many can increase their earnings merely by using their power to charge customers more or pay suppliers less. At the other extreme, the people who run our small enterprises enjoy fewer opportunities than in the past to grow their businesses. The Goliaths of today are so big and so adept at protecting their turf that they leave few niches open to exploit.
After a lengthy discussion of how a handful of holding companies dominate industries from breakfast cereal and toothpaste to department stores and automotive suppliers, they explain why the trend has harmed job creation:
As behemoth retailers garner ever more power over the sale of some product or service, they also gain an ever greater ability to strip away the profits that once would have made their way into the hands of their suppliers. The money that the managers and workers at these smaller companies would have used to expand their business, or upgrade their machinery and skills, is instead transferred to the bottom lines of dominant retailers and traders and thence to shareholders. Or it may be simply destroyed through pricing wars. A good example is the pre-Christmas book battle between Amazon and Wal-Mart, in which the two giant conglomerates pushed down the prices of hardcover best sellers to lure buyers into their stores and Web sites. In many cases, the two companies actually sold the books for less than they bought them, treating them as "loss leaders" and expecting to recoup the loss through the sale of other, more expensive products. Although consumers welcomed the opportunity to pay $9.99 for the latest Stephen King novel priced elsewhere above $30, the move caused a near panic among publishers. Even though the low prices may have resulted in the sale of more books, the longer-term effect is to radically lower what consumers will expect to pay for books, which will in turn reduce the funds available to publishers to develop and edit future prospects.
This is, interestingly, the opposite of what we would expect. Traditionally, the great fear of consolidation is that monopolies will be used to raise prices, since consumers lack ready substitutes. But Lynn and Longman point to the problem of a race to the bottom in pricing: cutting out the middle man means that the middle man no longer has a job.
Another way that monopolization can inhibit the creation of new jobs is the practice of entrenched corporations using their power to buy up, and sometimes stash away, new technologies, rather than building them themselves. Prior to the 1980s, if a company wanted to enter a new area of business, it would typically have had to open a new division, hire talent, and invest in R&D in order to compete with existing companies in that area. Now it can simply buy them. There is a whole business model based on this idea, sometimes called "innovation through acquisition." The model is often associated with the Internet technology company Cisco, which, starting in the early '90s and continuing apace afterward, gobbled up more than 100 smaller companies. Other tech titans, including Oracle, have in recent years adopted much the same basic approach. Even Google, many people's notion of an enlightened, innovative corporate Goliath, has acquired many of its game-changing technologies—such as Google Earth, Google Analytics, and Google Docs—from smaller start-ups that Google bought out. As the falloff in IPOs over the last decade seems to confirm, one practical result of all this is that fewer and fewer entrepreneurs at start-up companies even attempt any longer to build their firms into ventures able to produce not merely new products but new jobs and new competition into established companies. Instead, increasingly their goal, once they have proven that a viable business can be built around a particular technology, is simply to sell out to one of the behemoths.
Again, this isn't obviously a bad thing. Mark Cuban, for example, is positively giddy about it. And consumers generally benefit from the trend: Google identifies the best innovations and wraps them into their service–which they then give away for free. While I have my frustrations with Google's power in the marketplace, I mostly surrender to it because they provide an incredibly valuable service that has made my life better. But, again, this efficiency comes at a cost: rather than dozens or hundreds of niche companies, each with their own management, employees, and logistics tail we now have one. And that means a lot fewer jobs.
Meanwhile, Nobel economics laureate Michael Spence describes what he terms "The Global Jobs Challenge."
These massive structural changes in the global economy present three great employment challenges worldwide, with different countries facing their own variants.

The first challenge is to generate enough jobs to accommodate the inflow of new entrants into the labor market. Clearly, a wide range of advanced and developing countries is failing to do so. Youth unemployment is high and rising. Even in fast-growth developing countries, surplus labor is awaiting inclusion in the modern economy, and the pressure is on to sustain job creation.

The second challenge is to match skills and capabilities to the supply of jobs – an adjustment that takes time. It is also a moving target. Globalization and major labor-saving technologies have thrown labor markets in many countries into disequilibrium. Skills mismatches abound. Moreover, with continuing rapid growth in developing countries, the global economy's structure is far from static, and it seems clear that the pace of market adjustment is lagging that of structural change.

The third challenge is distributional. As the tradable part of the global economy (goods and services that can be produced in one country and consumed in another) expands, competition for economic activity and jobs broadens. That affects the price of labor and the range of employment opportunities within all globally integrated economies. Subsets of the population gain, and others lose, certainly relative to expectations – and often absolutely.

Many advanced countries – in fact, most of them – have experienced limited middle-income growth. In some European countries, where income inequality has remained in check, this has been a component of a deliberate strategy to maintain employment growth and competitiveness in the tradable part of the economy, with wage restraint partly shared across the income distribution. In the United States, income inequality has risen as the upper end of the income and education spectrum benefits from globalization, while the rest experience declining employment opportunities in the tradable sector.
He subscribes to the "new normal" thesis best exemplified by Carmen Reihart and Kenneth Rogoff's This Time is Different, which he cites approvingly.
Above all, it means that expectations are broadly inconsistent with reality, and need to adjust, in some cases downward. But distributional effects need to be taken seriously and addressed. The burden of weak or non-existent recoveries should not be borne by the unemployed, including the young. In the interest of social cohesion, market outcomes need to be modified to create a more even distribution of incomes and benefits, both now and in inter-temporal terms. After all, underinvestment now implies diminished opportunity in the future.

The imperative of structural adjustment also implies that individuals, governments, and other institutions (especially schools) need to focus on increasing the speed of adjustment to meet rapidly shifting market conditions. Attention to both the demand and supply sides of job markets is required. This means not only matching skills to jobs, but also expanding the range of jobs to match skills.

Finally, global economic-management institutions need to address whether the pace of globalization, and its implied structural change, is faster than the capacity of individuals, economies, and societies to adjust can withstand. If so, the next challenge will be to find non-destructive ways to moderate the pace in order to bring capacity to adjust and the need for adjustment into closer alignment.
Steven Rattner, who headed up President Obama's Auto Task Force begins with a similar premise  and says "Let's Admit It: Globalization Has Losers."
A typical General Motors worker costs the company about $56 per hour, which includes benefits. In Mexico, a worker costs the company $7 per hour; in China, $4.50 an hour, and in India, $1 per hour. While G.M. doesn't (yet) achieve United States-level productivity in China and India, its Mexican plants are today at least as efficient as those in the United States.

G.M. has responded with inarguable logic. While reducing its United States hourly work force to 50,000 from 89,000 over the past five years, its Mexican hourly head count has risen, to 9,235 from 9,073.

[…]

So let's start by acknowledging that just as occurred decades ago with agriculture, the declining role in our economy of manufacturing, which over the last half-century is down from 32 percent of the work force to 9 percent, will continue. Let's also recognize that retreating into protectionism would turn a win-lose into a lose-lose.

And even if organized labor could force wage rates back up, that would hardly help domestic manufacturing compete against lower-cost imports.

Instead, we should follow the example of successful high-wage exporters in concentrating on products where we have an advantage, as Germany has done with products like sophisticated machine tools.

While America still leads in sectors like defense and aviation, our greatest strength, and a source of high-paying jobs, lies in service industries with high intellectual content, like education, entertainment, digital media, and yes, even financial services. Facebook, Google and Microsoft are all American creations, as are the global credit card companies American Express, Visa and MasterCard.
While that sounds great, I'm not at all convinced that the sort of people who've lost decent paying jobs as factory workers, forklift operators, or even middle managers are likely to be suitable for jobs in the technology or financial services sectors. Moreover, the same logic that sends auto manufacturing jobs to Mexico will naturally send an increasing number of technology jobs to India.
None of this is very encouraging and, to the extent that government can help alleviate the problem, I'm not convinced that either of the major parties has the answers.
The time-honored Republican solutions of lowering taxes and eliminating regulations has, to the extent it's been helpful, run its course–the Laffer Curve curves and one can only deregulate so much. Further, it's undeniable that, whatever gains these policies have had in terms of competitiveness and incentive for entrepreneurship, they've also contributed to the inequality and consolidation problems.
The Democrats, meanwhile, are mostly talking about make-work jobs–which may or may not be useful right now, but don't address the structural issues at the heart of the matter–and banging the "education" drum. But the fact that those with advanced degrees have, on the whole, done better in this economy than those without doesn't mean that we can fix everything by sending more people to school. For one thing, education is often simply a means of sorting by intelligence; people in the lowest quartile, and perhaps the bottom two quartiles, are unlikely to much benefit from the process. For another, education is a means of allocating existing jobs in certain high-income professions and occupations. Simply creating more lawyers and engineers doesn't necessarily create more legal and engineering jobs.
My strong sense is that this will shake out in the end and that this "new normal" is not a permanent thing. But I'm only basing that on the fact that, thus far, that's how things have always played out. Alas, trends continue until they don't. If Reihart and Rogoff' are right, we're pretty much screwed.