An Example of Eroding Mutual Forbearance
President Trump has harsh words for Democrats who didn't applaud his SOTU.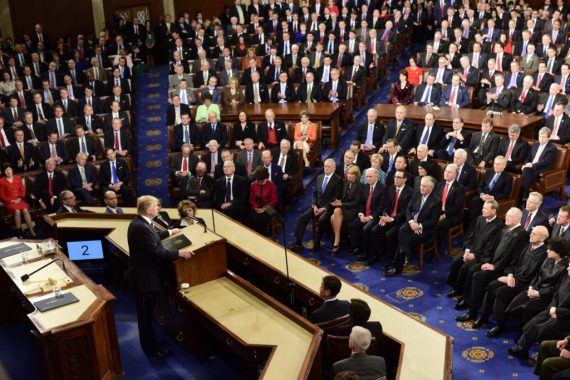 Recently, I noted a NYT piece concerning the troubling erosion of democratic norms in the US in the current era.  In that piece, the co-authors Steven Levitsky and Daniel Ziblatt noted the following:
To function well, democratic constitutions must be reinforced by two basic norms, or unwritten rules. The first is mutual toleration, according to which politicians accept their opponents as legitimate. When mutual toleration exists, we recognize that our partisan rivals are loyal citizens who love our country just as we do.
Yesterday, the President of the United States displayed an example of violating this norm.  Speaking in Ohio he said the following:
"Even on positive news — really positive news, like that — they were like death and un-American. Un-American," Trump complained. "Somebody said treasonous. Yeah, I guess, why not? Can we call that treason? Why not? I mean, they certainly didn't seem to love our country very much."
"Un-American."
"Treasonous."
"[T]hey certainly don't seem to love our country very much."
These are all stark attacks on political opponents for the dire crime of not clapping for the president at the SOTU.
These are words that are aimed at delegitimizing the opposition party and, again, because they did not give praise to him at a speech.
Look, I can agree in the abstract that the political theater (which is bipartisan in nature, and in longstanding) at the SOTU wherein the applause are typically partisan in motivation is more than a bit absurd (but then again, I think that the SOTU is more than a little absurd).  If a president wants to call out that absurdity, that's fair.  But to denigrate the opposition party with these types of descriptions, especially at an event that was practically a campaign rally, is inappropriate, unpresidential, and even dangerous. At a minimum, the political theater in question is historically quite American.
I also recognize that one can make the argument that he was more or less joking about the treason comment.  But, crimes, especially political crimes that are capital offenses, aren't especially good subjects for humor.  This would seem to be obviously true when the "joke" is deployed as public criticism of the opposition party for their crime of lack of adulation for the dear leader.
Even if his supporters wish to deploy the "just joking" defense about treason, he was clearly not joking about the "un-American" nature of lack of the lack of applause nor was he joking asserting that the Democrats "don't seem to love our country very much."  I would note that Levitsky and  Ziblatt states the following in their definition of mutual forebearance: "When mutual toleration exists, we recognize that our partisan rivals are loyal citizens who love our country just as we do."  As political scientists, I suspect that they both heard that speech and were pleased to have direct evidence in support of their argument.  As citizens of the US, I suspect that they were saddened and concerned.
Trump's words were that of stereotypical tinpot dictators, not those of a President of the United States.  They should be called out and criticized; they certainly do not deserve defense.
One might react to all of this by saying it is not a big deal.  But I think it is because it is part of a broader problem of the erosion of basic norms needed to govern ourselves.  Further, in the context of growing polarization, these types of words are damaging.  The President is supposed to be the symbolic head of the country, and therefore should not be trying to tear Americans apart.  Sure, argue and criticize over policy, but don't call opponents un-American for a public expression of their political opinions.
The video is here, if one prefers to hear the words directly from Trump: