An Irony About Libya
So much for not getting invaded...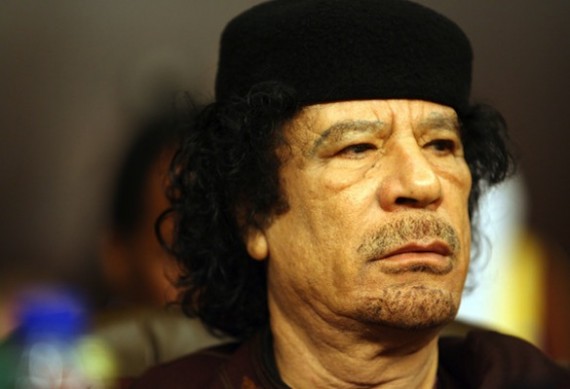 One of the goals of the Bush administration in the post-9/11 world was to discourage states from developing WMD, especially if those states were potential sponsors of terrorist groups.  The now infamous "Axis of Evil" speech and the doctrine of preemptive war (amongst other policy pronouncements and actions) all summed to the notion that the US reserved the right to invade a country that it suspected of sponsoring terrorists and especially to prevent WMD from falling into the hands of terrorist groups.
Indeed, there was hope by the Bush administration and amongst its allies eight-ish years ago that the US actions in Afghanistan and Iraq would prove to be a deterrent to states who might be contemplating such actions.
As history shows, it had the directly opposite effect on Iran, as it did not go without notice that Iraq was invaded to prevent a nuclear program (it was a key argument, in fact:  recall the aluminum tubes, the Valerie Plame/Joe Wilson business, and Bush's evocation of a mushroom cloud?) and that the only member state of the "Axis of Evil" that no one seemed interested in invading was the one with nukes (i.e., North Korea).  As such, the rational choice to procure a nuke PDQ was made.  Further, the presence of US troops on their west and east were likely also a prime motivator,
The one success of the Bush Doctrine in terms of coaxing a response in terms of state behavior was Libya.  That state long associated with terrorism in the US consciousness, that international pariah with the oddball leader not named Kim, it would be the one to be scared straight and give up its nuclear program.  It would be the one to renounce terror as a political tool, and it would be rewarded for its changed ways by the US with improved relations.
One could argue that Gaddafi's motivation in the above was to avoid US military action against him like that which had been aimed at Saddam Hussein and that had been publicly speculated about in regards to Iran.
And yet, here we are.
It struck me as ironic that just under eight years ago Gaddafi specifically engaged in a course of action clearly intended to forestall US military action against his regime and that, despite that, he is now under military attack from the US and its allies.
Moreover:  if he had actually acquired just one nuclear weapon, the current actions would likely not be taking place.