An Observation about Rick Perry
Perry has a combo of Tea Party populism and establishment going for him.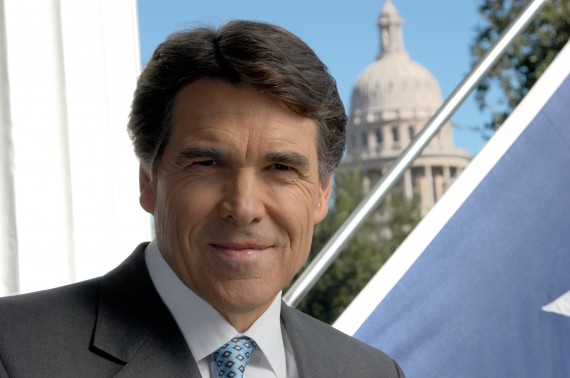 WaPo has a lengthy piece on Texas Governor Rick Perry (Texas Gov. Rick Perry wages an assault on state's university establishment) which includes the following that struck me a fairly apt assessment:
"What one can learn from here is that, while he has good political instincts, the solutions are too simplistic," said a senior Republican Texas legislator who has been an ally and who did not want to be quoted for attribution assessing the governor. "It's easy to find the red meat and to find the weakness — whether it's in the federal government, or in higher education being too fat — but his policy solutions aren't thought through well enough before they get launched."
This type of approach will serve him well when he gets into the presidential race.  He says a lot of things that will make the Tea Party faction and the hardcore conservatives in the GOP electorate quite happy.  He will also be able to do so from behind the veneer of an established politicians who has served in office for a rather long time now.  Indeed, one of the advantages he he has vis-à-vis Romney is that while both have executive experience in large states, Texas trumps Massachusetts any day with Republican voters.
It is further worth noting that his job as Governor of Texas encourages a situation in which he can say a lot and swagger about the state, but not actually have to do anything (given that the state constitution doesn't give him much to actually, well, do).  And, by extension of the lack of powers and such, it is easy to take credit for things that work while also not having to own things that don't.  The degree to which, for example, Perry can personally claim credit for job creation in Texas is actually rather dubious, but such are the politics of executive offices.*
I must confess, I question his sanity after a fashion (with tongue mostly in cheek):  why leave a job that appears to be his for as long as he wants it living in one of the greatest cities in the country, whilst not really having to work all that hard (and with enough connections to guarantee a great post-politics job once out of office)?  Why trade that for the insanity of the presidential campaign and life in Washington, DC (especially if the economy is likely to remain a problem for the foreseeable future)?
The article is primarily about attempts by Perry at reforming the flagship universities in Texas (and also makes some interesting side observations about Texas' political institutions).  I will leave those issues aside for the moment.
—–
*While I have not lived in Texas for 13ish years now, I am from the state, did live there for quite some time, and taught Texas Politics for a while in the mid-to-late 1990s.  As such, I have more than a passing interest and knowledge of state politics.