Ancient Egyptian Glass Found In Grave In Denmark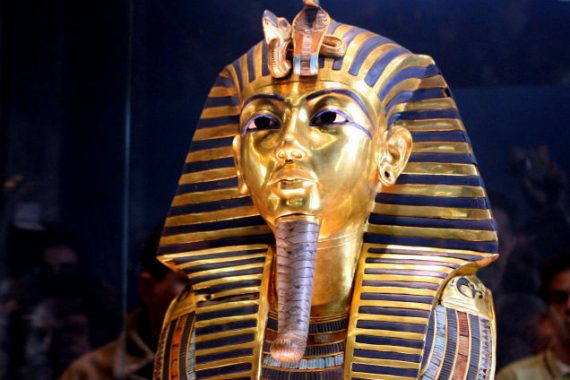 Some fascinating news via io9 that indicates trade in the ancient world was far more widespread than we have previously realized:
An analysis of artifacts retrieved from Bronze Age burial sites reveals that Denmark and ancient Egypt traded with one another 3,400 years ago, and possibly practiced similar religious rituals.

Scientists from the National Museum in Denmark and the Institute of Archaeomaterials Research in France used a technique called plasma mass spectrometry to examine the chemical composition of trace elements in glass that had been excavated by archaeologists in the late 19th century. One such relic had been found in the Danish grave of a wealthy woman, lying in a hollowed-out oak trunk and wearing a belt disc, a string skirt with tinkling, shining small bronze tubes, and an overarm bracelet made of two pieces of amber and a single blue glass bead. A similar piece of jewelry, retrieved from another grave, was a necklace made with four pieces of amber and a blue bead.

The analyses revealed that the chemical composition of the cobalt blue beads matched glass that had been made in ancient Egypt. In fact, the researchers say the glass originated from the same workshops that had manufactured the blue glass inlays found in Tutankhamen's gold death mask.

The beads likely came to Denmark from Egypt by way of Greece. Conversely, amber from Nordic countries was exported southward during this period. Jewelry made from amber was found among the items in the burial chambers of Tutankhamen and other pharaohs.

The Danish and French researchers believe there was a religious significance attached to the Danish jewelry. A common trait of both glass and amber is that sunlight penetrates their surfaces. When a Danish woman in the Bronze Age took a piece of jewelry made of amber and blue glass with her to the grave, the scientists say, it might have constituted a prayer to the sun to ensure that she would be re-united with it and share her fate with the sun on its eternal journey.
Written records from this era is, of course, quite limited so we don't know for sure just how much the two societies interacted, but even this small bit of evidence of contact between two parts of the ancient world that were, relatively speaking given the time, so far apart suggests that there was far more interaction than we have previously suspected.