Andrew Breitbart Served With Shirley Sherrod's Defamation Lawsuit At CPAC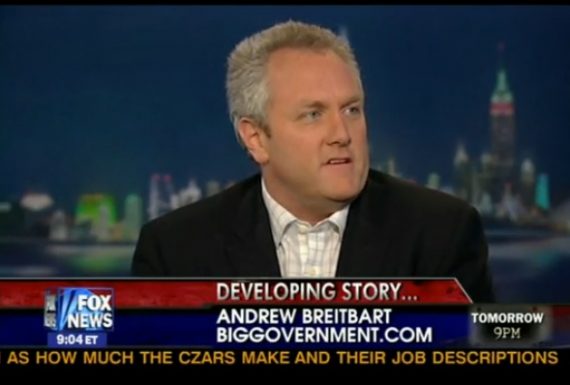 I wasn't witness to it, and didn't actually hear about it until I was leaving the hotel this morning, but at some point yesterday Andrew Breitbart was officially served with a defamation complaint filed by Shirley Sherrod in connection with the controversy that erupted last July over an edited video of comments by her released by one of Breitbart's websites:
Andrew Breitbart, the owner of several conservative Web sites, was served at the conference on Saturday with a lawsuit filed by Shirley Sherrod, the former Agriculture Department employee who lost her job last year over a video that Mr. Brietbart posted at his site biggovernment.com.

The video was selectively edited so that it appeared Ms. Sherrod was confessing she had discriminated against a farmer because he was white. In the suit, which was filed in Washington on Friday, Ms. Sherrod says the video has damaged her reputation and prevented her from continuing her work.

Mr. Breitbart said in a statement that he "categorically rejects the transparent effort to chill his constitutionally protected free speech."
Brietbart's full statement actually goes further than that, and picks up on his current obsession with a Department of Agriculture program to compensate African-American farmers who were discriminated against, which he contends was actually disguised slavery reparations:
Andrew Breitbart said, in response to being sued, "I find it extremely telling that this lawsuit was brought almost seven months after the alleged incidents that caused a national media frenzy occurred. It is no coincidence that this lawsuit was filed one day after I held a press conference revealing audio proof of orchestrated and systemic Pigford fraud. I can promise you this: neither I, nor my journalistic websites, will or can be silenced by the institutional Left, which is obviously funding this lawsuit. I welcome the judicial discovery process, including finding out which groups are doing so."

On Thursday, February 10, 2011, at the Conservative Political Action Conference in Washington, D.C., Mr. Breitbart held a national press conference at which he, Huffington Post blogger Lee Stranahan, and black farmer Eddie Slaughter presented compelling evidence for, and Representatives Michele Bachmann (R-MN) and Steve King (R-IA) specifically called for, Congressional investigation into the Pigford case.

At the press conference, Mr. Breitbart revealed two hours of audio of Thomas Burrell, the head of the Black Farmers & Agriculturalist Association, Inc., teaching non-farmers in the South how to commit fraud in the Pigford "back-door" reparations case. This audio conclusively demonstrates how people have conspired to grow the class of Pigford claimants to 94,000, when in fact, there were only about 18,000 black farmers in the entire country during the relevant time period, and when there were never anticipated to be more than a few thousand potential claimants among those 18,000. The numbers just do not and cannot add up.

"I am determined to obtain justice for the truly and legitimately discriminated against American black farmers, who have heretofore been denied justice by the USDA and the Pigford case," Andrew Breitbart said. "Nothing will deter my efforts to makes them whole. I will simultaneously continue to fight relentlessly against the efforts of those who would use these working American farmers to defraud the American taxpayer to the tune of billions of dollars. This new lawsuit will not stop the American public from finding out what is really going on, who is directly culpable, and the critical role of the Pigford claimant in all off this."
Without seeing a copy of the Complaint, I can't really comment on the merits of Sherrod's lawsuit, although I will say that I think that those who think that Breitbart will be able to rely on the argument that Sherrod was a  "public figure" as defined by New York Times v. Sullivan and subsequent cases for defamation purposes are mistaken. One has to think that Breitbart knew this lawsuit was coming, though, given how hard he was pushing this Pigford story at CPAC, including spending almost ten minutes talking about it in Blogger's Lounge.