Andrew McCabe's Pension Restored
DOJ has settled a civil suit with the former official.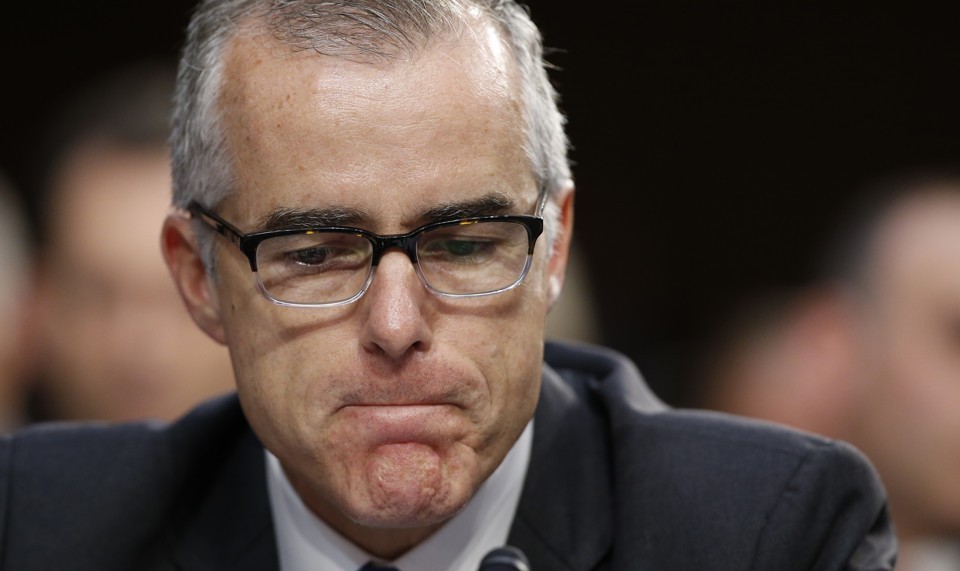 It took three-and-a-half years but justice has finally been done by the Justice Department in the matter of the former Acting Director of the FBI unceremoniously fired by President Trump's first Attorney General.
NPR ("Fired FBI official Andrew McCabe wins retirement benefits and back pay in settlement"):
The Justice Department has agreed to restore full law enforcement benefits and provide some attorney fees for former FBI Deputy Director Andrew McCabe, who was fired by the Trump administration only hours before his retirement three years ago.

The settlement will resolve a civil lawsuit filed by McCabe, who argued that his ouster was the result of a "years-long public vendetta" driven by the former president.

The Justice Department demoted and then dismissed him on the eve of his 50th birthday in March 2018, when his FBI annuity would have vested.

"I think the message that you get loud and clear from the terms of the settlement is that this never should have happened," McCabe said. "It feels like complete vindication, because that's what it is."
When news of the firing broke, I wrote,
Firing McCabe in this manner, smearing his reputation and depriving him of much of his pension, is shameful. The fact that this all happened after 10pm on a Friday night is a rather clear signal that the decision was clearly rushed to ensure he couldn't simply retire with dignity. The fact that the President continuously interfered in the matter and was up late at night gloating about the result on Twitter makes it rather obviously a case of abuse of power.
I still believe that. But this should not be viewed as "a complete vindication," either. As Quinta Jurecic and Benjamin Wittes explained at Lawfare shortly after the firing, McCabe's hands were not entirely clean.
The FBI takes telling the truth extremely seriously: "lack of candor" from employees is a fireable offense—and people are fired for it. Moreover, it doesn't take an outright lie to be dismissed. In one case, the bureau fired an agent after he initially gave an ambiguous statement to investigators as to how many times he had picked up his daughter from daycare in an FBI vehicle. The U.S. Court of Appeals for the Federal Circuit ruled against the agent when he appealed, finding that "lack of candor is established by showing that the FBI agent did not 'respond fully and truthfully' to the questions he was asked."

Consider also that although Sessions made the ultimate call to fire McCabe, the public record shows that the process resulting in the FBI deputy director's dismissal involved career Justice Department and FBI officials—rather than political appointees selected by President Trump—at crucial points along the way.
Still, the firing was clearly politically motivated. Three years of litigation over enhanced pension benefits that would have vested 26 hours later is more than enough punishment for sins that were comparatively venial.