Andy Griffith Dies At 86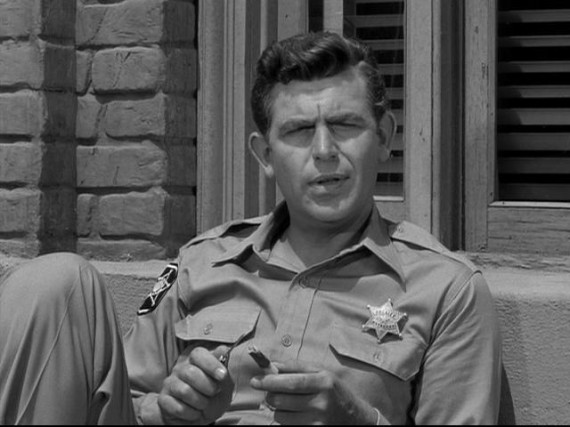 Television legend Andy Griffith, who became best known for the eponymous show in which he played small-town North Carolina Sheriff Andy Taylor, died in North Carolina today at the age of 86:
He was a vocalist, an actor, a stand-up comic, a producer and once even a schoolteacher, but we knew him best for creating the mythic Mayberry, a Camelot in bib overalls where home-spun wisdom reigned.

He was Andrew Samuel Griffith, but we knew him best as "Andy." He died Tuesday at age 86 in Manteo.

"Andy Griffith means the world to the arts everywhere – not just here in Mount Airy," said Tanya Jones, executive director of the Surry Arts Council, which oversees the Andy Griffith Museum there. "We are blessed to have known him. We will cherish his art, his music, his talent, and of course, our beloved "Andy Griffith Show.' "

"Andy Griffith. His pursuit of excellence and the joy he took in creating served generations & shaped my life. I'm forever grateful. RIP Andy," tweeted Hollywood director Ron Howard, whose formative years were spent on the set of "The Andy Griffith Show" as Opie, the precocious son of the small-town sheriff Andy Taylor.

In the landmark series about family values that entertained millions in the 1960s and thrives five decades later in syndication, their father-son relationship was one of the few that wasn't played just for laughs.

(…)

Griffith was born in Mount Airy on June 1, 1926, son of Carl and Geneva Griffith. He took a liking to music and learned to play the trombone at 16.

Despite a so-so academic record, he was industrious, earning enough money sweeping the high school after classes to buy a bass horn and guitar.

He went on to UNC Chapel Hill and majored in music, taking five years to get his degree in 1949. He taught school for three years in Goldsboro.

Lanky and handsome, his head thick with wavy black hair, he found summer work at the outdoor drama "The Lost Colony" in Manteo. Griffith played Sir Walter Raleigh from 1949 to 1953 and appeared on the dinner club circuit as a comedian and singer.

Motoring one evening in 1953 down pastoral N.C. 54 from Chapel Hill to an appearance in Raleigh, Griffith was struck by an inspiration that would ignite his career.

He dreamed up a comic monologue about a country bumpkin mystified by a game "where you try to run across a cow pasture without getting hit or stepping in something."

It got big laughs and Griffith spun to fame on a phonograph needle.

"What It Was Was Football" sold a million copies. It got him on the Ed Sullivan show. And it established Griffith as a Southern comedic voice, leading to a role as the hillbilly recruit in the TV production of "No Time for Sergeants" and then the same role on Broadway, for which he was nominated for a Tony Award.
Even nearly 60 years later, that monologue still holds up:
From there, Griffith went on to Hollywood where he appeared in a number of films playing characters far different from the ones that he would become most famous for, such as "A Face In The Crowd" with Patricia Neal, but it was on television where his fame would come:
"The Andy Griffith Show" debuted on CBS on Oct. 3, 1960, attracting weak reviews and strong ratings.

It was the fourth highest-rated program of 1960 and throughout its eight-year run was never out of the top 10. In its final year, 1968, it finished as the No. 1 show on TV. The series spun off "Gomer Pyle USMC" and "Mayberry RFD."

Even 50 years later, "The Andy Griffith Show" performs well in reruns despite its many black and white episodes, its dated Ford Galaxie patrol car and its operator-assisted phone system, all relics of an ancient technological age.

Griffith became a producer in 1972 and acted occasionally until 1983 when he was stricken with Guillain-Barre syndrome. He recovered and in 1986 produced the legal series, "Matlock."

Through clever questioning and courtroom theatrics, Benjamin Matlock yanked innocent clients from the precipice of prison for six years on NBC, then moved to ABC for three more.

When Griffith won the People's Choice Award for "Matlock" in 1987, he said the role of the folksy Atlanta attorney was his favorite. It offered the most range, he said.

"Ben Matlock was very vain, very bright, very cheap," Griffith said in a 2003 interview. "He was a lot different from Andy Taylor."
At least as far as most of are concerned, though, I would imagine that it's as Andy Taylor that we'll always remember him. The Sheriff who never carried a gun and always seemed to find the right answer to whatever problem was afflicting the small town of Mayberry. As this clip from the final years of the show, when it finally started airing in color, demonstrates it was also an era when police work was portrayed much differently on television:
That's a stark difference from a show like Law & Order where the 4th Amendment often seemed to be viewed by the police as an inconvenience at best. Of course, things were much simpler in Mayberry in the 1960s than they were in New York City in the 1990s. So long, Andy.