Another Immigration Graph
From the same source as the previous post: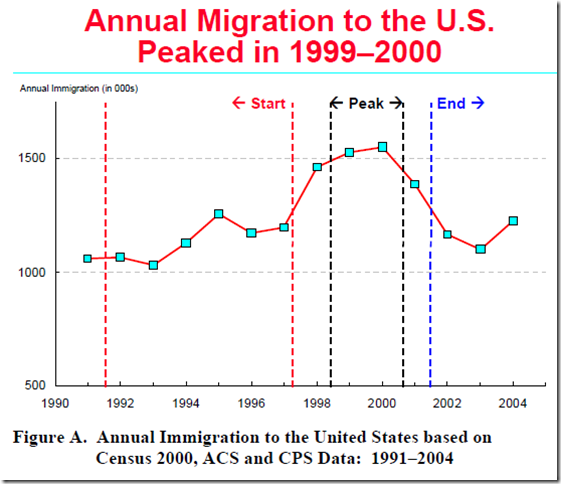 It is worth noting that much of the current debate on immigration is based on perceptions built during a time of a bulge in immigration, rather than on the long-term trends, nor the current situations.
Along those lines, in fact:  Net Migration from Mexico Falls to Zero—and Perhaps Less
The largest wave of immigration in history from a single country to the United States has come to a standstill. After four decades that brought 12 million current immigrants—most of whom came illegally—the net migration flow from Mexico to the United States has stopped and may have reversed, according to a new analysis of government data from both countries by the Pew Hispanic Center, a project of the Pew Research Center.

The standstill appears to be the result of many factors, including the weakened U.S. job and housing construction markets, heightened border enforcement, a rise in deportations, the growing dangers associated with illegal border crossings, the long-term decline in Mexico's birth rates and broader economic conditions in Mexico.
The long-term trend line:
Here are the shorter term numbers: