Another Poll Shows Little Support For Increased Gun Control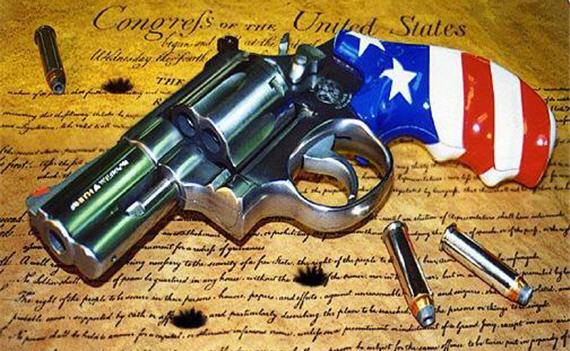 Based on the new CBS/NY Times/Quinnipiac Poll, there appears to be very little support for stricter gun control in at least three of the 2012 battleground states:
Most voters in Colorado, Virginia and Wisconsin are not clamoring for stricter state laws covering the sale of guns, with majorities in each state saying more restrictions would not prevent violent attacks like last month's killings in Aurora, Colo.

Still, roughly 4 in 10 likely voters say gun laws in their individual states should be made more strict, new Quinnipiac University/New York Times/CBS News polls find. But as many voters in Virginia say the laws should stay the way they are, as do about half of voters in Colorado and Wisconsin. (Most interviews in Wisconsin were conducted before Sunday's shooting at a Sikh temple in Oak Creek, Wis.) The polls found that 6 percent in Wisconsin, 8 percent in Colorado and 9 percent in Virginia want their gun laws made less strict.

Many voters seem to lack confidence in the effectiveness of more stringent laws. About 6 in 10 voters in Virginia and Wisconsin and two-thirds in Colorado say stricter laws would not deter gunmen intent on mass shootings.

"I honestly believe that criminals can get guns no matter where or when or how," Phyllis Everitt, 65, of Aurora, Colo., said in a follow-up interview. "I realize this man purchased them legally, but if he hadn't and he was determined to do this, he probably would have gotten them illegally," she said, referring to James Holmes, who has been charged with killing 12 people and wounding 58 in an Aurora movie theater last month.

Few voters in the polls are satisfied with how much time the presidential candidates have spent on gun laws. More than 4 in 10 in Virginia and Wisconsin say too little time has been spent on the issue, while nearly 3 in 10 say it has been the right amount; Colorado voters are more divided. About 2 in 10 in each state say they have spent too much time discussing the issue.

About half of voters in each state say they or someone in their household owns a gun.

The polls found majority support in each state for a nationwide ban on the sale of high-capacity ammunition magazines, ranging from 52 percent in favor in Virginia, where 32 people were killed by a gunman in 2007 at Virginia Tech, to 57 percent in Wisconsin and 58 percent in Colorado.

"I'm not saying you should outlaw guns, but I don't see the point of hundred-round magazine clips and automatic weapons if you just want to target shoot," said John Tyson, 66, of Winchester, Va. "People say it's their right to bear arms, but when the Constitution was written there was no such thing as an automatic weapon."
This shouldn't really come as a surprise. The three states surveyed all have long traditions of gun ownership, hunting, and the like. Nonetheless, I suspect that the numbers for a national poll wouldn't be all that different.