Another Poll Shows McAulliffe Leading Cuccinelli In Virginia
A new Rasmussen poll shows Terry McAuliffe leading Ken Cuccinelli in the Virginia Governor's race:
Democrat Terry McAuliffe has opened up a seven-point lead over Republican Attorney General Ken Cuccinelli as the Virginia gubernatorial race enters the post-Labor Day stretch.

The latest Rasmussen Reports telephone survey of Likely Virginia Voters finds McAuliffe with 45% support to Cuccinelli's 38%. Seven percent (7%) prefer some other candidate, while 10% remain unsure.
This is consistent with recent polling from other organizations showing McAuliffe opening a lead. Additionally, RealClearPolitics gives McAuliffe a 7.7 point lead in its polling average, with a clear trend in the Democratic candidate's direction: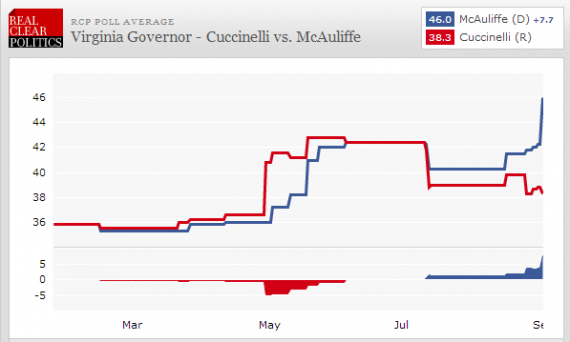 With the campaign now in full swing, I've noticed that Virginia Democrats have begun their expected negative campaign against Cuccinelli, focusing most especially on his positions on social issues. These ads will likely continue to roll out and will be getting a lot of airtime hear in Northern Virginia. If they're successful in sustaining Cuccinelli's negatives and expanding the gender gap, then Virginia Democrats may just be able to pull off a victory here.