Another Round Of Hand-Wringing Over "Negative Campaigns"
Once again, the punditocracy is bemoaning the rise of so-called "negative campaigning."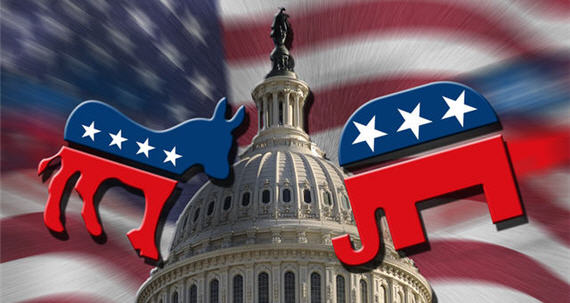 John Avlon asserts that the Florida Republican primary has been, judging just by the the television ads, the most negative ever:
No, it's not your imagination. Things are uglier than ever in the Sunshine State.

A staggering 92 percent of the political ads run in Florida over the last week of the campaign have been negative.

"For as long as I've been in politics, 14 years, journalists call me and ask if this is the most negative election ad atmosphere I've ever seen," says Kenneth Goldstein, president of Kantar Media CMAG, which tracks content and targeting of political advertising. "And every year I say, 'Don't be ridiculous.'"

"But this year it's true. This primary season is the most negative it's ever been," asserts Goldstein. "I have absolutely never seen television advertising so negative in a Republican presidential primary."

This tsunami of sleaze is being propelled by unprecedented advertising buys. The Romney campaign and its associated super PAC, Restore Our Future, have spent $15.3 million in Florida over the past month alone, according to Maggie Haberman of Politico. To put this in perspective, John McCain spent $11 million on ads during his entire 2008 primary campaign. Back on this side of Citizens United, Newt Gingrich and his billionaire-backed super PAC have spent "only" an estimated $3 million—giving Romney a 5-1 spending advantage in the Sunshine State.
The comparison of this year to 2008 isn't really a valid one, of course, because SuperPACs did not exist in 2008. I've been unable to find a breakdown of the $15,000,000 figure to show much more is SuperPAC spending and how much is Romney campaign spending, but I'm willing to but that a substantial amount of it, if not the majority, constitutes ad spending by Restore Our Future. So, comparing what two separate entities spent in Florida this year to what the McCain campaign alone spent during a primary season that was essentially over by the time the Florida primary ended is an apples and oranges comparison that doesn't tell us that much.
Of course, as Avlon admits, the Romney strategy to go negative against Gingrich has worked. It worked in Iowa to blunt Gingrich's December rise in the polls that threatened to catapult him to a big win in the first contest of the cycle, and it worked in Florida:
The barrage of negative ads has been effective—Newt's momentum coming off a South Carolina win seems to have been stopped by Romney's money. It's a play we saw in Iowa, where CMAG concluded that 45 percent of the total ads aired were anti-Newt, pushing Gingrich from first to fourth in a matter of weeks. Gingrich's brief attempt to honor Reagan's 11th commandment was not rewarded with popular support. In Florida, a must-win state for Romney, the decision was made to go all in: "In the last two weeks, they decided that the campaign would have the same level of negative as the super PAC," asserts Wilson. "They realize that the fig leaf is off—and they're using the same kind of messages, just as hard and vigorous.
And as Joe Hagan notes in New York magazine, what we've seen in Florida is just a preview of what we'll see in the General Election:
Whereas in 2008 there were about 25 opposition researchers, the engine of any negative campaign, working for Obama's campaign, the pro-Obama super-PACs, Priorities USA Action and American Bridge 21st Century, together add another 50. Even more will be added on the right, with American Crossroads, the super-PAC co-founded by the negative-campaigning guru Karl Rove, and the Koch brothers' Americans for Prosperity all staffed up and sharpening their arrows, ready to ally with whomever the nominee is and his respective super-PAC. That means that instead of two campaigns running against each other, there will be six or more, a virtual arms race of donor money, most of it anonymous, with overall television advertising spending expected to reach $3 billion in 2012. The tsunami of slime will overtake the public sphere for months.
Using a phrase like "tsunami of slime" makes it pretty clear how Hagan feels about this issue, as does the rest of the article. Nonetheless, even he must grudgingly admit a very simple fact of politics, negative ads work. Whether it's the Willie Horton ad or the Bush campaign's 2004 negative campaign against John Kerry, there's plenty of evidence to show that a properly executed negative campaign that draws out the contrasts between the candidates, and the weaknesses of one's opponent, are among the most effective ways to win a hard-fought political campaign where the actual differences between the candidates aren't nearly as large as either side wants the voters to believe. If negative campaigning didn't work, then campaigns wouldn't engage in it to begin with.
Moreover, as I noted when I wrote about this issue in 2010, there's some obfuscation over what actually constitutes "negative campaigning:"
The most famous (or infamous) negative ads — the 1964 "Daisy" ad, the "Willie Horton" ad, or the racially charged affirmative action ad that Jesse Helms ran in 1990 — have typically been those that have unfairly attacked a candidate on irrelevant or over-the-top grounds. When people refer to "negative ads" today, it's clear that they're including not just these types of ads, but also those that seek to, truthfully, contrast candidates or point out items in an opponents record. As long as the ads themselves are truthful, fair, and honest, they seem to me to be completely legitimate, and piling on a candidate who runs these types of ads for running a "negative campaign" is unfair and dishonest. Pointing out the differences between you and your opponent is an important part of a campaign,
It's also worth noting that voters do tend to punish candidates who take negative campaigning too far, either by hitting their opponents on issues that are irrelevant to the election or by doing so untruthfully or unfairly. In 2008, Elizabeth Dole ran a despicable ad challenging her opponent's Christian faith because she took a campaign contribution from a prominent atheist. She lost that election, in no small part because of the negative reaction that ensued when the ad received media attention. In 2010, Democrat Jack Conway unveiled a brutal last minute attack ad against Rand Paul, the so-called Aqua Buddha ad, that resulted in a strongly negative reaction from Paul and his supporters. While Conway was already trailing badly at the time, the polls after the ad ran showed pretty decisively that the voters in Kentucky were turned off by what Conway had done. That same year, Florida Congressman Alan Grayson ran a series of ads against his opponent that were widely perceived as false and unfair, and he lost his re-election bid as well. So, the voters aren't quite as dumb as people like Hagan think they are and seem to clearly be able to tell the difference between legitimate attacks and unfair ones in the course of a political campaign.  Isn't that how free speech is supposed to work?
Outside of the hand-wringing political pundits, the whole issue of "negative campaigning" strikes me as a non-issue. For one thing, he phrase "negative ad" is meaningless because it can be used to mean anything and ends becoming a pejorative to use against your opponent when he does something you don't like. It is typically something that a candidate who is losing an election and doesn't have the resources to respond to the attacks against him complains about, and it plays well with the candidate's base, especially when that candidate is someone who likes to play up the victimization card the way Gingrich does. Outside of pundits and losing candidates, though, I still haven't seen any evidence that voters actually care about the fact that a candidate runs "negative ads."  They care about things like jobs and the economy, not process stories that political reporters commiserate about while sharing cocktails at the end of the day.
Finally, I'd just note that Avlon and Hagan's theses about 2012 being the "most negative campaign ever" strikes me as suffering from an incredible sense of historical myopia. Have these men not heard of the Presidential campaigns of 1800, or 1860, or the smears against Grover Cleveland when he ran in 1888? If you think things are "bad" today, this is nothing compared to the way it used to be. But, of course, historical perspective isn't really all that important to the hand-wringing set is it?