Anthony Weiner Action Figure
A company called Hero Builders is offering this for sale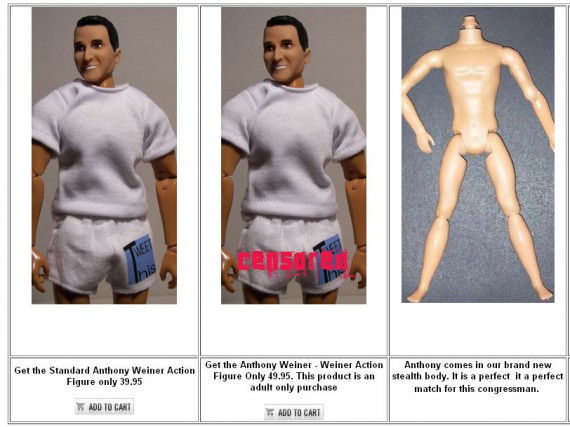 Sadly, I'm not making this up. A company called Hero Builders is offering this for sale:
Get the Anthony Weiner Action Figures, Anthony Weiner Doll comes in 2 Versions are Available the standard Weiner and the Weiner Weiner Doll (for adults only) You can get either the standard or the enhanced Action Figure.
It's not quite clear what the Weiner Weiner Doll's enhancement is but the implication is clear enough. NewsCore notes that there are other action figures in the line-up:
Weiner is not the first political figure to be turned into an action figure by Herobuilders.com.

The company has also produced popular figures like President Barack Obama, First Lady Michelle Obama and former Republican vice-presidential candidate Sarah Palin.
Bryan Preston adds:
A Ken version and a non-Ken version. Classy!

Questions: Does it come with an unregistered, environment-destroying SUV? And a highly political wife who, when the Weiner doll tweets his junk to unsuspecting Barbies, will automatically swing into aidin' and Abedin mode?
While one admires the entrepreneurial spirit here, it's a bizarre product. Weiner's a public figure, so there's a wide berth for satire. But one wonders if this crosses the line in using his celebrity to sell a product.