Anthony Weiner Released From Prison
The ignominious saga of Anthony Weiner appears to have reached its end.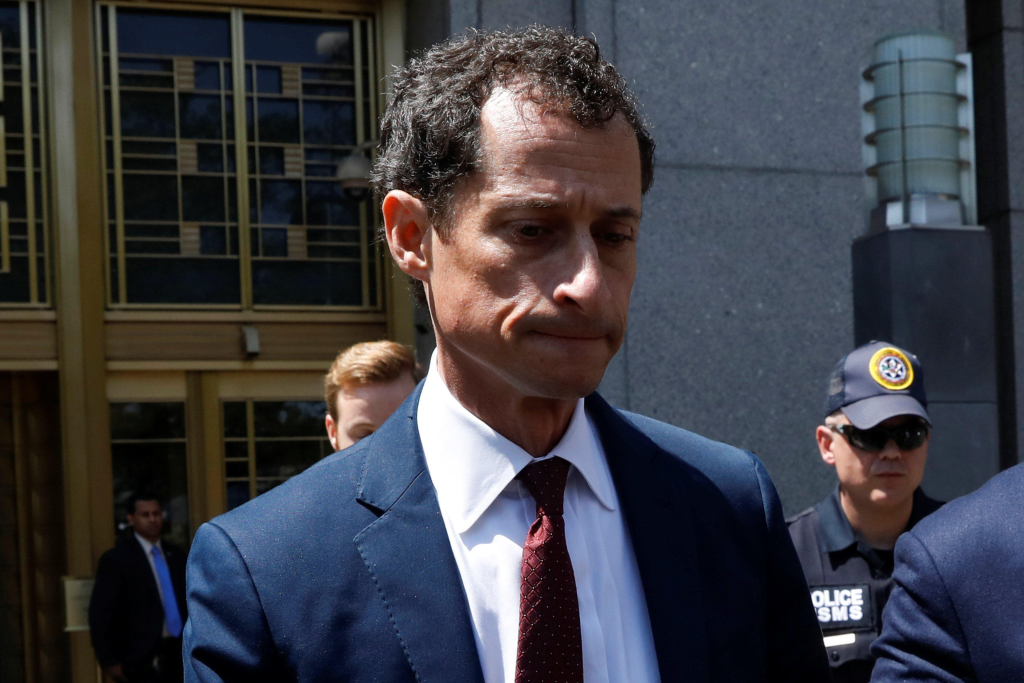 Former Congressman Anthony Weiner has been released from Federal prison after serving most of the twenty-one months he was sentenced to after pleading guilty to charges of sexting with a minor across interstate lines:
Disgraced former Congressman Anthony Weiner has been released from federal prison after being convicted of having illicit online contact with a 15-year-old girl in 2017.

The Federal Bureau of Prisons website shows the 54-year-old New York Democrat is currently in the custody of its Residential Re-entry Management office in Brooklyn.

It's not immediately clear when Weiner was transferred and where he's staying now, but Weiner will have to register as a sex offender and spend three years on supervised release under the terms of his sentence.

The prison bureau, federal prosecutors in New York and Weiner's lawyer didn't respond to emails seeking comment Sunday.

Weiner began serving a 21-month prison sentence at the Federal Medical Center Devens, located about 40 miles west of Boston in Ayer, Massachusetts, in November 2017.

The bureau website shows Weiner is slated to complete his sentence May 14, a few months earlier than scheduled because of good conduct in prison.

A once-rising star in the Democratic Party who served nearly 12 years in Congress, Weiner had a dramatic and sordid fall from grace after he sent a lewd picture of himself to a college student over Twitter in 2011.

Weiner initially claimed his account had been hacked, then admitted he'd had inappropriate online interactions with at least six other women while married to top Hillary Clinton aide Huma Abedin.

Weiner resigned from Congress that year but mounted a campaign for New York City mayor in 2013.

But his personal behavior was again his undoing after it was disclosed he sent explicit photos under the alias "Carlos Danger" to at least one woman after resigning from Congress.

Weiner ultimately garnered less than 5 percent of the vote in the Democratic primary.

His final fall came in 2017 after prosecutors say he sent a series of sexually explicit messages to a North Carolina high school student. Weiner pleaded guilty to transferring obscene material to a minor.

At his sentencing, he said he'd been a "very sick man for a very long time" because of his sex addiction.
This is the rather ignominious end of a scandal that began around Memorial Day weekend in 2011 when Weiner sent out a tweet that was clearly meant to be a private message to a woman in Washington state with whom he had apparently been exchanging messages for months. The picture consisted of, well, Weiner's genitals concealed by a pair of underwear but still rather obvious. Initially, the Congressman claimed that his Twitter account had been hacked and engaged in a war with the media that lasted more than a week during which his claim that he had not sent the picture became harder and harder to believe. Eventually, other women came forward to say that they too had been in communication with the Congressman and had also received explicit photos, several of which were later released and made public by conservative provocateur Andrew Breitbart. This led eventually to an emotional apology by Weiner in early June, but at that point he refused to resign from office despite several calls to do so. Then, in a preview of the situation that would ultimately prove to be his downfall, it was reported that Weiner had been exchanging explicit messages with a 17-year-old girl from Delaware. This led top Democrats to call on Weiner to resign, calls that President Obama eventually agreed with. Two days after Obama said that Weiner resigned from Congress.
Two years later, Weiner attempted what seemed like it would be an unlikely political comeback by pursuing his longtime dream of becoming Mayor of New York City, throwing his hat into the ring for the Democratic nomination in 2013.  While the initial response to Weiner's campaign from New York Democrats was negative, he surprisingly began to rise in the polls even though it seemed unlikely that he'd be able to actually win the nomination. Despite those doubts, Weiner continued to rise in the polls and by July, just two months shy of the Democratic primary, he was leading in the polls in a rather crowded field to replace Mike Bloomberg, who was prevented by term limits from running for re-election. Then, it all started to fall apart again. Reports came out showing that, under the name "Carlos Danger," Weiner had continued to engage in explicit conversations with women around the country, something that Weiner soon acknowledged in a press conference at which he vowed to remain in the Mayoral race despite the revelations. In the first polls taken after the new revelations, Weiner had slipped in the polls and it soon became clear that both his campaign and Weiner himself, were in a downward spiral. Soon after, a poll showed that a majority of New York Democrats wanted Weiner out of the race despite s claim that he was "100%" done with sexting. Incredibly, Weiner stayed in the race despite all this and ended up finishing in fourth place with just under 5% of the vote.
If you thought at the time that this was the end of the Anthony Weiner scandal, you would be wrong. Three years later, Weiner was back in the news and he even ended up having a significant, perhaps decisive, impact on the 2016 Presidential campaign. In August 2016, Anthony Weiner was implicated in a new sexting scandal that showed him sharing explicit and suggestive photos and texts with women across the country, including one that included his son with Huma Abedin in the background. At that point, it was announced that Weiner and Abedin, who at the time was working on Hillary Clinton's campaign, had separated, something that many people thought probably should have happened long before. In any case, it quickly became apparent that this scandal was different from the others. In September 2016, it was revealed that Weiner had been exchanging explicit messages with a 15-year-old girl who had told him her age at the time of the communication. This caused the Federal Bureau of Investigation to get involved in the case, and this is where Weiner's final downfall started, and it's also where the Weiner sexting scandal became part of the 2016 election campaign.
In late October 2016, with just two weeks to go in the campaign, F.B.I. Director James Comey sent a letter to Congress regarding an update to his previous testimony and statements regarding the investigation into Hillary Clinton's use of a private email server and handling of classified information. In that letter, Comey advised Congress, in a purported supplement to his earlier testimony on the matter, that another matter under investigation by the Bureau had uncovered additional Clinton work-related emails that may not have been reviewed in the Bureau's previous investigation. At the time, it quickly became clear that the investigation in question was the Bureau's investigation of Weiner's sexting with the underage girl. A week later, Comey sent another letter to Congress saying that the emails that had been found, which apparently consisted of thousands of pages, were copies of others the Bureau had already reviewed and that the Bureau was once again closing its investigation. Nonetheless, the damage was done and many believe that it was the last-minute public news about Clinton's emails that helped to contribute to her loss. The irony of all this, of course, is that it was Bill and Hillary Clinton who had introduced Huma Abedin to a young, single Congressman named Anthony Weiner all those years ago. Thus setting in motion the events that eventually led to Hillary Clinton losing a race she probably should have won.
In any case, this appears to  be the end of the Weiner story. He and Abedin are now divorced, he has no political future, and one can only hope he doesn't go out and buy himself an iPhone.