Anthony Weiner: Yea, There Are Probably More Pictures Out There
Anthony Weiner's campaign for Mayor Of New York isn't exactly getting off on the right foot.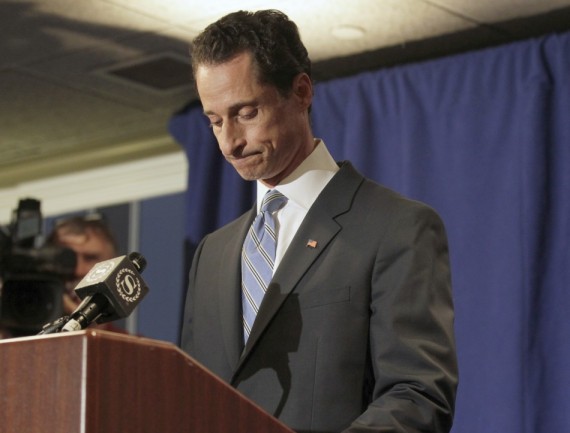 Just a day after opening his seemingly quixotic campaign for Mayor of New York City, former Congressman Anthony Weiner admitted that there are likely other women out there with compromising photos and emails that he sent:
Former congressman and newly announced New York mayoral candidate Anthony Weiner (D) said in an interview Thursday morning with WNYC-FM that there could be women coming forward with more e-mails or photos from the inappropriate digital conversations that led to his resignation in 2011.

"It is what it is," Weiner said. "People may decide they want to come forward and say, here's another email that I got or another photo. I'm certainly not going to do that. So people may hear things that are true, they may hear things that are not true, but I'm going to try to keep being focused on issues that are important to New York City.

Weiner acknowledged that his campaign will include "a lot of apologizing," but says he hopes people will first give him a chance to make his case and then think about voting for him.

"I'm not asking people to say just forget it and pretend it never happened," he said. "I'm maybe not asking for a second chance, giving me a vote, but for now giving me a second chance to hear what I have to say."

Interestingly, Weiner also suggested that a New York Time Magazine interview he granted last month may not have done him any good.
This suggests to me that there indeed are other pictures out there that didn't become public two years ago, and which may do so now that he's back in the public eye. This comes on the same day that New York's Governor Andrew Cuomo said that if Weiner somehow manages to win the election, New Yorkers should be ashamed of themselves, a comment which suggests quite strongly that New York's political elite are going to be united in opposition to Weiner and, most likely, behind current frontrunner Christine Quinn.
Given his history and the political odds against him, it's hard to see how Weiner could actually pull off a win here. Some commenters have tried to compare Weiner to Mark Sanford, who recently won election to Congress notwithstanding a personal scandal that ended his marriage and, it seemed, his political career. However, as Linda Feldmann at The Christian Science Monitor notes, there are significant differences between Weiner and Sanford:
• Weiner is trying to come back much sooner than Sanford did, two years versus four years.

• Weiner is aiming for a more prestigious job – mayor of the biggest city in the United States, currently held by Michael Bloomberg. Sanford had the good fortune of seeing his old congressional seat open up, allowing him to show a little humility as he ran for a job less prestigious than the governorship.

• Sanford had less difficult competition than Weiner does – not that Sanford's political resurrection was a sure thing. Plenty of voters in South Carolina's First Congressional District weren't ready to forgive and forget. He had to compete in a runoff for the Republican nomination. Then in the general, he faced a well-funded Elizabeth Colbert Busch, sister of satirist Stephen Colbert. Toward the end of the campaign, Sanford's ex-wife accused him of trespassing on her property, and the National Republican Congressional Committee stopped investing in the race. But the district was heavily Republican, and Ms. Colbert Busch was a political novice. Sanford won by nine percentage points.

• Perhaps the biggest issue weighing against Weiner is the "ick" factor. The "weiner" jokes are back, as voters are treated to rehashes of Weiner's lewd texts and tweets sent to women he had met online. Back in 2011, when confronted, Weiner lied about his actions before admitting to them.
To this, I'd add two other points. Unlike Weiner, Sanford was competing in a Special Election for a Congressional District, not a Democratic Primary in the largest city in the United States. Winning a Special Election in a district you'd represented before, as Sanford had, is far easier than winning a Democratic Primary for Mayor of New York just two years after having been forced to resign from Congress as a result of a bizarre sex scandal that occurred while your wife was pregnant with your son. Additionally, despite his personal problems it was clear from the start of his race that Sanford had retained significant goodwill in his old District, something that helped him significantly in winning both the Primary and the General Election. One gets the impression that there isn't the same reservoir of goodwill for Weiner, especially among Democratic activists. It's hard to see how he overcomes all of that, especially given that all of the big money is going to be behind Christine Quinn.
Update: Weiner's day gets worse. It turns out the background graphic on his campaign website is of the City of Pittsburgh, not New York.