Anti-Asian Hate in America
A mass shooting in Atlanta draws attention to a problem of which I was only tangentially aware.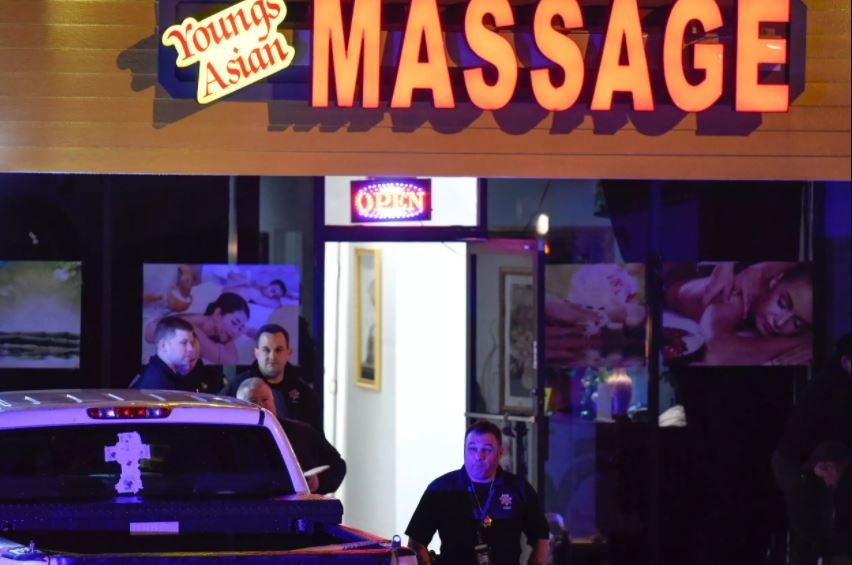 Bigotry is a complex phenomenon in a country as large and diverse as the United States. Growing up white and Christian-adjacent mostly in the Deep South half a century ago, I was well acquainted with anti-Black racism. A year and a half in El Paso in my early teens acquainted me with anti-Mexican prejudice, which seemed from my vantage point much milder, given the mixing of the cultures and much-more-common cross-racial dating and intermarriage. But, until the rise of Pepe memes and other indicators during the 2016 election cycle, I had presumed anti-Semitism a relic of the distant past, relegated to the far fringes of neo-Nazis. In my limited experience, Jews were just "white people" and Judeo-Christian a compound indicating a continuum, not a divide.
Recent news would have me believe that there is a widespread anti-Asian sentiment in the country. This may well be obvious to Asian-Americans and to whites who live in California or other places with large Asian enclaves but it's alien to me. Having lived so much of my life around military communities, where intermarriage between white service members and Asian women is common, I've never had a sense that Asians were an Other, much less viewed as lesser. Yes, there were occasional references to differing eye shape and the like that we now eschew, along with the outdated descriptor "Oriental," but attributed this to what Graeme Wood describes as "an expression less of hatred than of social difference."
The LA Riots brought to my awareness tensions between Black and Korean residents, but I attributed it more to turf fights over resources than bigotry. And, while there is doubtless stereotyping of Asian-Americans in media, it's almost overwhelmingly positive—they're smart, hard-working, and are masters of either a musical instrument or martial art. That's a form of prejudice, of course, but of a much different piece than anti-Black racism.
As to the awful massacre of eight women in Atlanta massage parlors, six of whom were of Asian descent, my early impression comports with Melissa Jeltsen's.
There's a tension that exists in the immediate wake of every mass tragedy. The public yearns for answers, wanting to make sense of the unimaginable. At the same time, little, if any, accurate information is readily available.

It's a predictable vacuum in which chaos reigns, and sticky narratives can take hold. Such was the case earlier this week, after a 21-year-old man went on a deadly shooting rampage at three Atlanta-area massage parlors, where it appears men could buy sex. Robert Aaron Long is now accused of killing eight people — six of whom were Asian women. He was a customer at at least two of the spas, police said.

Amid a frightening uptick in violence against Asian Americans, the attack was quickly labeled by many as primarily motivated by race. But Long told investigators that he attacked the massage parlors because he was struggling with a "sex addiction" and wanted to eliminate the "temptation" of buying sex. While an alleged mass murderer is an unreliable narrator, others have come forward with stories that corroborated his account — and further reporting has painted a picture of a suspect consumed with religion-fueled shame over his urges. Suddenly, Long's attack began to more closely resemble a classic type of American mass shooting: one largely driven by loathing of women.

Yet asking who Long hated the most only goes so far. As much as we can ever know the truth about any person's motivation for violence, the Atlanta shooting likely stemmed from a toxic stew of racism, misogyny, prejudice against sex workers, religious beliefs, and mental illness. (Despite cries to the contrary, mental health is a factor in a significant percentage of mass shootings.) The rush to identify one true motive prevents us from understanding the complexities of a crime like this — and ultimately does a disservice to the victims themselves.
Much of the commentary attributes the killings to hatred of Asians, fetishization of Asian women, general misogyny, and even former President Donald Trump's blaming the COVID pandemic on "Chy-na." And it's possible that all of those things will prove to be true. But most of these cases are more complicated than the initial diagnosis would suggest:
Mass shootings are often misunderstood, and myths about the motivations of the perpetrators, established in the hours and days after the initial event, can linger for years. It's still conventional wisdom that the Columbine shooters planned their attack as revenge against schoolyard bullies, even though the truth was far more complicated. Many still believe that the Pulse nightclub shooting was a planned attack on the LGBTQ community, despite evidence to the contrary. At the trial of Noor Salman, the shooter's widow, which I attended, it came out that he appeared to have picked Pulse at random after Googling nightclubs the night of the attack.

The rush to attribute the violence to a single unifying motive obscures the truth. It also creates a splintering of identities, where a victim is defined by their race, their gender, their class, or their job — instead of as a whole being. Investigators should look at all the factors in unison, not stripped apart. As Lisalyn R. Jacobs, an expert on race and gender, wrote to me on Twitter, "We can only fully move forward by acknowledging the breadth of the victims' identities, not selected aspects."
I must admit, I had long stopped paying attention to the Pulse case and had in fact missed the update that the LGBTQ angle was coincidental rather than central.
Of course, whether the Atlanta massacre turned out to be motivated by race doesn't tell us much about the larger issue. It may well be that anti-Asian sentiment is much more prevalent here than I had realized.