Antifa Terrorist Killed While Attempting to Blow Up ICE Facility
A strangely under-publicized story.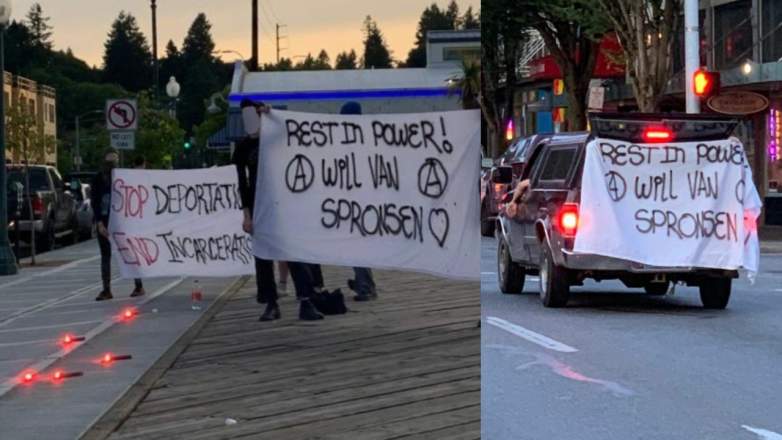 OTB roving correspondent Richard Gardner points me to a troubling incident that happened over a week ago in his neck of the woods that's being strangely undercovered. Or, at least, under-discussed.
The story was dutifully reported in the New York Times ("Man Attacking ICE Detention Center Is Fatally Shot by the Police") contemporaneously :
The police fatally shot a man who was attacking an immigration detention center in Tacoma, Wash., on Saturday morning, the authorities said.

The man, who was armed with a rifle, was throwing unspecified "incendiary devices" at the Northwest Detention Center, according to a police statement. The man, identified by officials on Saturday afternoon as Willem Van Spronsen, 69, of Vashon Island, Wash., continued throwing lit objects at buildings and cars, the statement said.

"One car was fully engulfed in flames," said Officer Loretta Cool, a spokeswoman for the Tacoma Police Department.

Mr. Van Spronsen also attempted and failed to ignite a commercial-sized propane tank attached to the center, said Shawn Fallah, the resident agent in charge of the ICE Office of Professional Responsibility.

"This could have resulted in the mass murder of staff and detainees housed at the facility," he said. "These are the kinds of incidents that keep you up at night."
This could indeed have been a mass casualty event. And it was clearly motivated by terroristic intent (more on that shortly). Yet, despite my following the news much more closely than the average citizen, I had no inkling it had happened prior to receiving Richard's email.
Indeed, the Washington Post ("ICE detention-center attacker killed by police was an avowed anarchist, authorities say") didn't report on it for nearly a week.
A man fatally shot by police Saturday after allegedly throwing "incendiary objects" at an immigration detention center in Washington state was an anarchist who claimed association with antifascists — known as antifa — according to new details released by police.

Detectives are reviewing a manifesto written and distributed by 69-year-old Willem Van Spronsen, who police said once belonged to the Puget Sound John Brown Gun Club, a self-proclaimed "anti-fascist, anti-racist, pro-worker organization." Officers were not aware of the manifesto before the attack on the Northwest Detention Center in Tacoma, police said in a statement Thursday.

Van Spronsen, of Washington's Vashon Island, was also embroiled in a custody dispute with his ex-wife when he allegedly tried to blow up the privately owned detention facility, according to police. He was arrested last year at a protest at the center, court records show.

[…]

The attack came as thousands protested at ICE facilities nationwide ahead of the agency's announced plans for mass arrests of undocumented immigrants Sunday. Although the Trump administration said it would target about 2,000 families for deportation in as many as 10 cities, large-scale enforcement operations failed to materialize.
The Seattle Times ("'I'm friendly with death': The man killed outside Tacoma ICE detention center had a complex life") has more on the would-be mass killer's background:
Talk to the people who knew Will Van Spronsen, the 69-year-old Vashon Island man who was fatally shot last Saturday by police outside the federal immigration detention center in Tacoma, and a picture emerges of a conflicted and troubled man seen in drastically different ways.

To Sheli Story, of Bremerton, a friend who had known him for 32 years, Spronsen was  "one of the gentlest and sweetest men I have ever known. He never raised his voice. He was never violent."

David Giusti, who rents a home on the same seven acres in which Van Spronsen lived in a bus converted into a house, says, "Was your neighbor a terrorist? No, he was a carpenter and a folk singer."

And then there was his former wife, Shelley, 45, also of Vashon, who since 2013 had obtained four domestic-violence protection orders against Van Spronsen as they tangled over their son, who's now 14. In the most recent court order, on Feb. 27, after Van Spronsen had previously been granted limited visitation rights with the boy, he was ordered to have no contact with him for one year.

As part of a court order, Van Spronsen was barred from owning firearms.

"His friends never lived with him. They didn't see that side of him," Shelley says.

In one statement provided to the court, Van Spronsen's son described his dad as "scary," a man who "gets angry all the time."

"My dad talks about his militia group he is in that has guns, and he has sent me pics on the phone of them at the shooting range … ," he wrote.

"My dad talks about 'when his time comes' he will rob a bank or do something so he will do a death-by-cop."

Among the documentation presented to the court by his ex-wife were text messages she said were sent by Van Spronsen to his son. In one of the texts, the sender being "Dad" typed between two red hearts, was a photo of a pile of some 50 bullets, with the message, "I'm good. Worked on the barn. Loading mags."

[…]

In the emotional, rambling document sent to friends before the deadly confrontation, Van Spronsen wrote, "i am antifa," and declared "detention camps are an abomination." 

Antifa, short for "antifascist," is a loose collection of individuals who have confronted those they believe are right-wing extremists.
Van Spronsen is a pretty classic domestic terrorist: a misogynistic gun nut with a history of domestic violence and extreme political views. And, being the modern age, he shared them via social media:
"There's wrong and there's right. It's time to take action against the forces of evil," Van Spronsen wrote. "Evil says one life is worth less than another. Evil says the flow of commerce is our purpose here. Evil says concentration camps for folks deemed lesser are necessary. The handmaid of evil says the concentration camps should be more humane. Beware the centrist."

He added, "I have a father's broken heart. I have a broken down body and I have an unshakeable abhorrence of injustice. That is what brings me here. This is my clear opportunity to make a difference, I'd be an ingrate waiting for a more obvious invitation."

"In these days of fascist hooligans preying on vulnerable people on our streets, in the name of the state or supported and defended by the state, in these days of highly profitable detention/concentration camps and a battle over the semantics, in these days of hopelessness, empty pursuit and endless yearning, we are living in visible fascism ascendant," Van Spronsen wrote.

Van Spronsen said "rich guys," including Jeff Bezos, Warren Buffett, Elon Musk, Tim Cook, Bill Gates, Betsy DeVos, George Soros, Donald Trump, and others, "really dig government" and "fascism serves the needs of the state serves the needs of business and at your expense."

[…]

Van Spronsen said that when he was a boy in post-war Holland and later France, he had his head filled with stories about the rise of fascism in the 30s and, "I promised myself I would not be one of those who stands by as neighbors are torn from their homes and imprisoned for somehow being perceived as lesser. You don't have to burn the motherf*cker down, but are you just going to stand by?"

He said, "To my comrades: I regret that I will miss the rest of the revolution. Thank you for the honor of having been in your midst. Give me space to be useful, to feel that I was fulfilling my ideas, has been the spirited pinnacle of my life. My trans comrades have transformed me, solidifying my conviction that we will be guided to a dreamed of future by those marginalized among us today. I have dreamed it so clearly that I have no regret for not seeing how it turns out."

Van Spronsen wrote, "I am antifa, I stand with comrades around the world who act from the love of life in every permutation. Comrades who understand that freedom means real freedom for all."

Van Spronsen said he was "radicalized in civics class at 13 when we were taught about the electoral college. It was at that point I decided that the status quo might be a house of cards. Further reading confirmed in the positive. … I am not affiliated with any organization. I have disaffiliated from any organizes who disagree with my choice of tactics. The semi-automatic weapon I used was a cheap, home built unregistered "ghost ar15. I had six magazines. I strongly encourage comrades and incoming comrades to arm themselves. We are now responsible for defending people from the predatory state. Ignore the law in arming yourself if you have the luxury. I did."
While every indication is that Van Spronsen acted alone, he clearly saw himself as part of a larger movement and as carrying out a specific political agenda. That's textbook domestic terrorism.
Richard says the story isn't getting all that much coverage even locally and muses that it would be getting more attention if Van Spronsen was a right-wing Trumper. And maybe it would, since that would better fit a pre-existing narrative.
Still, it's not like the NYT, WaPo, or Seattle Times are pro-Antifa. They likely sympathize with Van Spronsen's broad cause; hell, so do I. But only the fringe thinks killing ICE agents—let alone detonating cars and propane tanks—is an acceptable response to domestic policies we abhor.
Maybe this is simply a function of President Trump sucking all of the oxygen out of the room all the time. American Presidents have dominated news coverage as long as I can remember but I've never seen anything like Trump's ability to generate so much noise that it's impossible to stay on a story, no matter how big, for very long. His tweets about "The Group" came out the same weekend as this incident and have dominated the discussion, including here at OTB, since.
It's appropriate, of course, to focus on the most powerful man on the planet, particularly when he's violating longstanding norms. But there's a real danger that paying so much attention to him means that we're missing out on important developments.