Apparent Berlin Terror Attack Kills 12, Injures Dozens
Another attack in what has been a bloody 2016 for Europe.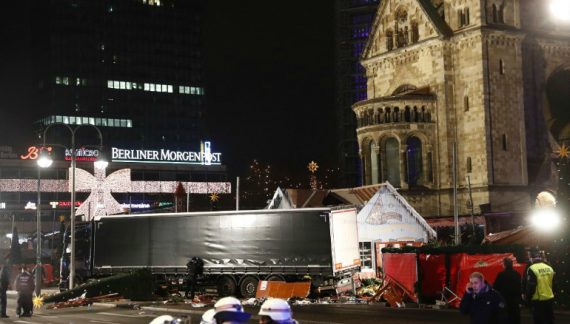 German officials have labeled an incident yesterday at a Berlin Christmas market where twelve people were killed and dozens injured when a heavy truck crashed into a crowd an act of terror, bringing up memories of a similar attack in July at a Bastille Day celebration in Nice, France:
BERLIN — Chancellor Angela Merkel of Germany said that the Berlin Christmas market where 12 people died Monday night was the target of a terrorist attack.

The German interior minister, Thomas de Maizière, said that a man arrested on suspicion of involvement in the attack was a 23-year-old Pakistani who had applied for asylum.

"We must assume at the current time that it was a terrorist attack," Ms. Merkel said on Tuesday. "I know that it would be particularly difficult for all of us to bear if it is confirmed that this deed was carried out by a person who sought protection and asylum in Germany."

Ms. Merkel, dressed in black, made a brief appearance before reporters, saying that she was "horrified, shaken and deeply sad."

It will be punished "as severely as our laws demand," Ms. Merkel said. Her policy of admitting refugees by the hundreds of thousands is likely to come under further scrutiny both from allies and from the populist right-wing Alternative for Germany party.

In the attack, a tractor-trailer truck jumped a sidewalk around 8 p.m. and plowed into the market near the Kaiser Wilhelm Memorial Church, a symbolic Berlin site whose spire, jagged from bomb damage, was intentionally left unrepaired after World War II.

The driver fled after the attack. The police said they later arrested a man near the scene who was suspected of involvement.

Mr. de Maizière said in a late-morning news conference that the suspect entered Germany and applied for asylum on Dec. 31, 2015, and reached Berlin in February. Several hearings were scheduled in his asylum case, Mr. de Maizière said, but the man did not appear, so the application has not been processed.

Officials in Berlin have been straining to deal with a flood of asylum applications. Although the number of arrivals has slowed recently from a high point in the summer of 2015, tens of thousands remain in communal housing, awaiting processing of their applications.

Besides the 12 dead, 48 people were wounded at the Berlin market, 18 of them critically, Mr. de Maizière said.

Seeking clues about the attacker and his motives, the German special police conducted a search at the refugee shelter at Tempelhof Airport in Berlin early Tuesday, a security official said, declining to give details.

A spokeswoman for the Berlin city authorities referred all queries to the federal prosecutor's office in Karlsruhe, which was put in charge of the investigation.

The Berlin police appealed to anyone who was at the Christmas market or in the vicinity Monday night to send them any videos or photographs of the attack and to refrain from posting the material on social media.

Frauke Petry of the Alternative for Germany party said in a statement early Tuesday that "Germany is no longer safe," and told citizens that it would be Ms. Merkel's "duty to tell you that."

Noting the successive terrorist attacks in France, including a truck driven into a crowded beachfront promenade in Nice in July, Ms. Petry called the carnage at the Berlin market "not just an attack on our freedom and our way of life but also on our Christian tradition."

The side of the market where the truck slammed into the crowd remained cordoned off early Tuesday. Police officers patrolled the area, as Berlin residents bearing flowers and candles placed them at makeshift memorials on either side of the church.
Subsequent reporting this morning has said that German police apparently have concluded that the person placed under arrest last night in the wake of the attack was not the driver of the truck and may not be connected to the attack at all, although it's unclear if they have been released or if they are still being questioned to see if they have any knowledge in connection to the attack. The attack itself, of course, took place mere hours after the Russian Ambassador to Turkey was shot and killed as he was beginning to speak at an event in Ankara by a member of the Turkish police who shouted Islamist slogans and brought up the ongoing slaughter and refugee crisis in Aleppo, Syria. In addition to this incident, there was also reportedly an incident at the U.S. Embassy in Ankara where an unidentified man fired shots in the air as well as a shooting outside an Islamic Center in Zurich, Switzerland. Neither motivation nor responsibility have been determined in either of those two cases, or indeed in the attack in Berlin. However, the fact that the Berlin attack in particular appears to mirror the terror attack in Nice in July as well as recommendations for "lone wolf" terrorists in the West that have made by ISIS and its affiliates in recent years.
In any case, this attack caps off what has been quite a bloody year in Europe as far as terror attacks go, and is likely to add to the tension that has been building between Europeans and the refugees from Syria and elsewhere whose populations have been the source for many of the perpetrators of these attacks. In Germany in particular, it's likely to cause further problems for Chancellor Angela Merkel, who is standing for re-election early next year and who has been on the receiving end of criticism for allowing hundreds of thousands of refugees into the country during her time in office. Given the fact that the truck originated in Poland, it's also likely to raise questions about the open borders policies mandated by the European Union, although we admittedly don't know as of yet if the truck left Poland with the intent of being used as a weapon, or whether or where it was potentially hijacked. If nothing else, though, this is likely to refocus European attention on ISIS and the war in Syria just as we prepare for a change in power in the United States that will take our policy in that area in an as yet unknown direction.