Apparently, Conservatives Don't Like Obama's Dog Either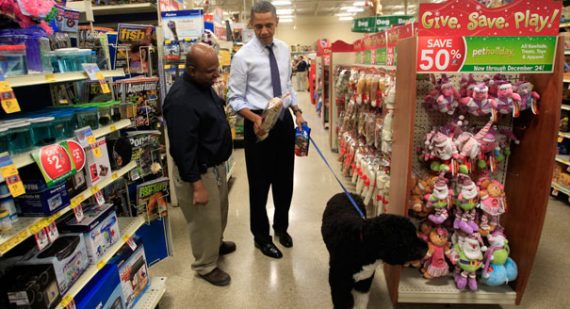 Yesterday, there was a ridiculous story making its way around the conservative blogosphere claiming that the White House had flown Bo, the White House Dog, back from Hawaii for a photo op with the President:
This may not be the biggest story of the year, and in all likelihood it probably isn't even true. But did the president really order the first dog back from Hawaii to the White House to be a prop for a Petsmart photo op? According to a report, Bo (a dog whose name is an acronym for his owner's — coincidence?) was spotted one day in Hawaii, where Mrs. Obama had gone for vacation in advance of her husband, and in a "regular guy at the pet store" photo-op with President Obama in Virginia the next day.

Granted, this could be accomplished with no cost to the taxpayer, if Air Force Two (which would have flown Mrs. Obama to Hawaii) was returning home to Andrews AFB anyway. And reports of Bo (the dog, not the president) being in Hawaii could well prove false, thus mooting Bo-gate as an election-year political scandal. But let's say it is true. Really, Mr. President? And shouldn't some advance staffer be fired for letting the dog get on the plane in the first place?
I love how this story starts out this story isn't really a big deal, it's probably not true, but lets bash Obama anyway. And that's from National Review, the supposed voice of reasonable conservatism. Actually, the story started out on something called the "White House Dossier" and quickly got picked up by a number of conservative bloggers yesterday, all of whom picked it up and repeated it as if it were gospel. Nobody bothered to really check and see if it was true or not.
As it turns out, it wasn't:
There's a flurry of reports in the blogosphere today on whether first dog Bo was flown back from Hawaii to the nation's capital for a photo op after President Barack Obama and Bo appeared Wednesday at a store in Alexandria, Va.

Scott Miscovich, who lives down the street from the Obama vacation rental home on Kailuana Place told the Star-Advertiser Sunday, "My wife saw Michelle and the kids passing by and we've seen Bo (the Obamas' dog) walking."

A White House spokesman told the Star-Advertiser that Bo did not travel to Hawaii with the first lady and daughters Malia and Sasha.

This afternoon, Miscovich released the following statement:"It is now clear my wife saw another black dog walking our neighborhood. We would like to apologize to Bo and the Obama family for any inconvenience this may have caused them. We would also like to wish them a peaceful and Merry Christmas."
It's a ridiculous story when you think about it. Fly a dog all the way back to Washington for a photo op? Would anyone believe that? Well, I guess if you hate someone enough, you would.
Besides that, attack the President all you want folks, but can't you just leave the poor dog alone? What did he ever do to you?