Apparently, Sarah Palin Now Thinks Heated Political Rhetoric Can Lead To Violence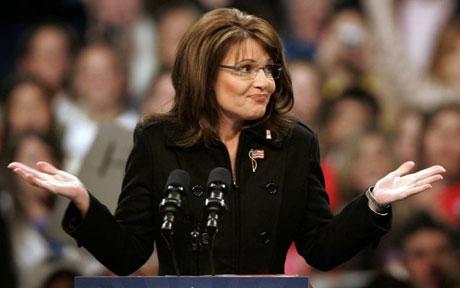 In the wake of the shooting of Congresswoman Gabrielle Giffords, Sarah Palin reacted quite angrily to the suggestion that her political rhetoric contributed somehow to the tragedy:
There are those who claim political rhetoric is to blame for the despicable act of this deranged, apparently apolitical criminal. And they claim political debate has somehow gotten more heated just recently. But when was it less heated? Back in those "calm days" when political figures literally settled their differences with dueling pistols? In an ideal world all discourse would be civil and all disagreements cordial. But our Founding Fathers knew they weren't designing a system for perfect men and women. If men and women were angels, there would be no need for government. Our Founders' genius was to design a system that helped settle the inevitable conflicts caused by our imperfect passions in civil ways. So, we must condemn violence if our Republic is to endure.

As I said while campaigning for others last March in Arizona during a very heated primary race, "We know violence isn't the answer. When we 'take up our arms', we're talking about our vote." Yes, our debates are full of passion, but we settle our political differences respectfully at the ballot box – as we did just two months ago, and as our Republic enables us to do again in the next election, and the next. That's who we are as Americans and how we were meant to be. Public discourse and debate isn't a sign of crisis, but of our enduring strength. It is part of why America is exceptional.

No one should be deterred from speaking up and speaking out in peaceful dissent, and we certainly must not be deterred by those who embrace evil and call it good. And we will not be stopped from celebrating the greatness of our country and our foundational freedoms by those who mock its greatness by being intolerant of differing opinion and seeking to muzzle dissent with shrill cries of imagined insults.
Palin also said:
President Reagan said, "We must reject the idea that every time a law's broken, society is guilty rather than the lawbreaker. It is time to restore the American precept that each individual is accountable for his actions." Acts of monstrous criminality stand on their own. They begin and end with the criminals who commit them, not collectively with all the citizens of a state, not with those who listen to talk radio, not with maps of swing districts used by both sides of the aisle, not with law-abiding citizens who respectfully exercise their First Amendment rights at campaign rallies, not with those who proudly voted in the last election.
Palin was  singing a different tune, though, when she appeared on Fox News Channel earlier this week:
During an appearance Thursday night on Sean Hannity's TV show, Sarah Palin had a warning about the protests going on against the bill just signed by Gov. Scott Walker's (R-WI) to curtail public employee unions — saying that unions should "tone down the rhetoric" against the bill, because it will result in people getting hurt.

Hannity and Palin discussed the death threat delivered to the Republican state Senators, which the state is currently investigating. Hannity said: And as soon as cuts start being made, we see there the violent rhetoric, the threats, this reaction. Do you think we're gonna see a lot of more of this? In other words, is this the beginning of things to come?"

"Well, these union bosses that are acting like thugs, as they are leading some of their good union members down a road that will ultimately result in, unfortunately, somebody getting hurt," Palin said, "if you believe the death threats that are being received by those who just happen to support amending some collective bargaining privileges of state unions. Well, it is these unions bosses' responsibility to turn down the rhetoric and start getting truth out there, so that nobody gets hurt."
So, which is it? Is strong political rhetoric part of America's great political traditions, or is it the first step to violence? Or am I just being naive to expect intellectual consistency here?
Video: