Apple Announces iPhone 6, iPhone 6 Plus, iWatch, iOS8, and Apple Pay
Apple announced a stunning array of upgraded and new products yesterday.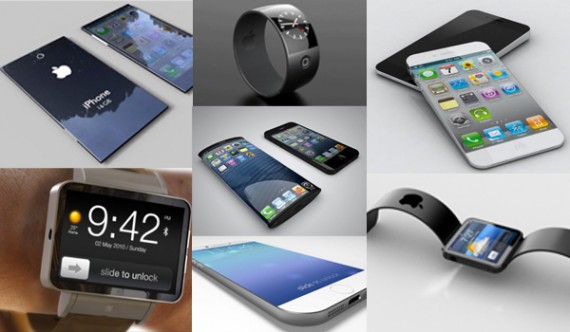 Apple announced a stunning array of upgraded and new products yesterday, beginning with their annual attempt to render their current phones obsolete:
Apple® today announced iPhone® 6 and iPhone 6 Plus, the biggest advancements in iPhone history, featuring two new models with stunning 4.7-inch and 5.5-inch Retina HD displays, and packed with innovative technologies in an all-new dramatically thin and seamless design. The new iPhones feature a precision unibody enclosure of anodized aluminum that conforms seamlessly with the shaped glass of the display, resulting in a completely smooth and continuous surface. iPhone 6 and iPhone 6 Plus are engineered to be the thinnest ever, delivering a bigger display in a design that is still comfortable to hold and easy to use.

Packed with innovative new technologies, iPhone 6 and iPhone 6 Plus include: the Apple-designed A8 chip with second generation 64-bit desktop-class architecture for blazing fast performance and power efficiency; advanced iSight® and FaceTime® HD cameras; ultrafast wireless technologies; and Apple Pay™, an easier way to simply and securely make payments with just the touch of a finger.¹ Both models include iOS 8, the latest version of the world's most advanced mobile operating system, featuring a simpler, faster and more intuitive user experience with new Messages and Photos features, QuickType™ keyboard, a new Health app, Family Sharing and iCloud Drive℠.

"iPhone 6 and iPhone 6 Plus are the biggest advancements in iPhone history," said Tim Cook, Apple's CEO. "The iPhone is the most loved smartphone in the world with the highest customer satisfaction in the industry and we are making it much better in every way. Only Apple can combine the best hardware, software and services at this unprecedented level and we think customers are going to love it."

For the first time iPhone is available in two new sizes: iPhone 6 features a stunning 4.7-inch Retina® HD display with 1334 x 750 resolution, providing 38 percent more viewing area than iPhone 5s, while iPhone 6 Plus features an even bigger 5.5-inch Retina HD display with 1920 x 1080 resolution, providing 88 percent more viewing area and nearly three times the pixels than iPhone 5s. The Retina HD displays offer advanced technologies including higher contrast for deeper blacks and dual-domain pixels for more accurate colors at wider viewing angles.

With second generation 64-bit desktop-class architecture, the all-new A8 chip offers faster performance and is more energy efficient, delivering higher sustained performance with great battery life. With Metal™, a new graphics technology in iOS 8, developers can take performance of the A8 chip even further to bring console-class 3D games to iPhone. The A8 chip also includes a new, powerful Apple-designed image signal processor that enables advanced camera and video features.

Both models include the M8 motion coprocessor that gathers motion data from the accelerometer, gyroscope, compass and the new barometer, which senses air pressure to provide relative elevation. The M8 motion coprocessor can continuously measure your motion data, even when the device is asleep, saving battery life for fitness apps that use the sensors all day. With iOS 8, motion data from M8 appears in the Health app so you can see how many flights of stairs you've climbed, or how far you've walked or run. Developers can use CoreMotion APIs that take advantage of M8 and HealthKit to create apps that help you take better care of your health and fitness.
They're hyping these as "The Biggest Advancements in iPhone History," which seems plainly silly. Still, these appear to be substantial upgrades. Moreover, by offering both a slightly-larger-than- current-generation iPhone 6 in addition to the iPhone 6 Plus "phablet" they've allayed the fear that I've had during the pre-announcement hype phase that I'd be forced to chose between a too-big-for-my-pocket phone and switching to a new ecosystem entirely a year from now when I replace my current iPhone 5s.
I'd be interested in reader thoughts on these new phone sizes. While there are obvious advantages to larger screens from a usability standpoint, I'd presume it comes at the cost of portability. When I'm in a suit or sportcoat, I've got a large inside pocket in which to carry my phone; even the iPhone 6 Plus would fit fine. But I tend to carry my phone in my front pocket if I'm in casual clothes and it's too hot to wear a jacket.
Amusingly, simultaneous to joining the large screen bandwagon, Apple is going all Dick Tracey with a wearable device.
Apple® today unveiled Apple Watch™—its most personal device ever—featuring revolutionary new technologies and a pioneering user interface with a beautiful design that honors the rich tradition of precision watchmaking. Apple Watch introduces a specially designed and engineered Digital Crown that provides an innovative way to scroll, zoom and navigate. The Digital Crown is Apple's most revolutionary navigation tool since the iPod® Click Wheel and iPhone® Multi-Touch™. Apple Watch will enable you to communicate in new ways right from your wrist by sending and receiving messages, answering calls to your iPhone, and with Digital Touch, sending something as personal as your own heartbeat. Apple Watch also introduces comprehensive health and fitness apps that can help people lead healthier lives. Apple Watch is available in three distinct collections—Apple Watch, Apple Watch Sport and Apple Watch Edition.

"Apple introduced the world to several category-defining products, the Mac, iPod, iPhone and iPad," said Tim Cook, Apple's CEO. "And once again Apple is poised to captivate the world with a revolutionary product that can enrich people's lives. It's the most personal product we've ever made."

"With Apple Watch, we've developed multiple technologies and an entirely new user interface specifically for a device that's designed to be worn. It blurs the boundary between physical object and user interface," said Jony Ive, Apple's senior vice president of Design. "We've created an entire range of products that enable unparalleled personalization."

Apple Watch introduces a revolutionary design and iOS-based user interface created specifically for a smaller device. Apple Watch features the Digital Crown, an innovative way to scroll, zoom and navigate fluidly, without obstructing the display. The Digital Crown also serves as the Home button and a convenient way to access Siri®. The Retina® display on Apple Watch features Force Touch, a technology that senses the difference between a tap and a press, providing a new way to quickly and easily access controls within apps. Apple Watch introduces the Taptic Engine and a built-in speaker that together discreetly enable an entirely new vocabulary of alerts and notifications you can both hear and feel. Apple custom-designed its own S1 SiP (System in Package) to miniaturize an entire computer architecture onto a single chip. Apple Watch also features Wi-Fi 802.11b/g and Bluetooth 4.0 to pair seamlessly with your iPhone.
Given my relatively large fingers and aging eyes, I can't fathom why I'd be interested in this product. The $345 price tag isn't horrendous but I pretty much always have my iPhone with me. Why would I want an additional device with a tiny screen and user interface?
One of the new services, which will only be available on new devices, is intriguing:
Apple Pay™, a new category of service that will transform mobile payments with an easy, secure and private way to pay. Apple Pay works with iPhone® 6 and iPhone 6 Plus through a groundbreaking NFC antenna design, a dedicated chip called the Secure Element, and the security and convenience of Touch ID™. Apple Pay is easy to set up, so hundreds of millions of users can simply add their credit or debit card on file from their iTunes Store® account. Apple Pay will also work with the newly announced Apple Watch™, extending Apple Pay to over 200 million owners of iPhone 5, iPhone 5c and iPhone 5s worldwide.

Apple Pay supports credit and debit cards from the three major payment networks, American Express, MasterCard and Visa, issued by the most popular banks including Bank of America, Capital One Bank, Chase, Citi and Wells Fargo, representing 83 percent of credit card purchase volume in the US.* In addition to the 258 Apple retail stores in the US, some of the nation's leading retailers that will support Apple Pay include Bloomingdale's, Disney Store and Walt Disney World Resort, Duane Reade, Macy's, McDonald's, Sephora, Staples, Subway, Walgreens and Whole Foods Market. Apple Watch will also work at the over 220,000 merchant locations across the US that have contactless payment enabled. Apple Pay is also able to make purchases through apps in the App Store℠.

"Security and privacy is at the core of Apple Pay. When you're using Apple Pay in a store, restaurant or other merchant, cashiers will no longer see your name, credit card number or security code, helping to reduce the potential for fraud," said Eddy Cue, Apple's senior vice president of Internet Software and Services. "Apple doesn't collect your purchase history, so we don't know what you bought, where you bought it or how much you paid for it. And if your iPhone is lost or stolen, you can use Find My iPhone to quickly suspend payments from that device."

Apple Pay will change the way you pay. When you add a credit or debit card with Apple Pay, the actual card numbers are not stored on the device nor on Apple servers. Instead, a unique Device Account Number is assigned, encrypted and securely stored in the Secure Element on your iPhone or Apple Watch. Each transaction is authorized with a one-time unique number using your Device Account Number and instead of using the security code from the back of your card, Apple Pay creates a dynamic security code to securely validate each transaction.
Presuming this catches on and proves secure over the next year, this is the feature that would most push me to upgrade at the expiration of my current contract. The improved screen resolution and camera are nice-to-have but not game changers. Presumably, this will push competitors in a similar direction and move us even closer to a cashless society.
Finally, a pretty substantial upgrade to the operating system will be available for free next week even to those of us not immediately upgrading our devices:
iOS 8, the biggest release since the launch of the App Store℠, will be available starting Wednesday, September 17 to iPhone®, iPad® and iPod touch® users as a free software update. iOS 8 delivers a simpler, faster and more intuitive user experience with new Messages and Photos features, predictive typing for Apple's QuickType™ keyboard and Family Sharing. iOS 8 also includes the new Health app, giving you a clear overview of your health and fitness data and iCloud Drive℠, so you can store files and access them from anywhere. With more than 4,000 new APIs, iOS 8 allows developers to further customize the user experience with major extensibility features and robust frameworks such as HealthKit and HomeKit.

"We're excited for hundreds of millions of users to begin experiencing iOS 8, with incredible features that offer new ways to use your iPhone, iPad or iPod touch," said Craig Federighi, Apple's senior vice president of Software Engineering. "iOS 8 also creates an extraordinary environment for developers, providing them the ability to create amazing new apps like never before."

Messages in iOS 8 makes conversations more immersive. Simply Tap to Talk to share your voice. The same gesture also works for sharing photos and videos. Users can now share several photos and videos at once and easily browse through all of them within a conversation from one place. Group messaging gives you the ability to add and remove contacts, and the option not to be disturbed or to leave a conversation entirely. You can also choose to share your current location from within Messages for an hour, a day or longer.

In iOS 8, the Photos app brings powerful editing to your fingertips. Photos automatically straightens horizons, and with smart editing tools you can quickly adjust light and color with a swipe. For deeper fine-tuning, you can access individual tools to adjust exposure, brightness, contrast, highlights, shadows and more. Developers can tap into the same robust framework as the built-in Photos app using PhotoKit, and with extensibility APIs, can make their own filters and editing tools available to users within the Photos app.

New predictive typing for Apple's QuickType keyboard is smarter, more personalized and intelligently takes context into account, such as who the recipient is and in which app you're typing. QuickType understands the way you communicate, suggesting favorite phrases, so you can write entire sentences with just a few taps. What the QuickType keyboard learns is kept private, encrypted on your device and never sent to the cloud. Third-party keyboards are also available, so developers can offer additional layouts and input methods system-wide, providing users more choice.

The new Health app gathers the information you choose from your various health apps and fitness devices, and provides you with a clear and current overview in one place. HealthKit APIs offer developers the ability for health and fitness apps to communicate with each other. With your permission, each app can use specific information from other apps to provide a more comprehensive way to manage your health and fitness. Users will be able to gather and monitor their own fitness metrics using apps such as MyFitnessPal, RunKeeper and Strava. Healthcare providers can now monitor the data their patients choose to share through apps such as Mayo Clinic or Epic's MyChart app that will be used by Duke Medicine and Stanford Children's Health/Stanford Medicine, among others.

HomeKit connects your home devices safely and seamlessly so you can better manage accessories like lights, thermostats, door locks and garage doors. By delivering a common protocol, HomeKit securely pairs and allows easy control over individual or groups of devices throughout the house. With Siri® integration you can say, "Good morning," and have the lights turn on in specific rooms, the thermostat adjust the temperature and the garage door open.

Family Sharing with iOS 8 makes it easier than ever to communicate and share purchases. It automatically keeps everyone connected by creating a shared family photo stream and calendar, and provides an option to locate family members and their devices. Family members can also now browse and download each other's eligible iTunes®, iBooks® or App Store purchases. Up to six family members can participate, each with their own Apple ID. Parents can create Apple IDs for children and, with Ask to Buy, require online parental permission for Family Sharing purchases.

iCloud Drive allows you to safely store, access and edit documents of any type. Make edits on one device and the most up-to-date version of your documents will be available across all devices, whether an iOS device, Mac®, Windows PC or on www.icloud.com. iCloud Drive brings new collaboration between apps, providing seamless access and the ability to work on the same file across multiple apps.
I'm a bit skeptical of the HomeKit concept. If it's anything like Siri, it'll be more frustrating than it's worth for a generation or two. Still, I like the idea.
The HealthKit app is intriguing although I'm not sure it would replace my Fitbit. While I carry my phone pretty much wherever I go, I frequently leave it for hours in my house, whether for recharging purposes or simply to disconnect. So, relying on the phone to track activity (which became possible, if less robustly, with iPhone 5s) means that I literally have to carry the phone constantly or accept an incomplete tracking.
I'm not sure I'd want to share a photo stream with family members but otherwise like the Family Sharing concept. As my girls get older and get their own devices, I'd prefer to segregate their apps. Indeed, most of the apps on my iPhone and iPad are theirs.