Apple's Odd New Patent And What It Says About Our Patent Laws
A new patent granted to Apple raises once again the question of how far patent protections should extend.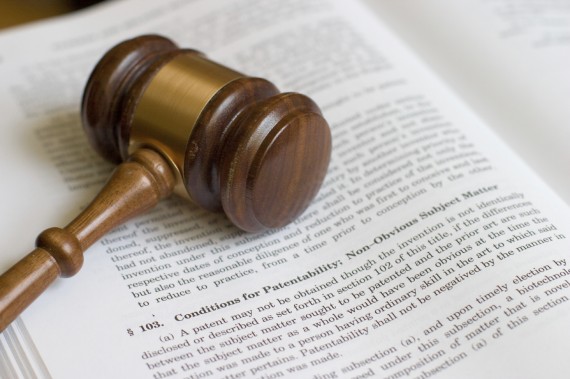 After a two year process, Apple has been granted a patent for something that most smartphone users now consider commonplace, but which could soon become the subject of multi-billion dollar patent disputes:
Apple has been granted a patent on unlocking a smartphone or tablet using a touchscreen gesture.

The application, which was filed in June 2009, covers a range of commonly used techniques including swiping and pattern entry.

As well as on the iPhone and iPad, such systems are built into Google's Android and Microsoft's Windows Phone 7.

The patent is likely to become another weapon in Apple's arsenal as it continues to sue rival manufacturers.

Devices using the Android operating system have been the focus of particularly aggressive litigation.

Apple co-founder Steve Jobs believed that the product was a rip-off of iOS and vowed to "destroy" it, according to his recently released biography.

To date, his firm has waged a largely proxy war, targeting companies such as Samsung and Motorola which use Google's software.

As a result, Samsung is currently banned from selling its Galaxy Tab 10.1 in Germany and Australia.
The scope of the patent is rather broad, to the point where it conceivably covers not only Android phones, but also phones running Windows Mobile:
Apple's patent – US patent number 7657549 – states: "A device with a touch-sensitive display may be unlocked via gestures performed on the touch-sensitive display.

"The device is unlocked if contact with the display corresponds to a predefined gesture for unlocking the device.

The text of the patent is broad and would appear to cover a number of the technologies used by Google and Microsoft in their handheld devices.

However, that did not necessarily mean that Apple would be able to exert its will, according to Silas Brown, an intellectual property solicitor with London-based law firm Briffa.

"Often you will have situations where patents are argued through long and hard to get to registration, but when they are challenged there is a counter action to claim that the patent shouldn't have been granted."

Mr Brown explained that such patents could be invalidated for a number of reasons, including being too broad, too simple or "obvious" in the current technological context.

In Europe, software cannot be patented in its own right. But Apple may still have a case, according to Mr Brown, if the function of unlocking was shown to materially improve the performance of the hardware.

"[Apple's] argument would be more in that direction – that this is an invention which has an affect on hardware, for example security," he said.

Determining that, would likely mean more work for lawyers and specialist engineers.
I suppose I shouldn't be complaining about more work for lawyers, but there's something about this that strikes me wrong nonetheless. For one thing, once you've developed the idea of a touchscreen, which existed long before the iPhone, the idea of swiping your finger to complete actions isn't really that big of an innovation, at least not one that seems non-obvious enough to give a single company a 17 year exclusive license on its use. For one thing, in the computer industry 17 years is literally several lifetimes. Seventeen years ago, the original MacIntosh had only been released a few years earlier and PC owners weren't even running Windows 95 yet. Cell phones were bulky and featureless. Freezing technology at the point it was at back then would have been a deterement for everyone and, while it's true that granting patents like this merely usually means that Company B has to pay Company A a license fee, one has to wonder if that license fee is really earned when the "innovation" patent is so seemingly obvious as the one at issue here.
As it turns out, though, patent battles are becoming an increasingly large part of the way that technology companies, especially older ones, make money:
It seems not a week goes by these days without news of another patent battle or announcement: Microsoft reaching licensing agreements with various device manufacturers. Apple and various handset manufacturers filing suits and countersuits. Oracle suing Google over the use of Java in Android.

Not to mention barbed digs and jabs that company executives trade over blogs, Twitter and news releases.

One example:

After Microsoft and Samsung announced a patent-licensing agreement last month involving Google's Android operating system, Google issued a statement saying, in part: "This is the same tactic we've seen time and again from Microsoft. Failing to succeed in the smartphone market, they are resorting to legal measures to extort profit from others' achievements and hinder the pace of innovation."

Microsoft's PR chief Frank Shaw shot back via Twitter: "Let me boil down the Google statement … from 48 words to 1: Waaaah."

So what gives? What's up with the spate of patent petulance?

The answer is that they're visible signs that technology companies' patent practices have evolved from using them to defend their own inventions to deploying them as a significant part of competitive strategies in the fast-growing mobile market
Over at Forbes, Tim Lee has a different view of the way the law his handling these situations, specifically as it applies to this new dispute between Apple and the makers of the various Android phones:
The important question isn't whether such "stealing" occurred, it's whether we want to live in a world where it's illegal. Do you want to live in a world where only Apple is allowed to make phones with pinch-to-zoom capability (and dozens of other features) until 2027? I sure don't.

This isn't the first time Apple has tried this particular tactic. The lawsuit against Samsung is a replay of its "look and feel" lawsuit against Microsoft two decades ago. Apple was the first company to bring the graphical user interface to a large audience with the Lisa in 1983 and then the Mac in 1984. Microsoft famously released a competing GUI-based operating system, Windows, in 1985. Apple sued, alleging that Windows had "stolen" the "look and feel" of the Mac OS, and had thereby infringed Apple's copyrights.

At the time, the concept of copyright protection for software was still quite new, so it wasn't obvious how broad it was. The courts eventually decided that it didn't extend to "look and feel," allowing Microsoft to continue selling Windows and dominate the PC business.

You can imagine an alternate universe in which Apple won its lawsuit, either because judges interpreted copyright law differently, or because software patents had been more widely available (they didn't become common until the late 1990s). Would anyone seriously contend that we'd be better off today if Apple (or Xerox, which pioneered some of the key concepts) had held a monopoly on basic UI concepts like menus, buttons, and scroll bars for all of the 1980s and 1990s?
Matthew Yglesias comments:
Copying of business concepts is integral to the "invisible hand" model of market competition. The idea is that firms want to become more profitable. So they think up ways to cut costs or raise prices or increase sales or whatever. Profit! But then other firms look at those ideas and copy them. The result is a Red Queen's Race. Firms need to be constantly copying other firms' best ideas just to avoid going out of business. The ultimate beneficiaries end up being consumers, who take advantage of the more/better/cheaper products. Even the lamest, most obvious kinds of copying are good for the world. I remember well when Microsoft unveiled Windows with its "Recycle Bin" function that happened to be exactly the same as Apple's longstanding "Trash" function. It was slightly offensive to human dignity that they were copying both the function and the metaphor while slapping a slightly different name on it to seem like they weren't copying. But the world is a better place for it. It's a good function and a good metaphor, so as many people as possible should use it.
There seems to be some logic in this. Patents are certainly an important part of the economy, and true innovation does indeed deserve to be protected. However, if we've learned anything over the past two decades or so, going back to the look-and-feel lawsuit between Apple and Microsoft, it's that our current patent law system isn't designed to handle technological innovations well at all, especially on the software side. The all-or-nothing 17 year exclusivity patents that grew out of the industrial age don't seem very well suited somehow to an industry where borrowing and building on the ideas of others is the very basis of the industry. After all, the GUI interface that Steve Jobs was trying to sue Microsoft over was something he copied from things he saw when he visited Xerox PARC before Lisa and the Mac ever existed! Does that mean that Xerox should have been able to stop him from making those innovations? Of course not.
The amount of lobbying money from big technology companies like Microsoft, Apple, Sun, and IBM makes it unlikely, but it's far beyond time that Congress undertake a serious examination of our patent laws and the extent to which they have the potential to suppress innovation in one of the few industries out nation manages to excel in.