Arabs Discouraged About Obama
This year's Zogby poll of public opinion in the Middle East exhibits a marked shift on the Obama Administration, Iran.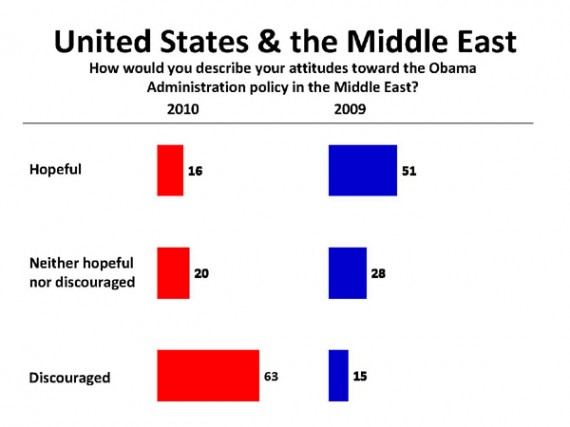 This year's Arab Public Opinion Poll has shown a dramatic shift in the Middle East on opinions of President Obama:
Among the most striking findings on the question of attitudes toward President Obama: Early in the Obama administration, in April and May 2009, 51% of the respondents in the six countries expressed optimism about American policy in the Middle East. In the 2010 poll, only 16% were hopeful, while a majority – 63% – was discouraged.
Arab opinion in the Middle East of the president's policy with respect to the region was quite buoyant in the immediate aftermath of the president's speech in Cairo last year. However, as any number of analysts in the region mentioned at the time, actions speak louder than words, and clearly people in the Middle East don't believe they've seen nearly enough in the way of action.
Also interesting is the shift on whether an Iranian nuclear weapon would be good for the Middle East. The positive view identified by the poll certainly is markedly different from the views that have been attributed to Arab governments in the region. It may be that Iran's public diplomacy has been paying off.