Are Mass Shootings a National Security Threat?
Phil Carter makes an interesting argument but he's ultimately mistaken.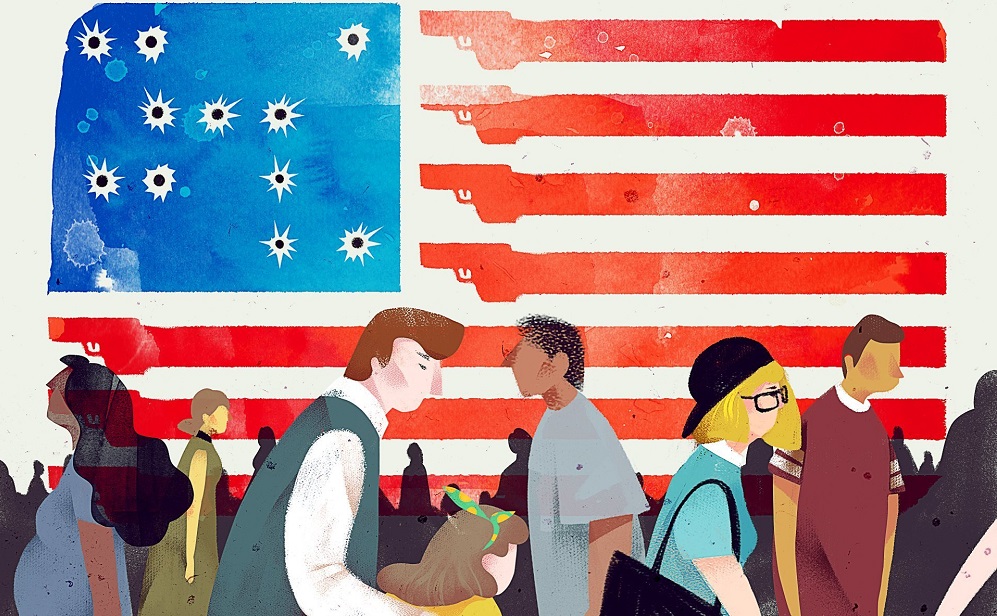 Phil Carter makes an interesting argument:
Seventeen dead would have been a bad day in Iraq or Afghanistan at the height of our wars there. To see the same death toll Wednesday at a U.S. high school suggests American soil has become a battlefield, too.
That's a powerful lede and points to our strongest point of agreement: mass shootings are in fact a greater threat to the security of Americans than quite a few external ones that get a massive amount of attention and other resources from our national security apparatus. From that, however, he pivots to our strongest point of disagreement:
A day before Nikolas Cruz's shooting rampage in Florida and 1,000 miles away in Washington, the leaders of the nation's 17 intelligence agencies briefed Congress on their 2018 worldwide threat assessment. This assessment detailed myriad threats to America's national security from abroad—China, Russia, transnational organized crime, and terrorism—but ignored the threat from within posed by guns. Wednesday's carnage in Florida illustrates the problem caused by this collective failure to see the existential threat posed by guns to Americans.
In addition to being a national security professional, Phil is not only an attorney but a law professor. So I'm especially troubled with the conflation of internal crime and external threats to our security. Again, we're in full agreement that mass shootings are a major, preventable cause of death and destruction (albeit by no means an "existential" one; but I think Phil's just being hyperbolic there). The average American has more to fear from a psychopath with a rifle than from the Islamic State, much less China. But that doesn't make it any more a national security issue than texting while driving.
Implicit in the statement that a worldwide threat assessment from the nation's intelligence agencies "ignored the threat from within posed by guns" is that they should have done otherwise. That we use the espionage and collection assets current law explicitly reserves for foreign actors on the American people. Phil no more believes that than I do—and I find the notion outrageous.
To the extent that mass shootings are a security threat under the purview of the Executive branch of our Federal Government, it's a law enforcement, not a national security, function. That's important in that the rules are completely different. American citizens have explicit rights under our Constitution that foreign actors do not.
In a handful of the recent cases, the shooters had posted some rather stark hints on social media of their intentions. I'm okay with the FBI investigating such threats. But I'm rather leery of giving them the power to data mine Twitter, Facebook, Reddit, and the like to look for patterns. The First Amendment surely includes a right to spout off nonsense on occasion without being targeted by law enforcement.
The rest of the article goes away from the opening premise and becomes a rather familiar argument for gun control. Among his proposals:
Better regulation of guns or ammunition would be entirely justifiable and lawful under our Constitution, notwithstanding the Supreme Court's recent jurisprudence on gun ownership. If the federal government can regulate explosives and machine guns, then certainly it can more closely regulate the acquisition of military-style rifles, high-capacity magazines, bump stocks, or military-grade ammunition.
[R]egulate gun owners and their purchasing rights, such as is now the case for felons and others like those dishonorably discharged from the military. This path may be more fraught given the courts' recent Second Amendment jurisprudence, which would require careful tailoring of any new rules that impinge on the constitutional right to bear arms. A lawful, common-sense approach would likely start by limiting gun acquisition by those on terrorist watch lists, or those with serious mental health disorders.
We're more-or-less in agreement on these points. The caveats are two-fold. First, as Phil notes, the Supreme Court has ruled that most of this violates the 2nd Amendment and one suspects the addition of Neil Gorsuch to the Court makes that unlikely to change anytime soon. Second, I'm leery of the terrorist watch list, in particular, since it's fraught with errors and reverses the presumption of innocence to which American citizens are entitled. Similarly, while it, of course, makes sense to deny the criminally insane access to weapons, we need to craft the protection in such a way as not to discourage people who need treatment from seeing mental health professionals.
Phil's frustration spills out here:
Our national failure to smartly regulate guns or the people who get them leaves just one option: hardening civil defenses, the 21st-century equivalent of what we did during the Cold War to build bunkers and shelters to survive a potential nuclear exchange with the Soviets. Hardening schools, churches, and government buildings works to a point, but you can't harden everything, and protecting some sites only turns others into more attractive targets.
This is, of course, not only impractical but likely ineffective. Shooters would simply target those running to the safe rooms.
He closes:
Our country spends hundreds of billions of dollars on an intelligence and military capability to protect Americans from external threats, both real and projected. We do quite little to protect Americans at home from the very real threat of guns—a threat which took an average of 42 lives per day in 2017. Framing matters. Presenting guns as a law enforcement issue has not catalyzed an effective response; describing gun violence in public health terms has illustrated the scope of carnage, but also not generated a sufficient societal response. Perhaps presenting gun violence as a national security threat will finally galvanize America to act.
That is, I suspect, Phil's real point. Gun violence isn't legitimately a national security threat and targeting it with the tools that we use against foreign threats would be more damaging than helpful. (Indeed, as I'm sure Phil would agree, shifting from seeing terrorism as primarily a law enforcement problem to primarily a military problem did much more harm than good on the national security front.) But, like Phil, I'm frustrated that the carnage has become so routine and we have yet to take any serious action against it.