Are Republicans Finally Realizing Their Immigration Problem?
Republicans are starting to talk about immigration reform, but do they really mean it?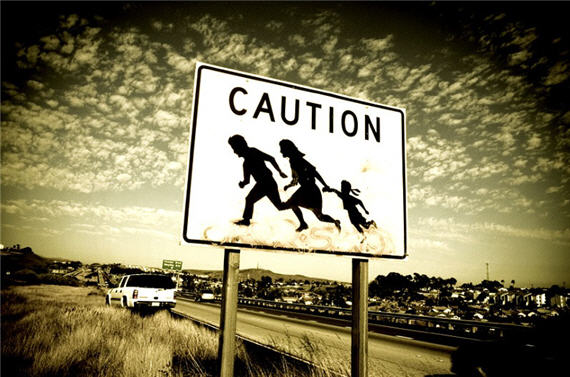 One of the more interesting things to watch over the days since the Presidential Election is the apparent shift that we've seen in attitudes on the right regarding immigration. In light of the absolutely drubbing that Mitt Romney took among Latino voters, it isn't at all surprising that we'd hear people like Marco Rubio and Jeb Bush repeating things that they've been saying for months regarding the party's need to reconsider its positions on a whole host of immigration issues important to Latino voters, not just for the selfish reason of trying to attract these voters to the GOP but also because they are good for the country as a whole. What's surprising, though, is the number of Republicans who have been relatively silent on, or even hostile to, the idea of comprehensive immigration reform saying that the GOP needs to get with the program before its too late:
After a presidential election in which Latino voters rewarded President Obama while punishing Republicans for their positions on immigration, Republican leaders and prominent conservatives moved quickly this week to shift to new ground, saying they could support some kind of legislation to fix illegal immigration.

The prospects for an immigration overhaul next year improved with stunning speed after the vote, with John A. Boehner, the speaker of the House, who had long resisted any broad immigration bill, saying on Thursday that "a comprehensive approach is long overdue." Haley Barbour, a Republican elder statesman and former governor of Mississippi, echoed Mr. Boehner, and Sean Hannity, the conservative talk show host — in a startling turnaround — joined calls for measures opening pathways to legal status for illegal immigrants.

One of every 10 voters who cast ballots on Tuesday was a Latino, and they favored President Obama, with 71 percent of their votes, compared with 27 percent for Mitt Romney, forcing Republican leaders to wonder if they could ever regain the presidency without increasing their appeal to Hispanic Americans.

Mr. Obama wasted no time, renewing in his acceptance speech early Wednesday his promise to move "in the coming weeks and months" on "fixing our immigration system."

A host of advocates noted that the coalition of forces supporting a thorough repair of the immigration system, including the offer of legal status for more than 11 million illegal immigrants, is broader and more organized than ever before. It includes Latino organizations, business and agricultural employers, libertarian conservatives, evangelical Christians and law enforcement groups.

"Is the Republican disconnect with the Latino community temporary or permanent?" asked the Rev. Samuel Rodriguez, president of the National Hispanic Christian Leadership Conference, the largest organization of Hispanic evangelicals. "The Republicans can redeem the narrative with this community by passing comprehensive immigration reform," Mr. Rodriguez said Thursday.

Republicans, in soul-searching after their loss, weighed the lessons from Mr. Romney's failed campaign. Looking at polls that showed immigration was not the top subject of concern for Latinos, Mr. Romney avoided the issue when he could and instead based his appeal to them on the economic themes he used with other voters. That was a serious misunderstanding of Latino sensibilities, leaders said.

"How you talked about immigrants sent a signal on what kind of perspective you had on Latinos over all," said Arturo Vargas, executive director of the National Association of Latino Elected and Appointed Officials Educational Fund, a bipartisan group.

(…)

Mr. Boehner chose his words carefully on Thursday, in an interview with ABC News. Saying he was ready for a "comprehensive approach," he said he was confident that Congress and Mr. Obama could find "common ground to take care of this issue once and for all."

Speaking to reporters in Washington on Friday, Mr. Boehner declined to say whether he was endorsing a path to citizenship for illegal immigrants.

"What I'm talking about is a common-sense step-by-step approach that would secure our borders, allow us to enforce our laws and fix a broken immigration system," he said. "But again," he added, "on an issue this big, the president has to lead."

Mr. Boehner's use of the word comprehensive caused a stir, because supporters of legal status for immigrants who lack it have long called their proposal "comprehensive immigration reform."
The most surprising comments of all, though, came not from a Republican politicians, but from one of the denizens of the conservative movement:
One day after the GOP suffered a crushing presidential defeat that spotlighted the party's unpopularity with Latino voters, Fox News star Sean Hannity announced that his position on undocumented immigrants had "evolved" and that he now supports a pathway to citizenship. (Listen above.)

Musing on his radio show about how his party could convince Latinos to switch parties, Hannity proposed a solution:

"We've gotta get rid of the immigration issue altogether. It's simple for me to fix it. I think you control the border first, you create a pathway for those people that are here, you don't say you gotta home. And that is a position that I've evolved on. Because you know what–it just–it's gotta be resolved. The majority of people here–if some people have criminal records you can send' em home–but if people are here, law-abiding, participating, four years, their kids are born here… first secure the border, pathway to citizenship… then it's done. But you can't let the problem continue. It's gotta stop."
There's admittedly not small degree of self-interest at work here. The election returns from Tuesday are rather clear, as is the rising influence of the Latino population in the United States. But, that's not necessarily a bad thing. One of the way's that representative democracy is supposed to work is by pressuring political leaders into taking action, and if fear of losing power is the way to motivate them, then it's as good as anything else. The real point is to get the job done, which in this case means finally getting through Congress and onto the President's desk a comprehensive package of immigration reforms that deals with issues of border security, which are clearly a legitimate concern, while at the same time recognizing the reality that something needs to be done about the people who are already here under the radar that doesn't involve the simplistic notion that they can all be deported. We also need to make it easier for people who want to come to this country to do so, especially highly skilled people, students who graduate with STEM degrees, and, at the other end of the spectrum, the migrant workers upon whom our nation's farming system relies for many months out of the year. If that can be accomplished by scaring the electoral crap out of enough Republicans to get a good bill through Congress, then that's who it's accomplished.
What I'm noticing, though, is that many of the Republicans who are calling on the party to change its stance on immigration are doing so because they are looking for a quick fix to the party's demographic and electoral problems. You can see the same kind of a desire for a quick fix in the fascination that many on the right have with Florida Senator Marco Rubio. Having observed the Senator for two years now, I don't think there's any question that he's a good politician, a very good public speaker, and that he presents an image of the Republican Party that we don't often see. Just this week it was announced that he would be speaking at a fundraiser in Iowa next week, which set off the inevitable speculation about his Presidential ambitions. In fact, I wouldn't at all be surprised to see Rubio throw his hat in the ring in 2016, but only if Jeb Bush decides that he doesn't want to run. Bush and Rubio are close allies and every Florida political observer I've read has said that Rubio would never enter the race if Bush decided to give the Presidency a shot himself. On the other hand, if Bush doesn't run, the odds of Rubio running will skyrocket and I'd be surprised if he didn't run.
The problem I foresee is the fact that people on the right seem to think that all they need to do is nominate Marco Rubio and all their problems with Latino voters will be solved. While I don't pretend to have any special insights into the Latino community, it strikes me that nothing could be further from the truth. For one thing, Rubio is Cuban-American, and it's long been well known that there are real differences between the Cuban-American community and, say, Mexican-Americans or other Latino sub-groups. So, it's unclear just how well Marco Rubio at the top of the ticket would be in attracting Latino voters as a whole. Second, I have to wonder how much Marco Rubio at the top of the ticket would make up for the GOP's past positions on immigration in the mind of Latino voters. Would the 2016 Republican platform rewrite its language to remove those portions that many deemed anti-immigrant, for example? Would the party stop insisting that "the borders must be secured" before they'll even talk about immigration reform? These are questions we don't know the answer to, but they strike me as important. Finally, it strikes me that there's a certain amount of tokenism in the manner in which some people on the right seem to view a Rubio candidacy in 2016. If they come across giving an impression that says "well, we put a Latino on the ticket, that should be good enough for you," then that creates the impression that Rubio is just the GOP's token Latino. Quite honestly, he's far too accomplished and far too good a politician to be viewed in that manner.
It's good to see Republicans finally starting to realize where there party has screwed up when it comes to immigration, but it's going to take a lot more than slogans and tokenism to fix the problems that they have with the nation's fastest growing minority group.