Are The Culture Wars Over?
Bill Scher examines "How Republicans Lost the Culture War."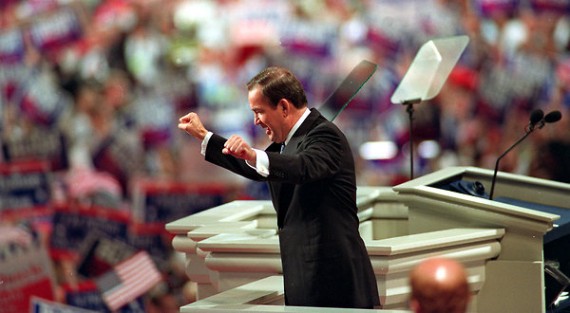 Bill Scher examines "How Republicans Lost the Culture War." His lede is powerful:
On Aug. 17, 1992, Pat Buchanan and the Republican Party declared a "culture war … for the soul of America." On Oct. 6, 2014, Republicans surrendered.
The "surrender" was last week's decision by the Supreme Court not to review lower court rulings allowing same-sex marriage, effectively ending the fight over that issues. Scher is right:
We've come a long way since 2004, when Republicans went 11-0 on anti-gay marriage state ballot initiatives, and since 1996 when Democrats were defensively insisting they wanted abortion to be "rare." Half of all Americans now live in states that allow same-sex marriage, with more on the way.
Which sets up the longer version of his title question:
How did the party of "the real America" get so utterly thumped in the culture war, a war of its own choosing? People will tell you the defeat is due to the "Rising American Electorate" of African-American, Latino, youth and single women voters, which made up nearly half of the 2012 turnout and voted 2-to-1 for Obama. But it's not a mere matter of demographics shifting under the Republicans' feet. The GOP sowed the seeds of its culture war demise with three big strategic blunders.
He goes on to detail three points, of which I'll copy only the toplines here:
1. Republicans stopped being savvy on abortion.
2. Republicans got weird about birth control.
3. Republicans bet wrong on gay marriage.
The first two are undeniable. Essentially, as Northeastern, Midwestern, and Western moderates became marginalized in the party, the Southern cultural conservatives took over the issue framing. Whereas the former were true conservatives, fighting to preserve traditional cultural norms, the latter were radicals seeking to impose a puritanical set of policies with very little appeal on the country through the legislative process. They took Pat Buchanan's call for a religious war, which struck most as madness when he thundered it at the convention, as a call to duty. And, like the apocryphal story about Pauline Kael, they didn't know anyone who didn't agree with them on these radical ideas, so thought they were appealing to the center.
The last, though, confuses outcome with cause. That is, being wrong on gay marriage is evidence that Republicans lost the culture wars, not the reason they lost. Scher's analysis doesn't really explain why:
After 2000, Bush political strategist Karl Rove fretted that 4 million Christian conservatives stayed home on Election Day. After 2003, many on the right were in a panic once the Massachusetts Supreme Judicial Court established equal marriage rights for gays and lesbians. In 2004, Republicans responded by spearheading ballot initiatives in 11 states banning same-sex marriage, including the swing states of Ohio and Michigan. Rove may not have masterminded it, but he told the Ohio media he believed the initiative would boost Republican turnout.

Republicans won the battle, but they soon lost the war. All 11 passed handily, and another seven passed in 2006. However, the mean-spirited anti-gay marriage campaign actually failed to increase Republican turnout, while alienating the younger generation of voters. American youth who had grown up treating gays equally soon propelled Barack Obama to the White House and invigorated the marriage cause. Ten years after that first round of anti-gay initiatives, same-sex marriage is on the verge of being legal in 60 percent of the country.

With a little more foresight and a little less bigotry, Republicans could have realized that misguided cultural attitudes toward gays would naturally diminish over time, and divined better ways to rally the conservative troops. There were plenty of signs that Republicans were on the wrong side of history. The vice president's daughter was openly gay. The TV show "Will & Grace" was in its sixth season. Even Bush sensed that a hateful anti-gay stance could drive away swing voters: One week before Election Day, he expressed support for civil unions.

It was too little too late. Republicans never launched an organized push for civil unions as a way to compete for gay voters without alienating religious conservatives who wanted to cordon off marriage for heterosexuals. Such a stance would have been squarely in the ideological middle at the time: In the 2004 Election Day exit poll, 35 percent of Americans supported civil unions and another 25 percent supported equal marriage. Only 37 percent opposed all forms of legal recognition for same-sex couples. If Republicans hoped to draw a line at marriage, a firm civil-unions position was their best chance.
Tactically, that's probably right. The culture had already changed significantly by 2004 and the GOP didn't get it. Indeed, my own views on the issue had changed radically over the period since Buchanan's speech at the 2004 elections. But to say that Republicans decided to pick a fight that they couldn't win doesn't answer the question of why it is they couldn't.
I'm neither a sociologist nor a cultural anthropologist but my guess is that we've simply become a more rationally-based society. As we've become more educated, appeal to tradition and cries of "We've always done it this way!" are simply less persuasive. Ultimately, the arguments for excluding people from marrying others of the same sex were revealed to be provincial at best and simple bigotry at worst.
Rationalism was aided by emotionalism as well, as a popular culture stemming from Los Angeles and New York increasingly spotlighted gay characters—and, it turns out, gay performers—as decent human beings distinguishable from their fellows only by the sex partners they were hard-wired to be attracted to. "Will & Grace" went from being subversive to banal. Ellen DeGeneres' historic lesbian kiss was shocking in 1997; four years later she was hosting the Emmys and a daytime talk show aimed at housewives.
National political campaigns are, at their heart, battles over culture. The culture wars aren't over and will likely never be. But conservatives have lost the fights over racial and gender equality and most of the attempts to impose religiously-based values on the rest of society. Aside from perhaps immigration, which isn't an issue that neatly divides along party lines, it's not obvious what big cultural fights remain.