Are Wisconsin Public Servants Overpaid?
Contrary to some assertions, Wisconsin public servants are not better compensated than their private sector counterparts.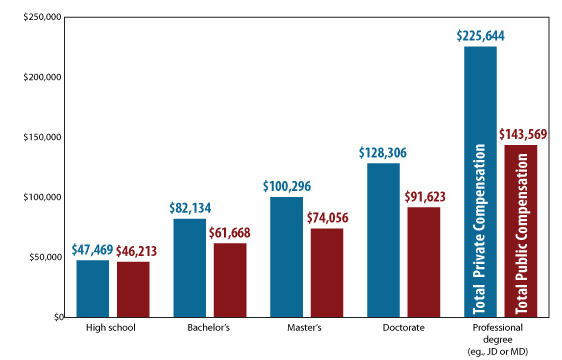 Ezra Klein points to this study, which shows that at least in Wisconsin, all else being equal, public servants are paid less than their private sector counterparts — and yes, that includes both wages and benefits.
It is necessary for making true apples-to-apples comparisons to control for worker characteristics such as education in order to best measure a worker's potential earnings in a different sector or industry. Controlling for a larger range of earnings predictors—including not just education but also age, experience, gender, race, etc., Wisconsin public-sector workers face an annual compensation penalty of 11%. Adjusting for the slightly fewer hours worked per week on average, these public workers still face a compensation penalty of 5% for choosing to work in the public sector.
So that's another talking point down.
But personally, I don't see the point of comparing private vs. public sector compensation. For my own part, I think that public servants should be paid well. As economists are fond of pointing out, incentives matter. And good pay and benefits from the government helps to attract to the best workers to the government — which makes for a smoother running, more efficient government. Underpaying public servants, on the other hand, means that talented people will turn elsewhere — and that inevitably results in less efficient government. Not to mention the fact that anyone who's ever bothered to open a history book knows that underpaying public servants is a one-way ticket to a system of more bribery and corruption.
So from my perspective, the question isn't looking to whether public servants make more or less than their private sector counterparts. The question is, is the government paying well enough to attract the best and most talented candidates? Fortunately, most of the people in this country who go to work as teachers, firefighters, etc are willing to take a small salary hit because they want to improve their communities. God bless 'em.