Arizona Sec. Of State Walks Back Birtherism, Says Obama Will Be On Ballot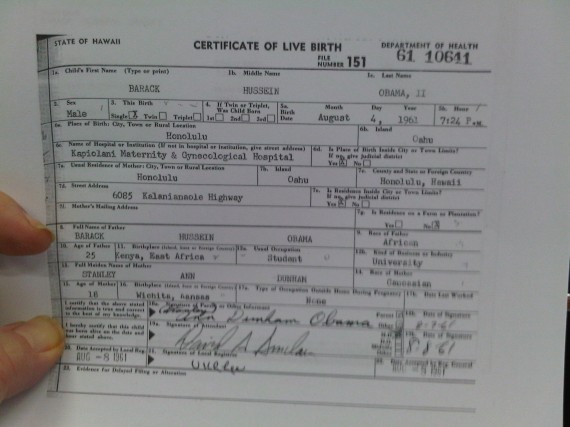 After suggesting last week that he might bar Barack Obama from the ballot, Arizona Secretary of State Ken Bennett has relented and now says he's satisfied the President was born in the United States:
President Obama will be on the ballot in Arizona after all.

Arizona Secretary of State Ken Bennett (R), who earlier this month requested more information from Hawaii on President Obama's birth certificate, has gotten the confirmation he needed.

"Late yesterday, our office received the 'verification in-lieu of certified copy' from officials within the Hawaii Department of Health that we requested in March," Bennett said in a statement released Wednesday afternoon. "They have officially confirmed that the information in the copy of the Certificate of Live Birth for the President matches the original record in their files."

Bennett also defended his decision to request the additional information, which drew massive national headlines. The secretary of state, who is planning to run for governor in 2014, has repeatedly said that he is not a "birther" who believes Obama was born abroad. He was merely answering the requests of over a thousand Arizonans who wanted Obama's birth certificate examined.

"At the request of numerous constituents, I merely asked Hawaiian officials to verify the information contained within President Obama's original birth certificate," he said in the statement. "They have complied with the request and I consider the matter closed."
Did you know that Bennett is one of Mitt Romney's Arizona campaign co-chair's? I'm thinking someone called from Boston and told him to drop this ridiculous nonsense.