Army And Marine Chiefs: Women Should Be Required To Register For Draft Just Like Men
The Army Chief of Staff and Commandant of the Marine Corps told Congress that women should be required to register for the draft just like men are.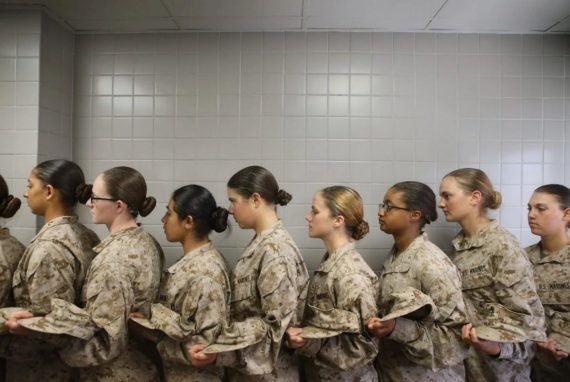 Earlier this week, top officers in the Army and the Marine Corps told members of a Congressional Committee that mandatory registration for the draft, which has been in effect for men when they reach their eighteenth birthday for more than thirty years now, should be expanded to include women:
The top officers in the Army and Marine Corps testified on Tuesday that they believe it is time for women to register for future military drafts, following the Pentagon's recent decision to open all jobs in combat units to female service members.

Gen. Mark A. Milley, chief of staff of the Army, and Gen. Robert B. Neller, the Marine Corps commandant, both said they were in favor of the change during an occasionally contentious Senate Armed Services Committee hearing on the full integration of women in the military. The generals, both infantry officers, offered their opinions in response to a question from Sen. Claire McCaskill (D-Mo.), who said that she also is in favor of the change.

"Senator, I think that all eligible and qualified men and women should register for the draft," said Milley, echoing the remarks of Neller.

After the hearing, Neller added in an short interview that any young American as a rite of passage should have to register for Selective Service.

"Now that the restrictions that exempted women from [combat jobs] don't exist, then you're a citizen of a United States," Neller said. "It doesn't mean you're going to serve, but you go register."

The comments are a first in the Defense Department. Previously, senior defense officials have said only that the issue would need to be researched following Defense Secretary Ashton B. Carter's historic decision in December to open all jobs in the military to women without exception.

Carter's action allows women for the first time to apply for a variety of physically punishing positions, including Army and Marine Corps infantryman, as well as Special Operations jobs, including Navy SEAL and Green Beret. The Defense Department plans to begin implementing associated changes in training and evaluation by April 1.
On the surface, there doesn't seem to me to be any substantive objection to the position that Generals Miller and Neller are taking here. Even leaving aside the issue of whether or not all combat positions should be open to women if they can meet the same physical requirements as men, and I think they should, women have been playing other non-combat and quasi-combat roles in the military for decades now. Women served as nurses and in other positions in near-combat areas during the Korean and Vietnam Wars, for example. There were women who flew air missions over hostile territory during the Persian Gulf War, as well as women who have been performing roles formerly performed only by men in all branches of the military for some time now. During the Iraq War and the War in Afghanistan, the roles performed by women by necessity put them even closer to combat situations than they had been in the past to the point where they were as likely to be required to fire a weapon, or face the possibility of being killed or wounded, as any man they served alongside. Putting women in combat positions would obviously increase that risk, but not substantially, and if the women in question are physically able to do the job then there's no rational reason to exclude them from consideration for the position.
Since women already play an integral role in the military, and will continue to do so in the future, it only makes sense that they should be required to meet the same requirements as men when it comes to registration for a potential draft. In reality, of course, the odds that the nation would ever be in a position where a military draft was likely seem to be somewhere between slim and none. The volunteer military has functioned exceedingly well for the past forty years or more since the draft was eliminated, and military leadership has repeatedly said in response to questions from Congress that they see no reason why a draft should be reimposed. For one thing, the nature of the military has changed so significantly in the past forty years that taking in draftees and training them the way we did in World Wars I and II, Korea, and Vietnam simply wouldn't work in a military where even operating the equipment a soldier uses takes months if not years of training rather than the weeks of basic training that a draftee received in the past. A draftee army uses soldiers as human fodder, whereas the volunteer military we have depends on soldiers who are well trained on highly technical equipment. That's simply not possible with draftees. Beyond those practical concerns, the moral and political arguments against a draft remain as powerful as they were when they were voiced forty years ago by people such as the libertarian economist Milton Friedman, who was one of the loudest voices against conscription during the Vietnam Era and was appointed to a committee to study conversion to an all-volunteer military by President Nixon. Friedman and others who were around at the time explain his role in the elimination of the draft in this short video.:
Ideally, I agree with Cato's Christopher Preble that we should just eliminate draft registration entirely:
The entire draft architecture is anachronistic and unnecessary. We've operated with an all-volunteer force for decades; no one, regardless of gender, expects that they'll be drafted; and the wars that we fight don't depend upon conscription. Future wars aren't likely to, either.

Selective service was instituted during World War I, but America's first peacetime draft, the Selective Service Act of 1940, was enacted as much of Europe and parts of Asia descended into the maelstrom of another world war. Many Americans wanted desperately to stay out, but also understood the need to prepare for it. All told, around 10 million men were drafted during World War II, but the act expired after the war ended.

(…)

Selective service started up again in the late 1940s, but notably did not include President Harry Truman's call for universal military training. Selecting some men via the draft provided the military with the troops it needed to prosecute the wars in Korea and Vietnam. But the idea of forcingall men to serve during peacetime never took hold because the requirements of those wars never called for 10 million-plus men to fight them. The selective nature of the draft exposed the system to charges of unfairness, particularly with respect to exemptions given during the Vietnam era for those able to ride out the war as college students, but it still made more sense than the alternative: compelling every man to serve in a military that didn't need them.

Compulsory service is even less essential today. America's wars of the post-conscription era have been fought by far smaller forces, and our mixed track record in those conflicts hasn't been a function of the number of available troops. Rather, the inability to achieve decisive victory in places like Iraq and Afghanistan reflects the inherent difficulty of nation-building, and our body politic's understandable weariness with open-ended and costly missions in distant lands. Although in the wake of Paris and San Bernardino, there's beenan uptick in public support for deployment of additional ground troops to combat the Islamic State, having a draft, with one or both sexes, is unlikely to make the public more supportive of large-scale, decades-long wars.

Meanwhile, a draft would likely reduce the military's fighting effectiveness. Today's force is uniquely capable precisely because it is comprised entirely of volunteers, men and women who choose to join the military for a variety of reasons, including the desire to serve their country, but also because of the exceptional opportunities and benefits available to those in uniform. Overall compensation for troops is more than competitive relative to their comparably skilled peers, and Americans are willing to invest in their professional development because we are confident that many of them will remain in service long enough for our investment to be worthwhile. By contrast, draftees of the '40s, '50s and '60s weren't expected to stick around after their obligation expired, and thus received minimal training. A conscripted military might be larger, but it wouldn't be better.

I appreciate the sentiment argued for years by Rep. Charles Rangel (D-N.Y.) — himself a Korean War combat veteran — that a draft would "compel the public to think twice before they make a commitment to send their loved ones into harm's way." But the idea that the all-volunteer military explains Washington's propensity to go to war, or that a draft would force policymakers to rethink their interventionist impulses, overlooks the fact that few, if any, of our conflicts in the first two decades of the post-conscription era could be considered protracted ground wars, and likewise cannot explain why other countries around the world with volunteer militaries are far less war-prone than we.
Leaving all of that aside, though, the possibility still exists that a draft could be reimposed someday, albeit most likely only in an extreme national emergency, and the law requires young men to register with Selective Service to account for that possibility. As long as that is a possibility, and given the fact that women already perform roles formerly open only to men at all levels of the military, there is no rational reason why women should not be required to register with Selective Service just as men are. 
Update: In a subsequent post, I address an argument that suggests that making women subject to the draft would somehow act as a restraint on an adventurous, interventionist foreign policy.