Army Debuts Unisex Combat Uniform
The Army is fielding a new uniform to make ladies feel more soldierly.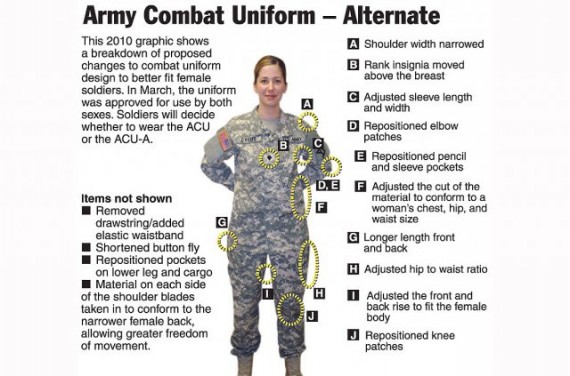 The Army is fielding a new uniform to make ladies feel more soldierly.
AP ("Unisex Uniforms Debut As Army Opens Units To Women"):
A new combat uniform with special consideration to the female body is now available at Fort Gordon, almost a month after the Army announced plans to open all units and military jobs to women by 2016.

The March debut of the Combat Uniform-Alternate is the first in a series of moves the Army hopes to make in the next three years to help female soldiers feel like more professional members, officials said.

With narrower shoulders, a slightly tapered waist and a more spacious seat, the unisex clothing line has been in the works since 2009 and is being issued to all installations – except Fort Benning in Columbus, Ga. – for men and women with a smaller or more slender body.

Soldiers will soon be able to order the new uniform at the Fort Gordon Military Clothing store, according to Stefan Marks, the post exchange's general manager.

Marks said all 16 sizes of the new line will be available to try on at the store in two to three weeks.

"After a soldier finds the right fit, they may place an order for the uniform, which will then be delivered to the store," Marks said.

Unlike the decades-old Army combat uniform, which comes in 36 sizes and was designed principally by men for men, the alternate clothing line was created to fit a broader range of body types, officials say.

The trousers feature wider areas at the hips, waist and backside; elastic around the waistband instead of pull string; adjusted pockets and knee-pad inserts; and a shortened rise in pants.

The jackets include adjusted rank and name tape positioning, adjusted pockets and elbow-pad inserts, slimmer shoulders, a thinner and more fitted waist, and a longer and wider coat bottom.

Also, buttons are replacing the fabric fastener pockets.

According to a 2008 Army focus group report, "unisex" combat uniforms designed for men fit many women badly in the shoulders, bust, hips and crotch and left many buying larger sizes.

The Army designed a solution and had 400 active-duty and 200 National Guard and Reserve female soldiers fit-test the line in 2011.

Eighty-six percent said the coat fit better and 71 percent said the trousers fit better, Maj. Laverne Stanley, the assistant product manager of soldier clothing and individual equipment, said in a statement.

"An overwhelming majority, 94 percent of all respondents, said that the cut of the new ACU-A allowed them to present a better military appearance," she said.
That the Army has managed to make something so simple—a fatigue uniform designed to be worn on the battlefield—and make it so complicated is impressive, indeed. The Battle Dress Uniform that debuted in the early 1980s and lasted through 2004, when it was replaced with the current Army Combat Uniform, came in four sizes: small, medium, large, and extra large.* The trousers and blouse were sold separately, allowing for some customization. When a soldier needed a new uniform, he went into the Clothing Sales store, picked one off the stack, and paid for it. We replaced that with a uniform that came in 36 sizes? And, now, in the name of "presenting a better military appearance," we're replacing that with one so customized that soldiers have to special order them?
Wouldn't it be simpler to go back to the old concept of wearing service uniforms in garrison and saving fatigue and field uniforms for fatigue and field duty? Or . . . I don't know . . . paying less attention to "military appearance" and more to "military proficiency"? Because this is all happening at a time of deep cuts to the defense budget.
_________________
*UPDATE: A commenter correctly informs me that my memory, faded by 21 years, is faulty. In fact, BDUs came in many more sizes. In addition to the Small, Medium, Large, and Extra Large than I remembered, there was also an Extra Small. Additionally, all five of those sizes came in four length variants:  Short, Regular, Long, and Extra Long.  I wore Small-Long trousers and a Medium-Long blouse.