Army Medal Fatigue
Andrew Exum believes the Army should "get rid of all medals not related to valor or campaign-specific service."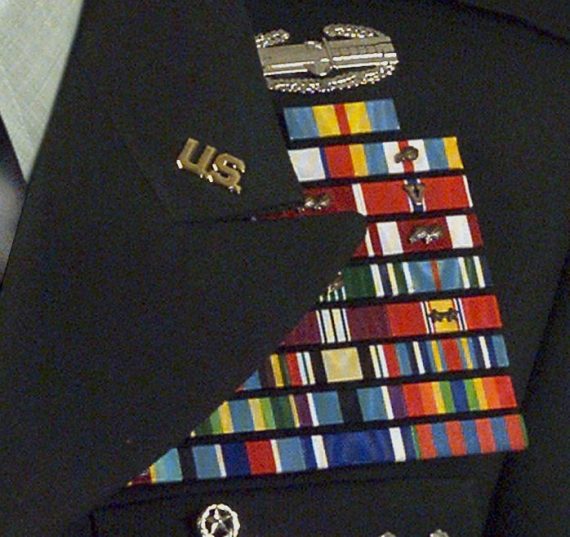 Andrew Exum has stirred up a hornet's nest with his declaration that, "If it were up to me, I would get rid of all medals not related to valor or campaign-specific service." He explains, "Most medals awarded for 'service' — from the Army Achievement Medal to the Meritorious Service Medal — seem like trinkets most often given based on the rank of the awardee on completion of a duty assignment rather than any activity soldiers actually take pride in. Maybe I am wrong."
On that last point, he almost certainly is. My recollection is that junior enlisted personnel, especially, were extraordinarily pleased to get any sort of recognition for even relatively trivial good work. There wasn't a lot of glamor in their workaday existence and the pay sucked. So, getting an Army Achievement Medal–or, hell, a battalion commander's coin–was tangible recognition that somebody noticed their efforts.
Then again, I served in a different era and in a different service environment. Ex was a Ranger during a period of constant war; I was a rocket artillery guy who served in a fast war following a relatively long peace. It's quite possible that a Ranger Specialist  with a Combat Infantryman Badge, a Ranger tab, jump wings, and a couple of campaign medals rolls his eyes at an Achievement Medal or NCO Professional Development Ribbon.
On Ex's larger point, though, I fully agree that the American military has a serious case of medal inflation.
It wasn't always thus. My dad retired as a First Sergeant in 1982 after 20-plus years of service with only a handful of medals, none for valor, mostly related to his stint in Vietnam. Until his retirement award of a Meritorious Service Medal, his highest award was an Army Commendation Medal with umpteen oak leaf clusters.
At the tail end of dad's career, the Army came up with a passel of the sort of awards Ex is complaining about. After several years of relative peace post-Vietnam, there really wasn't any way to boost morale by handing out trinkets to junior personnel. So, the Army Achievement Medal, NCO Professional Development Ribbon, Overseas Service Ribbon, and Army Service Ribbon all came into being on 10 April 1981.  Note that the last three are mere "Ribbons;" they don't even come with a medal to be worn on the full dress uniform.
As a young lieutenant, then, I had the Army Service ("Rainbow") Ribbon–awarded for the impressive act of completing the required training that allows one to go on to a billet in an actual Army unit–to go with my Airborne and Air Assault badges. Most of my lower enlisted soldiers, on the other hand, had an "impressive" rack of ribbons to denote having gone on to schools (NCO Professional Development), having served somewhere (Overseas Service Ribbon or Army Expeditionary Medal), and managing to complete a tour without committing a criminal act (Good Conduct Medal). It was mildly comical.
Desert Storm changed that. I got a Bronze Star upon returning home to go along with the Southwest Asia Service Medal and two campaign stars. Everybody who happened to be in the Army in some capacity got a National Defense Service Medal. Upon leaving the Army a year later, I got an Army Commendation Medal and the Overseas Service Ribbon. While I was in grad school, I got Liberation of Kuwait Medals from the Saudis and, quite some time later, another from the Kuwaitis. Oh, and it turned out that sitting around Kuwait and Saudi Arabia waiting to fly back to Germany was actually a combat campaign, so I got another bronze service star to pin on the Southwest Asia Service Medal.
My contemporaries who remained in, colonels now, look like South American field marshals. The Army has been in so many engagements in the last twenty years, each with their own campaign medals and associated foreign awards, that I no longer recognize many of the awards being worn by today's soldiers. And, of course, they never got rid of those April 1981 phony medals.
As an aside, the Army is parsimonious with awards compared to the Air Force.
So, yeah, Exum's largely right here. In a combat Army, handing out "I was there" and "end of tour" and "good job cleaning your room this week, soldier" awards is rather silly. Even in a peacetime Army and a much less cynical attitude than I'd have later, I felt as silly wearing a Rainbow Ribbon as I did proud wearing the jump and Bullwinkle wings.
At the same time, though, exemplary work over a period of time in a job where you're not drawing enemy fire is actually worthy of recognition. I don't begrudge a Legion of Merit or Meritorious Service Medal or Bronze Star for a major in the G-3 shop who plans the logistics for a mission flawlessly. In some ways, that's more laudable than 30 seconds of heroism when you happen to be in the wrong place at the wrong time.