Army: More Dangerous To Ourselves Than The Enemy
A review by the Army of its alarming spike in suicides blames it on the new strain of risk-seeking recruits who join during wartime and commanders who neglect to rein them in.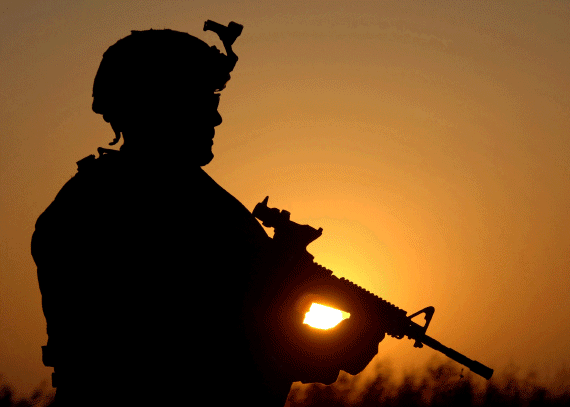 A review by the Army of its alarming spike in suicides blames it on the new strain of risk-seeking recruits who join during wartime and commanders who neglect to rein them in.
After nine years of war, the Army attracts recruits ready for combat but inclined toward risky personal behavior — a volatile mix that led to more deaths from suicide, drug overdoses and drinking and driving than from warfare, an Army review concludes.

"Simply stated, we are often more dangerous to ourselves than the enemy," says the 15-month study, released Thursday.

Commanders have failed to identify and monitor soldiers prone to risk-taking behavior, the report says. As a result, suicides among soldiers have soared.  "We lose track of some of those high-risk soldiers," said Gen. Peter Chiarelli, the Army vice chief of staff.  Many recruits join the Army knowing they will be sent to combat, so they may "even be more comfortable accepting high levels of risk and uncertainty in their lives," the report says.  That makes it more critical for commanders to enforce good order and discipline, according to the study.

Chiarelli commissioned the review 15 months ago as the Army suicide rate exceeded that for civilians. The study says poor command decisions helped contribute to a record 160 suicides by active-duty soldiers last year and an additional 146 deaths resulted from risky behavior such as drug or prescription medication abuse. Seventy-four of those deaths were overdoses. There were 1,713 attempted suicides last year.

Records show that last month, the Army averaged one suicide per day among either active-duty or National Guard soldiers and reserve troops. There were 32 confirmed or suspected cases.

In a few cases, the report says, commanders didn't realize soldiers under their control had committed suicide until long after death occurred. "There are instances where a leader's lack of soldier accountability resulted in suicide victims not being found until they had been dead for three or four weeks," the report says.

Chiarelli said commanders allow infractions such as an arrest for drunken driving to go unpunished and don't refer the soldier for possible alcohol abuse treatment. Often, he says, this might by done to allow a soldier to go to war.  Since fighting in Afghanistan started in 2001, 25,283 soldiers who had committed violations that could have resulted in a discharge from the Army were allowed to remain in the service, the study shows. Many of these failures were an indirect result of the wars in Iraq and Afghanistan, the study says. Army efforts have become so concentrated on training and combat that routine oversight of soldiers has lapsed, the report says.
This strikes me as eminently plausible.  During long periods of peace, men join the Army for secure employment, college benefits, travel, patriotism, and the like.  But we've been at war for as long as new recruits can remember.   That means people joining either want to fight or are so desperate for work that they're willing to risk death.   These are very different types of people.
While I served in combat, it was in a peacetime Army.   That is, the expectation of those signing up was that they were unlikely to see action and, if they did, it would be of very short duration (Grenada, Panama, Desert Storm).  And leaders aggressively counseled soldiers who were acting up, with very little tolerance before they were chaptered out of the service altogether.
My strong guess is that the mindset is different now.   Things that were intolerable in my day are now just "boys being boys" and letting off some steam.  With troops seeing two and three tours of combat duty, the thinking goes, they've earned the right.    And, frankly, we need the manpower.   Alcohol problem?  Well, what better way to deal with that then send him off to Afghanistan, where there's no alcohol!   But, of course, the underlying problem remains — and is likely exacerbated both by the lack of the usual method of treatment (alcohol) and the strain of combat and separation from home and family.