Army, Navy, Air Force Football Fall Victim To The Shutdown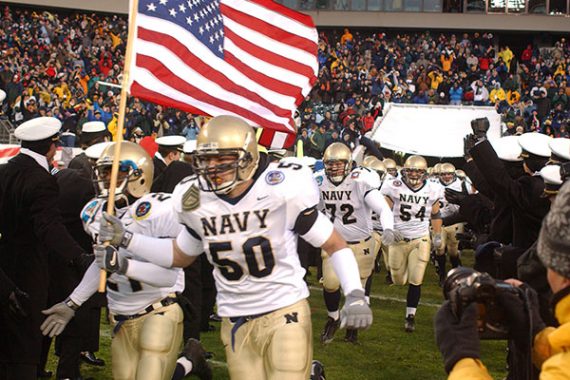 The latest victim of the shutdown is this week's football games involving all three of the nation's service academies:
The Defense Department has canceled intercollegiate sports at its three service academies during the government shutdown, according to an announcement Tuesday.

The Naval Academy, the Air Force Academy and the U.S. Military Academy are suspending their football and most other games. Specifically, the Naval Academy said it had canceled a soccer game scheduled for Tuesday night against Howard University and Saturday's football game against Air Force in Annapolis, Md.

The Pentagon must furlough some 400,000 civilian employees during the shutdown and has also said it will cut back on travel — two factors that could contribute to the decision to suspend the academies' popular athletic programs.
There is legislation that was signed into law by President Obama today that gives the Defense Department more leeway in deciding how to handle the shutdown, as well as ensuring pay for the uniformed military during a shutdown, but it's unclear how the DoD will utilize that authority. In the end, there may well be more important things than using the money to fund collegiate athletics.