As Trump's Numbers Sink, He Panders Even More To His Base
As public opinion of the President continues to slide his pandering to his far-right base increases.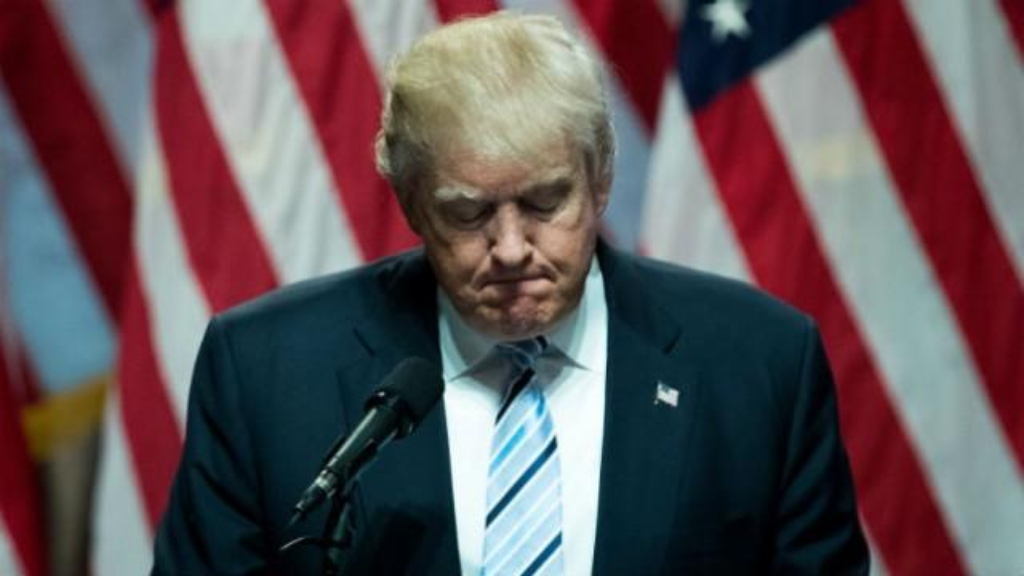 A new poll from ABC News and The Washington Post finds that President Trump is failing to live up to even the modest expectations the public had for him when he took office two years ago:
In his first two years in office, President Trump has largely underperformed the even modest expectations that Americans had for him as he took office in January 2017, according to a Washington Post-ABC News poll.

The new assessment of Trump, which measures his public standing across 10 major issues and character traits, comes as his overall job-approval rating languishes at 37 percent, one point above his record low in August and at two previous points. Nearly 6 in 10 say they have an unfavorable view of the president as a person. Similar majorities say they doubt his empathy, honesty and ability to make political deals, although on several of those attitudes, his ratings have not changed significantly during his time in office.

As he begins the second half of his first term, Trump has suffered one of the most significant defeats of his presidency, having capitulated to House Speaker Nancy Pelosi (Calif.) and other congressional Democrats in a standoff over building a wall along the U.S.-Mexico border — a dispute that brought about the longest U.S. government shutdown in history.

The survey was completed before Trump agreed to reopen the government without a commitment to fund a border wall, which he has championed since he was a candidate. Those negotiations will continue over the next three weeks. Trump's failed gamble that he could force Democrats to blink first has caused dismay among many congressional Republicans and threatens to call into question the president's oft-stated claim of being an effective dealmaker.

A 57 percent majority rates Trump negatively for his handling of border security, the signature issue on which he began his campaign. That is similar to the 54 percent who oppose building a wall, which he insists is necessary to stem a "growing humanitarian and security crisis" at the southern border.

The good news for Trump is that his opponents are not popular, either. The survey shows that just 35 percent of Americans say they have confidence in the president to make the right decisions for the country's future. But just 34 percent say that of Democrats in Congress, 30 percent for Republicans in Congress and 30 percent for Pelosi.

The depth of the doubts about Trump's capacity to make good future decisions, however, is greater than it is for Pelosi, congressional Democrats or congressional Republicans. Almost half of all Americans (48 percent) say they have no confidence in Trump's future decision-making. For Pelosi, that number was 37 percent. For congressional Democrats and Republicans, about 3 in 10 give each the lowest level of confidence

On economic issues, Americans had high expectations about the ability of the New York businessman and builder to handle an economy that was growing steadily, if slowly, after the financial crash a decade earlier.

In the intervening two years, the pace of economic growth has increased and the unemployment rate has dropped even lower, both in part because of the big tax-cut bill that Republicans approved and the president signed. The stock market, after a strong rise during much of the first two years of Trump's presidency, has recently experienced a sharp drop and volatility amid doubts about the future.

To the American people, that record adds up to lowered ratings for the president since his inauguration. At that time, about 6 in 10 Americans expected him to perform well on these fronts. Today, the public is divided evenly, with 49 percent giving him positive marks on his handling of the economy and 49 percent giving him negative marks. Even those most optimistic or pessimistic are split evenly, with 27 percent saying his handling has been "excellent" and 27 percent saying it has been "poor."
This chart does an excellent job of showing the difference between expectations and reality: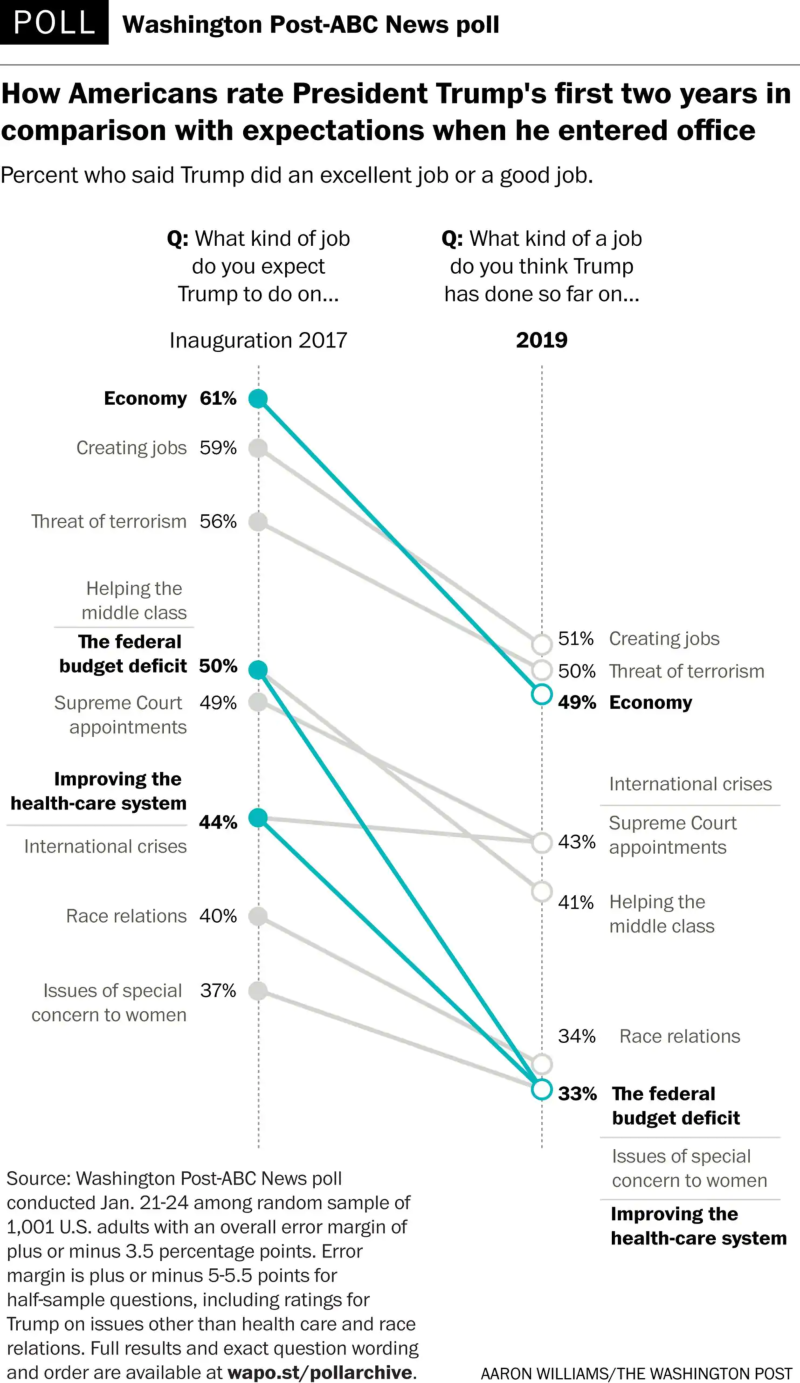 These numbers are, of course, consistent with other polling numbers that we have seen over the last week or so and, as Greg Sargent notes, the President has responded to this by sinking further into far-right rhetoric:
A new Post-ABC News poll finds that most Americans believe President Trump is failing spectacularly by many different metrics. Large majorities say he doesn't have the temperament to be president; lack confidence that he'll make the right decisions for the country's future; and (this one will really sting) say he isn't good at making deals.

At the same time, new reporting indicates that Trump's media and political allies are working overtime to erect a protective bubble around Trump, one designed to prevent him from grasping the most basic political realities of the moment.

This effort has two goals: To create an alternative narrative that portrays Trump's cave in the shutdown fight as a sign that he holds a strengthened hand, which in turn is designed to gird him to refuse real compromise in the next round of talks.

Trump is preparing a Plan C. The Post reports that Trump privately told advisers over the weekend that declaring a national emergency may still be his best way forward, if Democrats don't give him that wall money. There's also this:

One White House official described Trump's decision to reopen the government as "clearing the deck" for executive action rather than a retreat. And a longtime confidant said Trump has grown increasingly frustrated by news coverage of his concession to Democrats and has been encouraged by conservative allies to escalate the fight.

 The Post also reports that Trump privately raged over Democrats' refusal to bend to his will, leading him to consult the White House counsel's office about the legal repercussions of declaring a national emergency. White House officials say Trump believes this threat will pressure Democrats to buckle over the wall. Trump even privately sought advice about the negotiations from … Fox Business host Lou Dobbs.

All of this is rather unsettling. Trump had to back down in the last round of the shutdown fight because Democrats now control the House, which means that if Trump wants them to give him more funding for border barriers, he must give them actual concessions, not the fake concessions he offered that turned out to be dramatic restrictions on asylum seeking.

But the narrative that has been created for Trump's (and his followers') consumption to explain what's happening right now is that he is shrewdly and strategically regrouping to do this alone if Democrats refuse once again to unilaterally capitulate to him.

Trump is stuck in Foxlandia

That Trump is consulting Dobbs for private advice about how to proceed — even as he craters in polls — perfectly captures the folly and delusion consuming this presidency at this particular moment. Trump watches Fox obsessively for validation, and he has very likely seen Dobbs tell him that House Speaker Nancy Pelosi "whipped" him in the shutdown battle; that his only route forward is to declare a national emergency; and that recent leaks about the Russia probe were really about distracting the public from Democratic opposition to Trump's wall, as if that's somehow an unpopular position that Democrats fear holding.

In this mythology, the political threat to Trump does not come from the mounting legal travails he faces (all of that is a hoax and a witch hunt) or from Trump's malicious and deeply destructive shutdown for the sake of his deeply unpopular wall. Rather, the real political danger to Trump always comes from his failure to fight hard enough, whether it's failing to close down special counsel Robert S. Mueller III's investigation, or failing to do whatever it takes — declare a national emergency, shut down the government until the end of time — to ensure that he gets the wall without giving up anything that might perturb his base in the slightest.

But if Trump did accept that Democrats now control the House, and thus must be offered genuine concessions in exchange for giving him what he wants, Trump probably could get more money for something that fits his latest description of the wall, which he has now downgraded to "steel barriers in high-priority locations."

Alas, in Foxlandia, there is as much space for an acknowledgment of these new power realities in Washington as there is for an acknowledgment of the polls showing him cratering. In Foxlandia, Trump always has all the hidden leverage, and if only he'd just exercise it, a glorious victory would follow — entirely on Trump's own terms.
The fact that the President's job performance as evaluated by the public has fallen short of where public opinion stood when he first took office isn't entirely surprising, of course. With the exception of a tax bill that doesn't appear to have had nearly the type of economic impact that Republicans hoped for and, of course, judicial nomination to both the Supreme Court and lower Federal Courts, there's very little that one can point to as a success on the part of the two year period during which the Presidency and Congress were fully controlled by Republicans that can be pointed to as an accomplishment. The GOP effort to 'repeal and replace' the Affordable Health Care Act failed miserably notwithstanding the fact that the GOP had advanced it through the Senate via reconciliation so that it id not require sixty votes to invoke cloture. The Trump Administration's much-vaunted infrastructure plan, which the President himself had talked about many times on the campaign trail never materialized. And, finally, the foreign policy arena has consisted of little more than the President alienating our closest allies, cozying up to dictators like Vladimir Putin and Kim Jong Un, and imposing economically insane tariffs in the course of a trade war that he alone is responsible for. Perhaps the most surprising thing, though, is the fact that the President has seen his numbers on the economy tumble notwithstanding the fact that the economy itself is still in relatively good shape. Given the fact that economic policy was, arguably, a centerpiece of the Trump campaign's message in 2016, and that a significant segment of the public obviously believed the myth that businessmen would automatically be good Presidents, this is rather surprising and most likely a reflection of overall dissatisfaction with the Trump Presidency.
The fact that the President is reacting to all of this by leaning further in the direction of his far-right base is, of course, hardly surprising. Since the time that he became a candidate, and even more so since he became President, Trump has typically reacted to bad news not by trying to reset the direction of his rhetoric and his Administration, but by depending even more heavily on his base and increasing his attacks on traditional targets like the Mueller investigation, the news media (with the exception, of course, of Fox News Channel), and whatever other political enemies he believes to be out there. The base, of course, eats all of this up, but it's clearly not playing well across the rest of the electorate, and it may be too late for him to turn some of these numbers around.