At Least Twelve Killed, Shooter Dead, In Shooting At California Bar
Thirteen people, including eleven civilians, a Sheriff's Deputy, and the gunman, are dead after a shooting at a bar in California.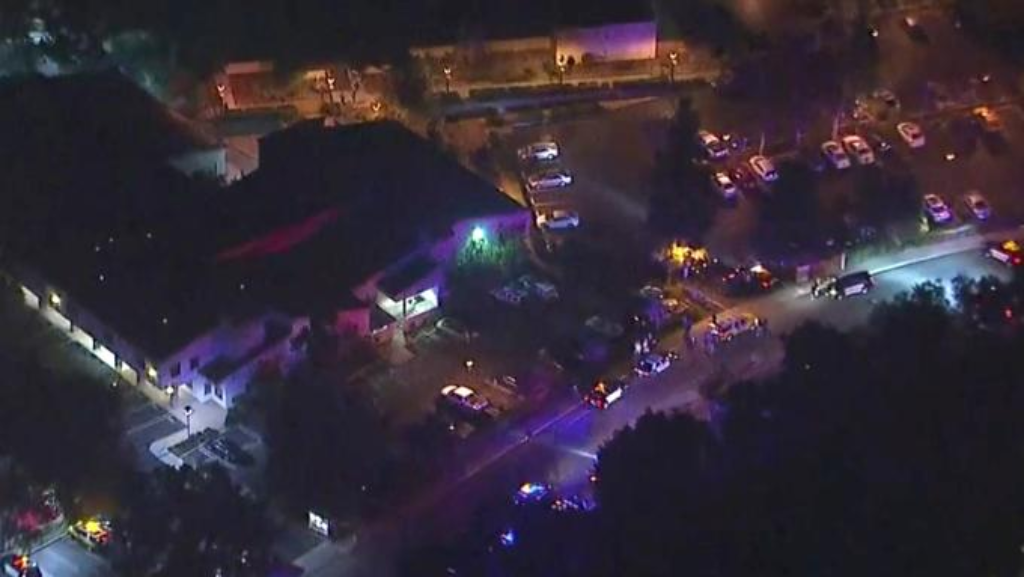 At least thirteen people, including eleven civilians, a Sheriff's Deputy, and the gunman, have died, and many more injured, in a shooting at a bar in Thousand Oaks, Califonia that is frequented by many local college students:
At least 13 people are dead after a mass shooting inside a crowded Thousand Oaks bar late Wednesday night, with a gunman throwing smoke bombs and raining bullets on an event popular with college students.

The shooting art the Borderline Bar & Grill left 12 people, according to Ventura County Sheriff Geoff Dean. A sheriff's department sergeant responding to the scene was shot several times and died at a hospital. The gunman is also dead.

More people were wounded.

The gunman, who is believed to be among the dead, burst into the bar around 11:20 p.m., cloaked in all black as he threw smoke bombs and began shooting at targets as young as 18 authorities and witnesses said. Several witnesses described the weapon used as a pistol.

Deputies arrived and got into a firefight with the suspect, which left one deputy seriously injured, according to Capt. Garo Kuredjian, a Ventura County Sheriff's department spokesman.

Witnesses reported a horrifying scene as gunfire echoed through the club and those inside ran for cover, in some cases using chairs to break windows to escape the building. Others hid in bathrooms and an attic as they frantically called loved ones who were hearing reports of the shooting.

Teylor Whittler went to Borderline to celebrate her 21st birthday on Wednesday night. She was dancing with friends in the bar when she heard what sounded like firecrackers. She quickly turned and followed the noise, only to find a man holding a gun near the entrance to Borderline.

Erika Sigman, 19, said she began to race toward an exit as soon as screams erupted.

"I'm a Thousand Oaks resident," she said. "This is a safe place. My parents let me go here. This is a trusted place … to know that this happened in my safe place is a very, very scary thing. You just don't expect it to happen in Thousand Oaks."

The FBI's Joint Terrorism Task Force had been dispatched to the scene, according to an agency spokeswoman. She could not immediately comment on a motive in the shooting. Representatives from the U.S. Bureau of Alcohol, Tobacco, Firearms & Explosives had also been dispatched.

Kuredjian said hundreds of people were inside the bar at the time of the shooting, but he could not comment on the extent of the injuries suffered by those shot. The number of people injured is likely to rise, he said, as many victims transported themselves to area hospitals and emergency rooms with injuries.

Wednesday nights are college-themed nights open to students as young as 18, according to the bar's website. Witnesses said the event is popular with Moorpark college students, and the Pepperdine student newspaper tweeted that students from its campus were also inside at the time of the shooting.

Some witnesses said the bar was a hub for country music fans. Many of the attendees Wednesday night normally attended the Stage Coach country music festival in California and, tragically, some were survivors of the massacre at the Route 91 Harvest Festival in Las Vegas that left 58 dead last year.

Large crowds were forming in the area as friends and family members arrived at the scene to try and find out if their loved ones had survived the assault. Some who escaped the gunfire could be seen frantically talking on phones desperate to get information on friends or family members who may have been trapped inside, announcing the names of the people they were searching for during live television interviews.

A hotline has been established for those seeking information about their loved ones, according to the Ventura County Fire Department, which urged people to call (805) 465-6650.

Nellie Wong, who was also celebrating her 21st birthday on Wednesday night, said she scraped her knees diving to the floor when the shots rang out. Wong said she believed the gunman, who was dressed in a black hoodie, black shirt and black pants with a scarf obscuring his face, threw smoke bombs as he entered.

"Thank goodness he didn't see me at all. I immediately stopped moving, stopped breathing," said Wong, a student at California State University Channel Islands in Camarillo. "My heart was pumping really fast."

Savannah Stafseth was standing outside crying with multiple cuts on her arms

"There are no words. Those are my people," she said. "It's just not fair. It's not fair."

Aubrey Ryan, 27, of Newbury Park, was in the front of the restaurant with at least 15 friends when a man came in and started shooting at the ceiling.

The gunman shouted something but Ryan could not hear what he said. A friend threw her onto an outdoor balcony as the gunfire rang out so she could escape, said Ryan, who feared some of her friends were still inside the bar.
More from The Washington Post:
Authorities in Thousand Oaks, Calif., northwest of Los Angeles, reported 13 fatalities at a bar and dance hall late Wednesday after multiple shots were fired by a man inside. A deputy sheriff, Ron Helus, was among those killed. The gunman was also killed, authorities said.

Sgt. Eric Buschow said the suspect has not yet been identified. Nor has any motive been determined.

The reports of a shooter came in about 11:20 p.m. Pacific time Thursday. "This is still an active scene," Kuredjian said at about 12:50 a.m. Special weapons and tactics teams arrived on the scene a short time later, along with the FBI. Video from the scene showed bar-goers rushing injured people to medical response vehicles.

By early Thursday morning, the building had been cleared, Kuredjian said, adding, "We're confident there is no outstanding shooter."

A man and his stepfather interviewed by ABC7 Eyewitness News said they heard about 12 shots before they were able to exit through the front door of the nightclub.

"He fired the first shot," the stepfather said. "And I knew it was real. My son thought it was a joke, so I pulled him down and got some cover. I looked up, and he was moving to the right. He shot the front doorman, who was just a young man. Then he shot the cashier, just a young girl."

Multiple eyewitnesses described seeing smoke, possibly from smoke bombs, and said people used chairs to break windows to flee from the scene.

"It was sheer panic," said Teylor Whittler, 19, who was inside the venue at the time. "Everyone ran and dropped as fast as they could."

She said she ran to the back door, where people crowded as the gunfire briefly quieted. "And then all, of a sudden, a couple of guys started running to the back door and said, 'Get up he's coming.'"

Borderline describes itself as the county's largest country dance hall and live music venue. With a dance floor covering about 2,500 square feet, it is open until 2 a.m. five days a week.

Wednesday was "College Country Night" at the bar. Authorities said more than 100 had been inside at the time of the shooting.

Rochelle Hammons, 24, told The Post that she heard four shots before she was able to flee.

"All of a sudden we heard four shots, you know, 'bang, bang, bang, bang.' Everyone got down on the floor. Everyone ducked and covered each other," she said. "As everyone crouched down on the floor, I figured that my only chance would be to run out to the nearest exit. I saw the nearest exit, and I ran out as fast as I could."

From inside her car, she saw the first police officer arrive, she said. She rolled down her window and told him there was an active shooter inside.

"You gotta hurry, you gotta get in there," she urged him.
Given the hour at which this occurred, there are understandably few details regarding the shooting at this point in time, However several people who survived the shooting and were describing the scene to reporters said that the shooter was a white man of unknown age who apparently burst into the bar, shot a woman who may have been a bar employee at point-blank range immediately after entering and then jumped behind the bar from where he unloaded into the crowd that had gathered from apparently as many as five universities located in the general area, including Pepperdine University. As has become typical in these active shooter situations, police immediately made their way inside the building and engaged in a firefight with the shooter, apparently killing him. It was during this firefight that Ron Helus, a Sargent with the Ventura County Sheriff's Department, was seriously injured, he was taken to the hospital but died shortly after arrival. Helus had been with the department for 29 years and was among the first officers to enter the bar during the shooting alongside an officer from the California Highway Patrol who had also arrived on the scene. The shooter is also dead, and there are apparently dozens of injuries both inside the bar and in the form of people who escaped and were able to drive themselves, or get a ride, to one of the local Emergency rooms, No doubt, the injury total will end up being quite high given the number of people killed, and it's also possible that the death toll itself could rise in the coming hours.
There is obviously no confirmation of the identity of the shooter and no word on a motive. The local Sheriff said at an early press briefing that they had not ruled terrorism out as a motive, but also cautioned that there was no evidence at this point to call it terrorism. There is also no word on what types of weapons were used in the shooting or how the shooter may have obtained those weapons. Several witnesses, though, reported that the shooter began tossing what they called "smoke bombs" when he was behind the bar and that he apparently paused to reload on at least one occasion during the shooting spree.
Here's one person who was inside the bar talking about what happened:
WATCH: Eyewitness inside Borderline Bar at Thousand Oaks, California, describes what she saw following shooting. https://t.co/N9Dr9r2E3q – @MSNBC

— NBC News (@NBCNews) November 8, 2018
Thousand Oaks shooting: Stepdad, son recall terrifying moments gunfire erupted https://t.co/Pa71FlGD6T pic.twitter.com/okX2hJPp5I

— ABC7 Eyewitness News (@ABC7) November 8, 2018
And here is the Ventura County Sheriff speaking about the officer lost in the line of duty:
"Ron was a hardworking, dedicated sheriff's sergeant. He was totally committed. He gave his all and tonight, as I told his wife, he died a hero because he went in to save lives, to save other people," Sheriff Geoff Dean says of slain sergeant https://t.co/B7PzfEXJWO pic.twitter.com/zwDlP23hwv

— ABC7 Eyewitness News (@ABC7) November 8, 2018
Update: Authorities have identified the gunman and the weapon that was used, a 45-caliber Glock handgun, but there is no word on a possible motive:
WATCH: Officials ID Thousand Oaks shooter as 28-year-old Ian Long. Deputies are at his house now and have secured the residence. https://t.co/jMclycxW25 pic.twitter.com/H9gt2aMlDt

— CBS Evening News (@CBSEveningNews) November 8, 2018