Atlanta Shooting Not a Hate Crime?
The U.S. Senators and a U.S. Representative beg to differ.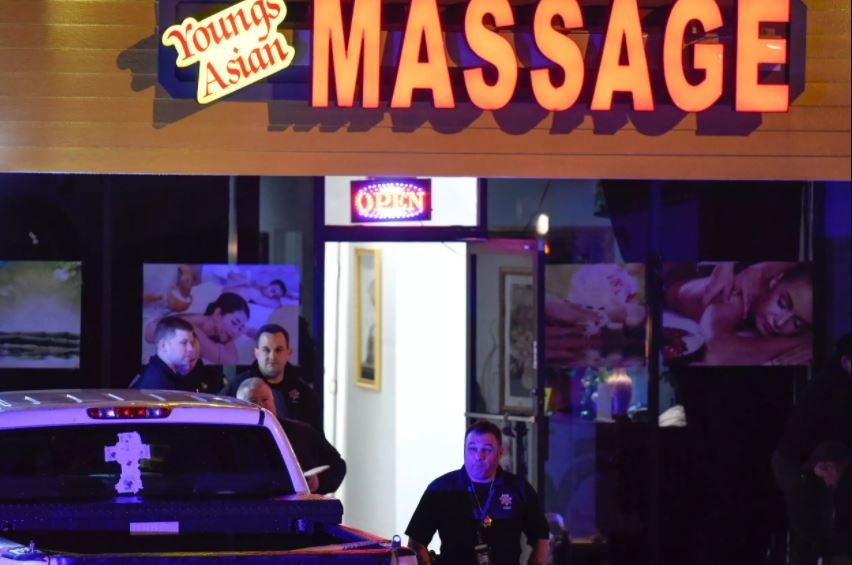 The Director of the Federal Bureau of Investigation and Atlanta police do not believe last week's shooting spree in the city's massage parlors was racially motivated. Two Senators who have done no investigating whatsoever strongly disagree.
Reuters ("Atlanta shooting of Asian women was racially motivated, U.S. senator says"):
U.S. Democratic Senator Tammy Duckworth on Sunday expressed doubts about FBI Director Chris Wray's initial assessment that the fatal shooting of six Asian women in Atlanta-area spas may not constitute a hate crime, saying it "looks racially motivated."

"From where I sit, I want to see a deeper investigation into whether or not these shootings and other similar crimes are racially motivated," Duckworth, who is one of only two Asian-Americans currently serving in the U.S. Senate, told CBS "Face the Nation."

"It looks racially motivated to me," she said, adding the caveat that she is not a police officer or personally investigating the crimes.

Police in Atlanta are still investigating the motive in connection with the fatal shooting of eight people, six of whom were Asian women, on Tuesday. The Federal Bureau of Investigation is assisting with the investigation.

In an interview with NPR last week, Wray said that it "does not appear" that race factored into the mass shooting.

Georgia Senator Raphael Warnock, speaking on NBC's "Meet the Press," also questioned that assessment, suggesting he believes race played a role.

"We all know hate when we see it," he said. "It is tragic that we've been visited by this kind of violence yet again."

The shootings have stoked fears among those in the Asian-American Pacific Islander community, which has reported a spike in hate crimes since March 2020 when then-President Donald Trump began referring to COVID-19 as the "China virus."

[…]

The incidence of hate crimes against Asian-Americans rose by 149% in 2020 in 16 major cities compared with 2019, according to the Center for the Study of Hate and Extremism.

Duckworth is among a growing number of Asian-American lawmakers who have urged law enforcement to more carefully examine the escalating violence.

"It looks to me that he knew he was going to places where disproportionately the people he shot up would be Asians, and female, and I think the investigators need to really look at these facts," Representative Ted Lieu, a member of the House Judiciary Committee, told CNN last week, referring to Long.
More information will become available but, at this juncture, it appears the shooter's motivations were overdetermined. He seems mentally ill and a combination of religious dogma, his inability to attract women, and general self-loathing would appear at play. There is no evidence of which I'm aware that he hated Asians or Asian women but, certainly, he seems to have been sexually attracted to them and he may well have resented them for it.
Regardless, it's simply irresponsible for elected officials to stoke the flames during criminal investigations. Absent evidence that police aren't doing their jobs, politicians should not comment one way or the other on the guilt or motivations of the accused.
To the extent that there's a rising tide of prejudice and violence against Asian-Americans—or anyone else—it's certainly the role of leaders to decry that and call attention to it. But sensationalizing an ongoing investigation, particularly one that seems to be pointing in the other direction, is an irresponsible way to go about it.
Further, looking at the Center for the Study of Hate & Extremism study referenced in the report, we see propaganda at work. Always, always, always be suspicious when an activist group uses percentages to make their case. For example, in New York City, we saw a whopping 833% increase in anti-Asian hate crimes year over year. But the raw numbers are 3 and 28. In the aggregate of 16 cities studied, the increase was 133%. But the raw numbers are 49 and 120. We're talking about very small numbers here. Beyond that, because this is simply an aggregation of police reports from these cities, the definition of "hate crime" is incredibly loose and varied. In the handful of cases where breakdowns are available, the vast majority of reports are of "harassment," "intimidation" and "vandalism."
Obviously, a hostile climate makes more serious crimes—assaults and homicides—more likely. But it's not obvious we're seeing that. And it works both ways: a perception that there is an increase in anti-Asian bias will likely make Asian-Americans perceive incidents that they would not ordinarily have thought merited reporting to the police seem more threatening. This may well be akin to when we discovered "drive-by shootings" and "road rage," where the suspicion that there's a trend increases collection of data pointing to that trend. (We've also seen the same in the US armed forces. Years of increased attention to sexual assault and harassment has led to increased reporting.)
It's certainly plausible that former President Trump's constant blaming of the COVID pandemic led supporters to become more hostile to Asian-Americans and that this resulted in more slurs directed at random Asian-Americans they happened to encounter. But it's not obvious that we're seeing a significant increase in anti-Asian bias, much less a cause for alarm that Atlanta was a harbinger of a wave of Asians being murdered.