Attorney General Eric Holder To Resign
One of last members of President Obama's original cabinet is stepping aside.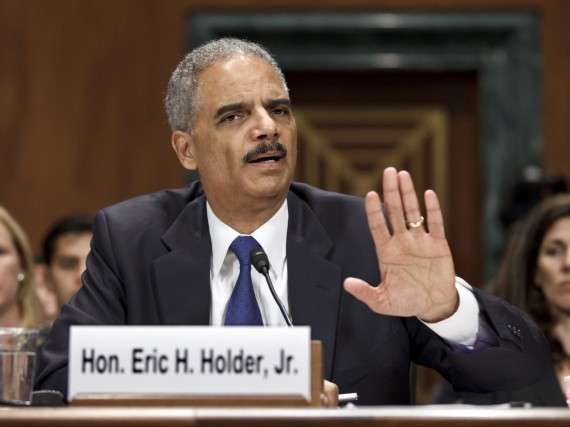 National Public Radio is reporting that Attorney General Eric Holder will announce later today that he will be stepping down as Attorney General upon confirmation of a successor:
Eric Holder Jr., the nation's first black U.S. attorney general, is preparing to announce his resignation Thursday after a tumultuous tenure marked by civil rights advances, national security threats, reforms to the criminal justice system and five and a half years of fights with Republicans in Congress.

Two sources familiar with the decision tell NPR that Holder, 63, intends to leave the Justice Department as soon as his successor is confirmed, a process that could run through 2014 and even into next year. A former U.S. government official says Holder has been increasingly "adamant" about his desire to leave soon for fear he otherwise could be locked in to stay for much of the rest of President Obama's second term.

Holder already is one of the longest serving members of the Obama cabinet and ranks as the fourth longest tenured AG in history. Hundreds of employees waited in lines, stacked three rows deep, for his return in early February 2009 to the Justice Department, where he previously worked as a young corruption prosecutor and as deputy attorney general — the second in command — during the Clinton administration.

But some of that early glow faded in part due to the politicized nature of the job and in part because of Holder's own rhetoric, such as a 2009 Black History Month speech where he said the country was "a nation of cowards" when it comes to discussions about racial tension.

Five years later, violence erupted between police and protesters in Ferguson, Mo., after a white policeman killed an unarmed black 18 year old. And this time, the White House dispatched Holder to speak his piece, in effect jump starting that conversation, and helping to settle nerves in the frayed community.
This doesn't come as entirely surprising. It had been reported at the start of the year that Holder intended to leave office by the end of the year, although later reports indicated that he would stay on through the midterm elections in November. That second announcement came as a bit of a surprise because of the political realities that would make confirmation of a successor much more difficult if the GOP gains control of the Senate in November. Had Holder stepped down earlier, than his successor would have likely been easily confirmed thanks to the changes to the Senate's filibuster rules. Now, the situation is far murkier. Even if the President names a successor relatively quickly, the Senate may not be able to complete confirmation hearings and consideration of that nomination prior to the end of the current Senate term. There will be a Lame Duck Session after the elections, of course, but that period will be relatively short and the agenda will be packed full of other matters for the Senate's consideration to the point where the GOP could run out the clock rather easily if it wanted to, which would probably be more likely if Republicans win the Senate in November. If the GOP wins control of the Senate, then that would mean that any nominee would have to make it past a Republican Senate after January, and at the very least that is likely to be politically bumpy thanks to Holder's sometimes contentious relationship with Republicans in Congress. That relationship was fairly sour from the beginning, but it hit a low point when the House of Representatives voted to hold Holder in contempt over his alleged withholding of documents related to the investigation of the so-called Fast & Furious scandal, a contempt vote that has gone nowhere in the courts in the two years since it occurred.
As to who might replace Holder, the list seems rather open ended at this point. One name that comes to mind most immediately is Solicitor General Don Verrilli, the number two man in the Justice Department and the government's voice in the Supreme Court and before the Federal Courts in many cases, most prominently the challenges to the Affordable Care Act. The advantage of appointing someone like Verrilli is that he has already been through the Senate confirmation process and confirmed, so the process could potentially be expedited so that he could be confirmed before the end of the years. Another name that has been mentioned as a Holder replacement over the years has been Massachusetts Governor Deval Patrick, who will be leaving office at the end of this year in any case. The unknowns there include the fact that Patrick has never been through a confirmation in the Senate and that as a politician he would likely be subjected to tougher scrutiny than a someone like Verrilli who had previously served as a Counsellor To the President and Deputy Attorney General before being named to replace Elana Kagan as Solicitor General when she was elevated to the Supreme Court. In any case, the President will be making some kind of personnel announcement later this afternoon, and although it hasn't been confirmed that it will be about the Attorney General's position the fact that it will be taking place after the speech in which Holder will make his announcement certainly seems to indicate that it will be.
No doubt, the announcement of Holder's resignation will be greeted with applause on the right. Indeed, given some of the rhetoric I have seen about Holder from online writers on the right over the years one thinks that some conservatives would prefer that he be taken out of the Justice Department in handcuffs for unspecified crimes that he has allegedly committed while in office. From my perspective, I can't say that I've found Holder's time in office to be great, or that he will leave a great legacy as Attorney General, but I can't say that he's been particularly bad as well. You don't have to accept the conspiracy theories about Fast & Furious, for example, to recognize that it was a badly mishandled undercover operation that probably never should have been authorized to begin with, and as the person at the top of the department he bears some responsibility for that. Additionally, his department's somewhat ham handed handling of the issue of civilian trials for Gitmo prisoners involved in the September 11th attacks ended up causing nothing but political headaches for the Administration, especially since it was clear well beforehand that there was bipartisan opposition to the idea in Congress. His Justice Department has also continued to target medical marijuana growers and sellers in states like California despite pledges from President Obama to the contrary when he was running for office. That being said, I can't say that Eric Holder was any worse than previous Attorneys General, or that he was any better. In the end, this isn't really a cabinet position that leads to political stardom to any particular degree and, in the end, the smartest strategy for any occupant of the office is usually to keep your head down and just get the job down. By and large, when Holder messed up it was because he forgot this.
On a final note, Holder's resignation means that there are only members  of President Obama's first term cabinet still in office, Secretary of Agriculture Tom Vilsack. and Secretary of Education Arne Duncan. That's not entirely unusual in a two term Presidency, of course, and Holder has actually served longer than most Attorneys General in two term Presidencies, Nonetheless, the fact that Holder has been a close adviser of the President's for some time now, and that the Department of Justice is a far more high profile department than either Agriculture or Education,  makes this announcement a big deal.